Cold Test Results (~22°C Ambient)
For the testing of PSUs, we are using high precision electronic loads with a maximum power draw of 2700 Watts, a Rigol DS5042M 40 MHz oscilloscope, an Extech 380803 power analyzer, two high precision UNI-T UT-325 digital thermometers, an Extech HD600 SPL meter, a self-designed hotbox and various other bits and parts. For a thorough explanation of our testing methodology and more details on our equipment, please refer to our How We Test PSUs - 2014 Pipeline post.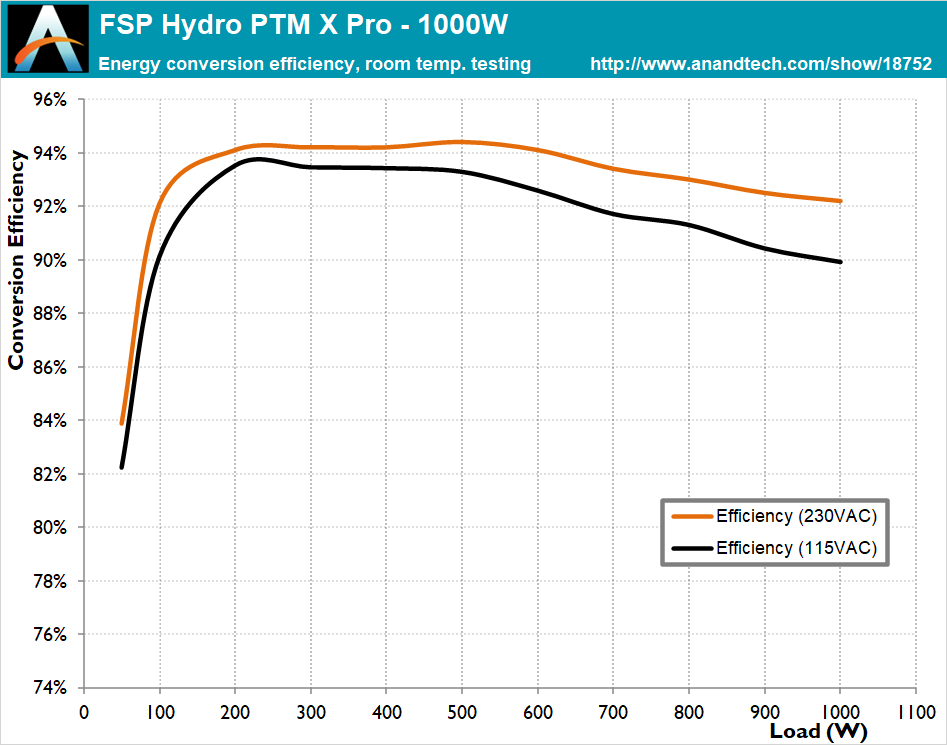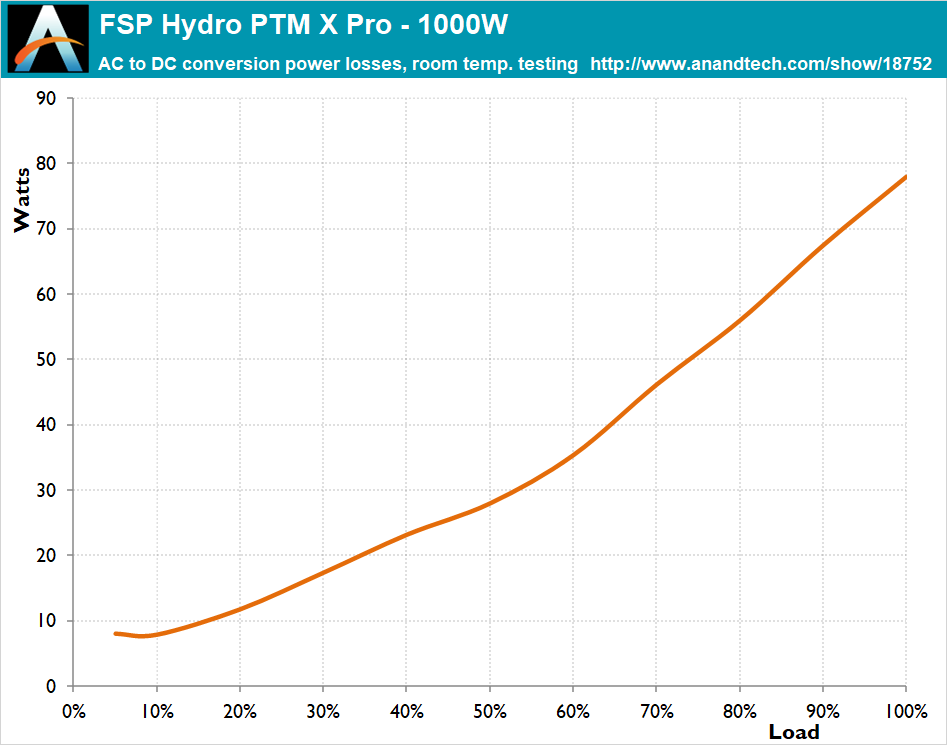 When aiming for an 80Plus certification, designers usually focus on receiving the certification with an input voltage of 115 VAC, where the requirements are lower. The FSP Hydro PTM X Pro is a rare example of a unit managing to reach the 80Plus certification requirements regardless whether the input voltage is 115 VAC or 230 VAC. It displayed exceptional conversion efficiency figures, resulting to an average nominal load range (20% to 100% of the unit's capacity) efficiency of 93.6% when powered from a 230 VAC source, which drops down to 92.2% when powered from a 115 VAC source. These figures are high even for an 80Plus Platinum certified unit. Furthermore, this is a very rare case where the efficiency jumps up momentously when the load increases towards 20%, so the losses when the load is very low are actually higher and make the unit run a bit hotter.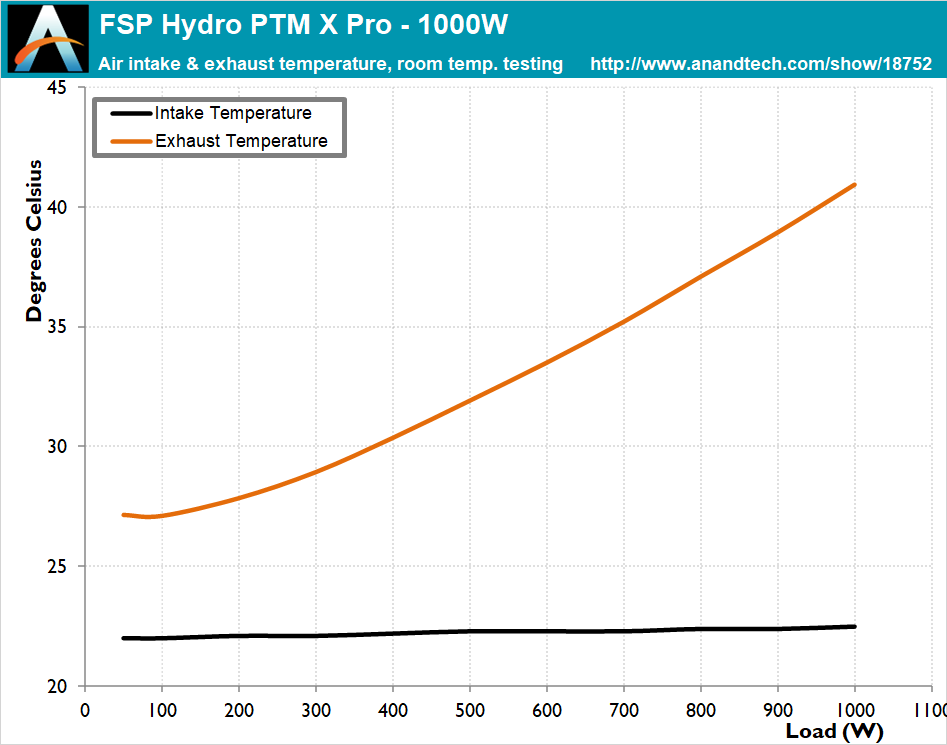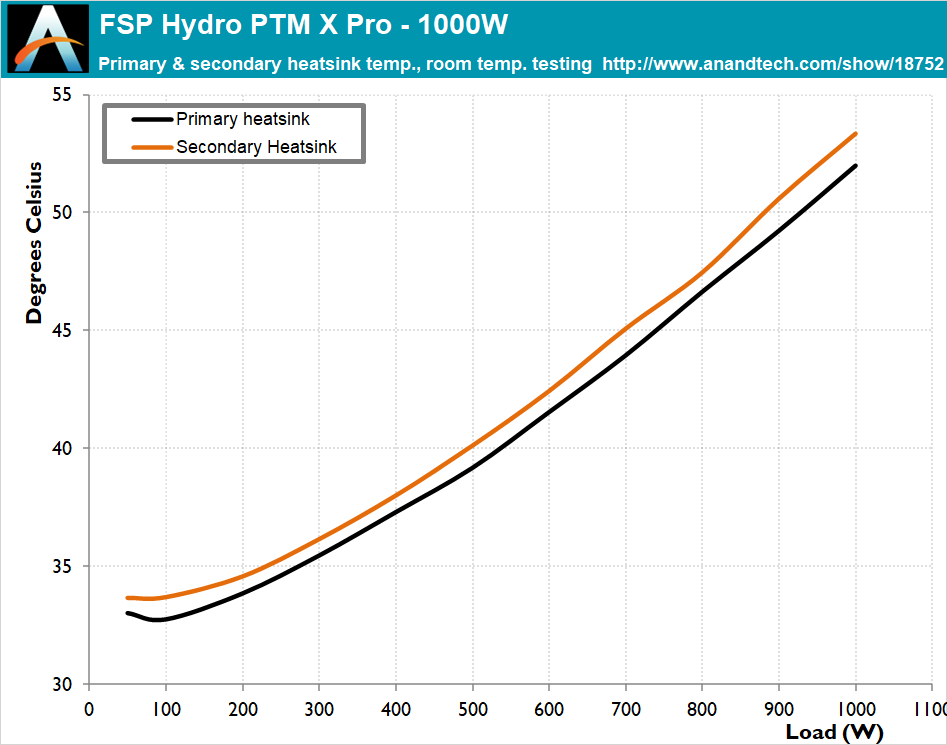 We ran our tests with the Eco mode disabled, meaning that the fan began spinning instantly when the PSU was powered on. The cooling profile of the Hydro PTM X Pro is very similar to that of the cheaper Hydro G Pro but the difference in efficiency gives the former a vast advantage. The fan stays almost inaudible while the load is lower than 500 Watt, at which point it will begin spinning quicker in order to cope with the increased losses. However, the noise does not reach very high figures and the fan never reached its maximum speed even though the component temperatures are very low for a unit with that high a power capacity. There was clearly much room for better acoustics here but, much like we have seen in their previous designs, FSPs engineers steer their designs towards reliability over acoustics.