CloundFounders: Cloud Storage Router
The latency of DSS on top of slow SATA disks is of course pretty bad. CloudFounders solves this by using an intelligent flash cache that caches both reads and writes. The so-called "Storage Accelerator" is part of the Cloud Storage Router and runs on top of the DSS backend.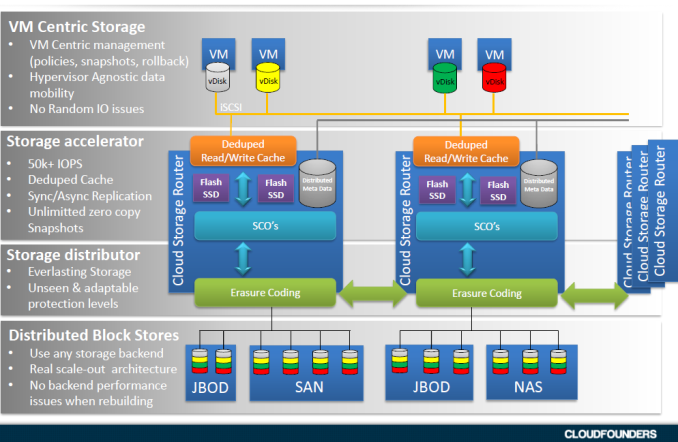 First of all, the typical 4KB writes are all stored on the SSD. The 4KB are aggregated into a Storage Container Object (SCO), typically 16MB in size. As a result, the flash cache is used for what it can do best (working with 4KB blocks) and the DSS SATA backend will only see sequential writes of 16MB. The large SATA magnetic disks perform a lot better with large sequential writes than small random ones.
A server with virtual machines can connect to several Cloud Storage Routers. Blocks of a virtual disk can be spread over several flash caches. The result is that performance can scale with the number of nodes where Cloud Storage Routers are active. The magic to make this work is that the metadata is distributed among all cloud storage routers (using a Paxos distributed database), so "hot blocks" can be transferred from several flash caches of several nodes at the same time. The metadata also contains a hash of each 4KB block. As hash codes of each 4KB block in the cache are compared, the cache is "deduped" and each 4KB block is written only once.
As the blocks of virtual disk are distributed over the DSS, the failure of compute or storage nodes does not need to be disruptive. Compute node failure can be solved by enabling VMware HA, storage nodes failures can be solved by configuring the DSS durability policy. As the metadata is distributed, the remaining cloud storage routers will be able to find the blocks on the DSS that belong to a certain virtual disk.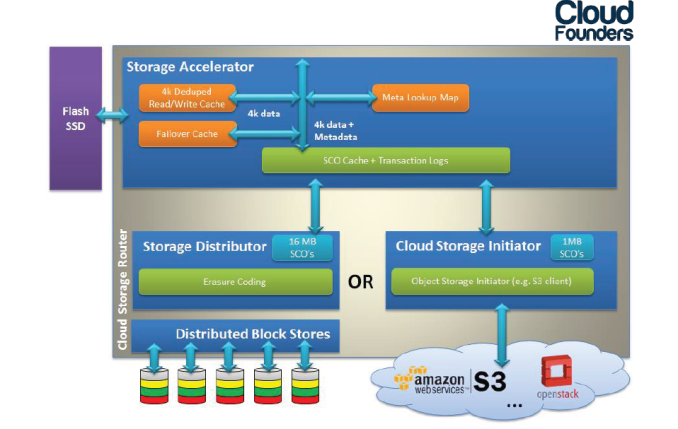 Last but not least, the Cloud Storage Routers can also distribute the check blocks over cloud storage like Amazon S3 or an Openstack Swift implementation. The data is also secure as the blocks are encoded and spread over many volumes. Only the Cloud Storage Routers know how to assemble the data.
Highly scalable, very reliable, and very flexible (e.g. when used with Amazon S3): the CloudFounder Storage Router sounds almost too good to be true. We have setup a Storage Router in our lab and can confirm that it can do some amazing things like replicating an ESXi VM across the globe and booting it as a Hyper-V VM. We are currently designing some benchmarks to compare it with traditional storage systems, so we hope to report back with some solid tests. But it is safe to say that the combination of Bitspread and the Cloud Storage Router is very different from the traditional RAID enabled SAN and storage gateway.