LG 34UM67 Brightness and Contrast
Moving on from the FreeSync discussion, we still need to see how the LG 34UM67 fares as a display. We've run our usual assessments to look at brightness, contrast, color accuracy, and uniformity. We'll start with the brightness results. The LG FreeSync 34UM67 is in orange/red while we've highlighted the ASUS PG278Q in cyan/blue.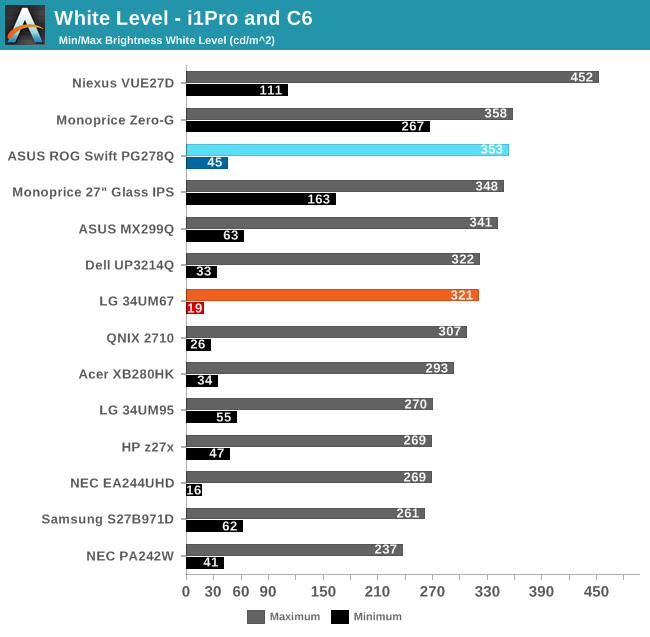 Set to maximum brightness with the default (50/50/50) RGB values, the 34UM67 can output 306 nits, which is just above the rated 300 nits. However, you can increase the output a bit more by maxing out the RGB values at 100, which gives us the above result of 321 cd/m2. This is plenty bright for most people, and more than I would normally need (outside of situations where the display needs to overcome reflections and lights during the day.) Setting the brightness to the minimum level with 50% RGB drops the display to 52 cd/m2, which is perhaps a bit too bright, but if you tweak RGB settings you can get as low as 19 cd/m2. That can work even in very dark rooms, so LG has covered all the necessary output range.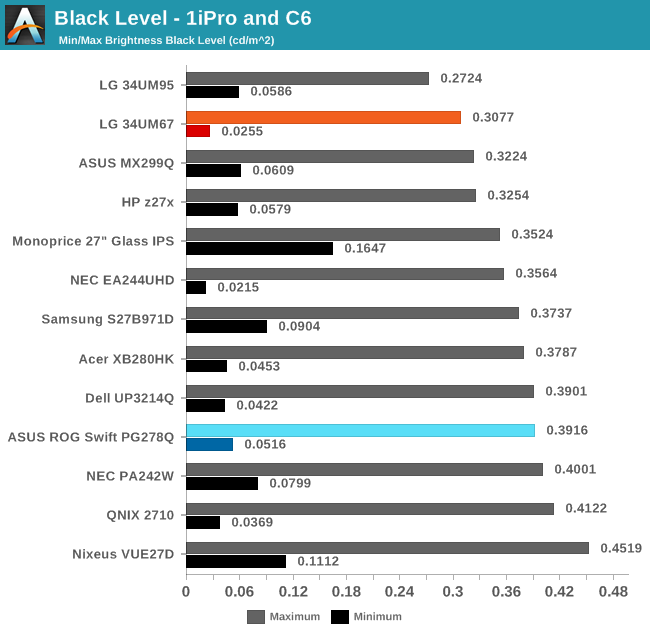 Black levels are okay but nothing amazing. At the maximum backlight (with the OSD Black Stabilizer set to 0 – increasing it will increase black levels somewhat, ostensibly to help you see dark areas in games better), we measured 0.3077 cd/m2. Going to the minimum backlight level this falls down to 0.0255 cd/m2. Interestingly, LG doesn't appear to be using any form of dynamic contrast, so whether we test with a full screen color or 50% APL patterns makes no difference. That's a good thing if you're wondering, as dynamic contrast often ends up being more of a distraction than a benefit (IMO).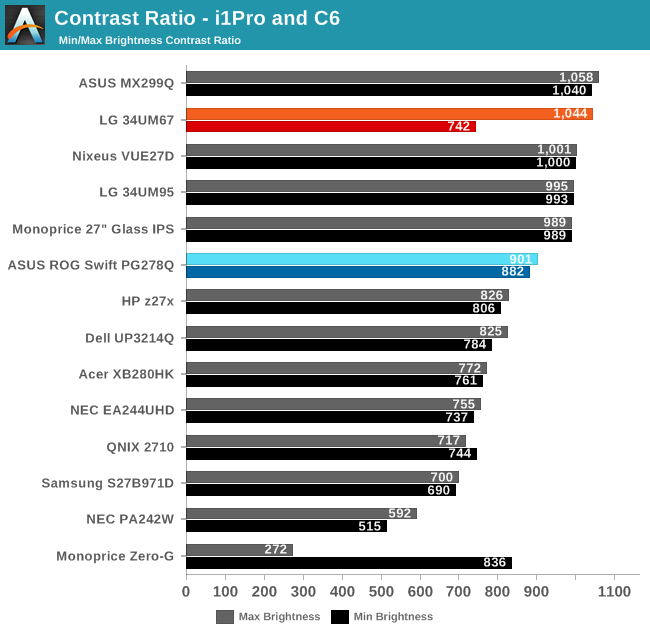 The resulting contrast ratios range from just over 1000:1 to closer to 750:1, but the contrast ratio stays pretty consistent until the very lowest brightness settings. Also note that our i1 Pro meter isn't the most accurate sensor for black levels, so that might contribute to some of the difference. Overall, the contrast ratio is good but not exceptional.