Optane
As part of Intel's Architecture Day 2020 presentations, Raja Koduri spent a bit of time talking about the status of their Optane products. Most of it was a recapitulation of details Intel has previously shared. The two important Optane product updates planned for this year are the Barlow Pass second-generation Optane DC Persistent Memory Modules (DCPMM) and the Alder Stream second-generation Optane NVMe SSDs. Intel has been teasing their Alder Stream second-generation Optane SSDs since last fall, with promises of off-the-charts performance increases. They've confirmed that Alder Stream will be using second-generation 3D XPoint memory, which moves from two to four layers ("decks" in Intel's slides), making this the first test of the vertical scaling potential of 3D XPoint technology. This combined with with a...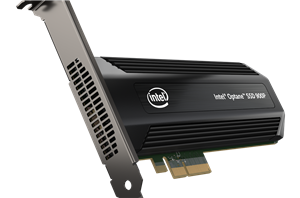 The Intel Optane SSD 900P brings 3D XPoint memory to a consumer SSD with capacities large enough for general-purpose storage use instead of just caching. The result is a...
205
by Billy Tallis on 10/27/2017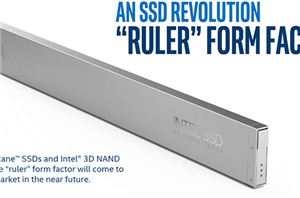 Intel on Tuesday introduced its new form-factor for server-class SSDs. The new "ruler" design is based on the in-development Enterprise & Datacenter Storage Form Factor (EDSFF), and is intended...
54
by Billy Tallis & Anton Shilov on 8/9/2017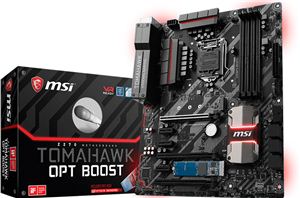 MSI this week announced plans to bundle Intel Optane Memory 16 GB caching drives with select Intel 200-series chipset motherboards. The company claims that the drives will not increase...
18
by Anton Shilov on 4/28/2017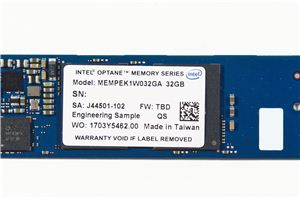 Last week, we took a look at Intel's first product based on their 3D XPoint non-volatile memory technology: the Optane SSD DC P4800X, a record-breaking flagship enterprise SSD. Today...
110
by Billy Tallis on 4/24/2017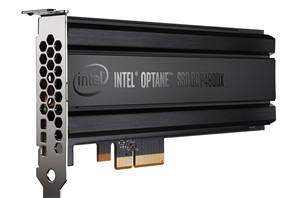 Intel's new 3D XPoint non-volatile memory technology, which has been on the cards publically for the last couple of years, is finally hitting the market as the storage medium...
117
by Billy Tallis on 4/20/2017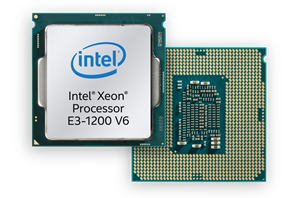 For the several generations previous, it has become customary for the Xeon equivalents of consumer processors to hit the market several months later. We saw the launch of Kaby...
54
by Ian Cutress on 3/28/2017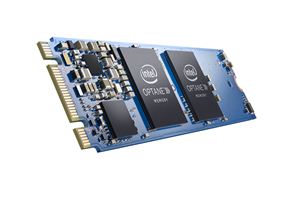 Last week, Intel officially launched their first Optane product, the SSD DC P4800X enterprise drive. This week, 3D XPoint memory comes to the client and consumer market in the...
127
by Billy Tallis on 3/27/2017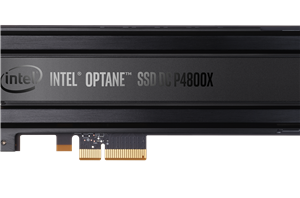 A year and a half after first publicly unveiling their new 3D XPoint non-volatile memory technology, Intel is launching the first product incorporating the new memory. The Intel Optane...
77
by Billy Tallis on 3/19/2017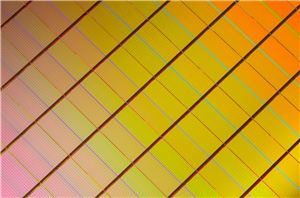 Lenovo's announcement today of a new generation of ThinkPads based on Intel's Kaby Lake platform includes brief but tantalizing mention of Optane, Intel's brand for devices using the 3D...
54
by Billy Tallis on 12/28/2016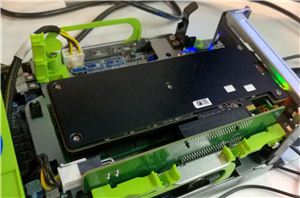 As part of this year's Intel's Developer Forum, we had half expected some more insights into the new series of 3D XPoint products that would be hitting the market...
66
by Ian Cutress on 8/26/2016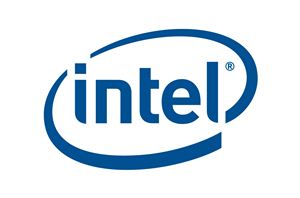 At Intel Developer Forum this week in San Francisco, Intel is sharing a few more details about its plans for their Optane SSDs using 3D XPoint memory. The next milestone...
36
by Billy Tallis on 8/16/2016