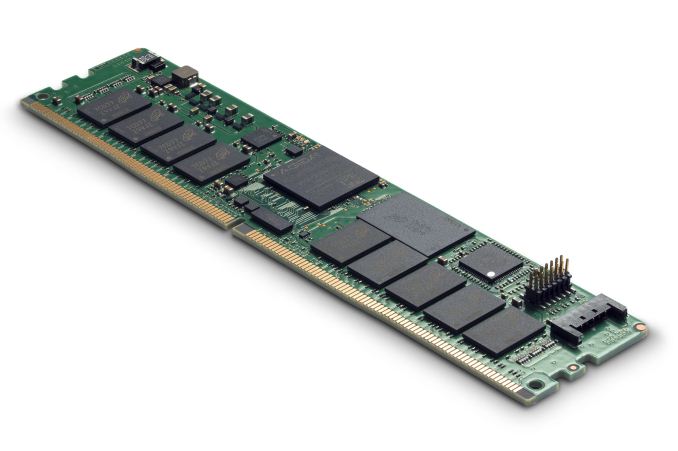 Micron is announcing today their next generation of NVDIMM-N modules combining DDR4 DRAM with NAND flash memory to support persistent memory usage models. The new 32GB modules double the capacity of Micron's previous NVDIMMs and boost the speed rating to DDR4-2933 CL21, faster than what current server platforms support.
Micron is not new to the Non-Volatile DIMM market: their first DDR3 NVDIMMs predated JEDEC standardization. The new 32GB modules were preceded by 8GB and 16GB DDR4 NVDIMMs. Micron's NVDIMMs are type N, meaning they function as ordinary ECC DRAM DIMMs but have NAND flash to backup data to in the event of a power loss. This is in contrast to the NVDIMM-F type that offers pure flash storage. During normal system operation, Micron's NVDIMMs use only the DRAM. When the system experiences a power failure or signals that one is imminent, the module's onboard FPGA-based takes over to manage saving the contents of the DRAM to the module's 64GB of SLC NAND flash. During a power failure, the module can be powered either through a cable to an external AGIGA PowerGEM capacitor module, or by battery backup supplied through the DIMM slot's 12V pins.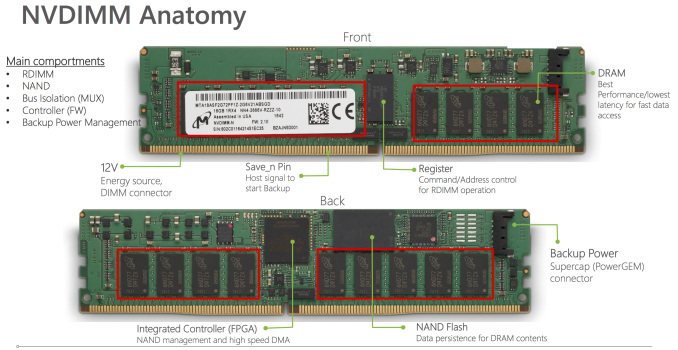 Micron says the most common use cases for their NVDIMMs are for high-performance journalling and log storage for databases and filesystems. In these applications, a 2S server will typically be equipped with a total of about 64GB of NVDIMMs, so the new Micron 32GB modules allow these systems to use just a single NVDIMM per CPU, leaving more slots free for traditional RDIMMs. Both operating systems and applications need special support for persistent memory provided by NVDIMMs: the OS to handle restoring saved state after a power failure, and applications to manage what portions of their memory should be allocated from the persistent portion of the overall memory pool. This can be addressed either through applications using block storage APIs to access the NVDIMM's memory, or through direct memory mapping.
Micron is currently sampling the new 32GB NVDIMMs but did not state when they will be available in volume.
Conspicuously absent from Micron's announcement today is any mention of the third kind of memory they make: 3D XPoint non-volatile memory. Micron will eventually be putting 3D XPoint memory onto DIMMs and into SSDs under their QuantX brand, but so far they have been lagging far behind Intel in announcing and shipping specific products. NVDIMMs based on 3D XPoint memory may not match the performance of DRAM modules or these NVDIMM-N modules, but they will offer higher storage density at a much lower cost and without the hassle of external batteries or capacitor banks. Until those are ready, Micron is smart to nurture the NVDIMM ecosystem with their DRAM+flash solutions.
Source: Micron