Whole-Drive Fill
This test starts with a freshly-erased drive and fills it with 128kB sequential writes at queue depth 32, recording the write speed for each 1GB segment. This test is not representative of any ordinary client/consumer usage pattern, but it does allow us to observe transitions in the drive's behavior as it fills up. This can allow us to estimate the size of any SLC write cache, and get a sense for how much performance remains on the rare occasions where real-world usage keeps writing data after filling the cache.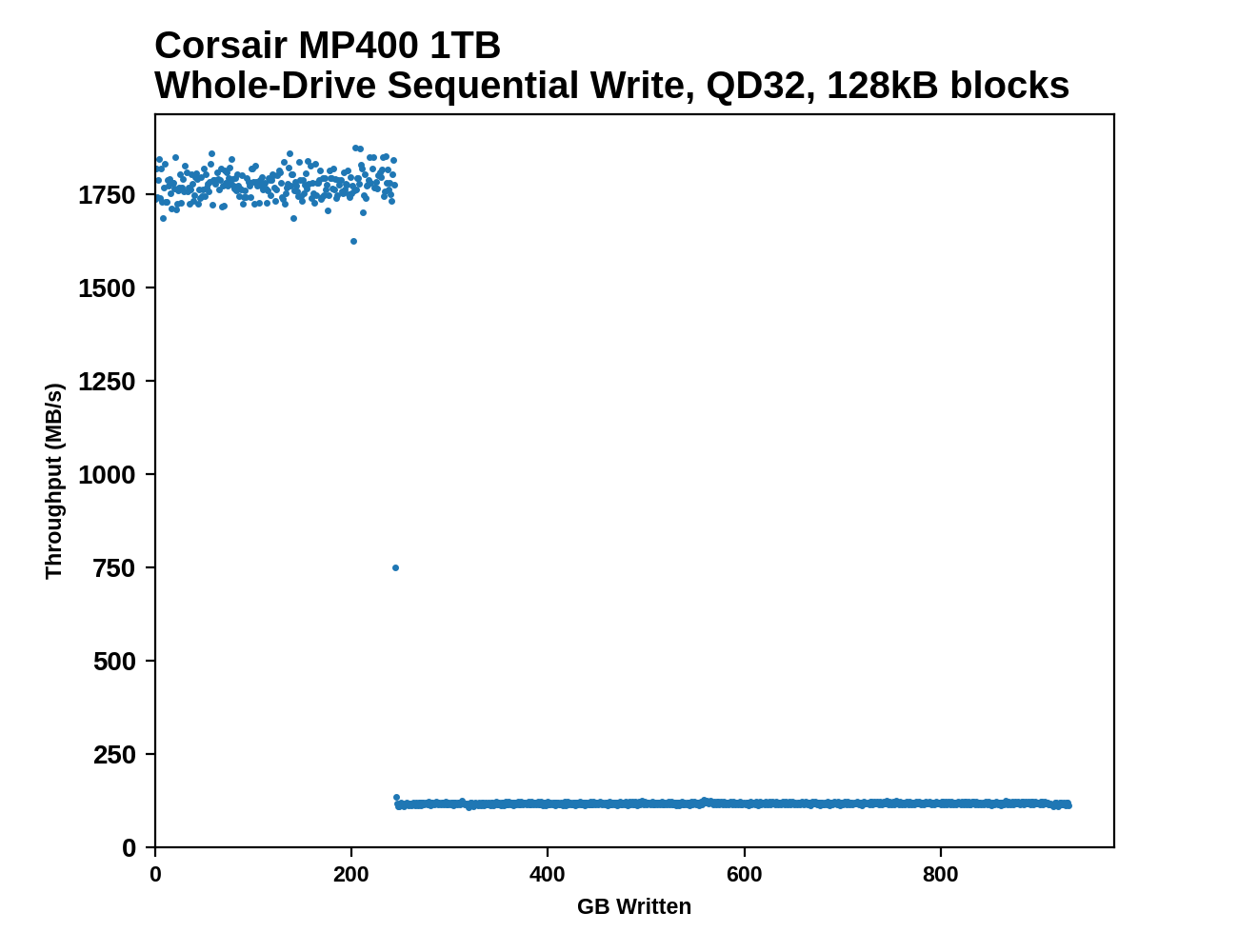 The Corsair MP400 opts for the largest possible SLC cache size, allowing for a quarter of the drive's advertised capacity to be written to the cache before performance plummets. This is the same strategy used by the Sabrent Rocket Q and probably all other QLC drives using Phison controllers. The Intel and Crucial QLC drives based on Silicon Motion's SM2263 controller have somewhat smaller variable-sized SLC caches, while the Samsung QLC SATA drives use the same small SLC cache sizes as their TLC counterparts.
Overall drive fill performance for the Corsair MP400 is marginally faster than for the other 1TB QLC drives we've tested, but the DRAMless TLC drives and the larger Sabrent Rocket Q are considerably faster. However, all of the budget NVMe drives are clearly much slower for sustained writes than the mainstream and high-end TLC drives.
Working Set Size
The random read latency from the Corsair MP400 is quite similar to what we saw from the 8TB Sabrent Rocket Q, especially for medium to large working sets. The 1TB MP400 doesn't exhibit the same unsteady performance for small working sets as the 8TB Rocket Q, but instead only shows poor performance for the absolute smallest working set size tested.
The performance drop-off when performing random reads across the entire drive is expected and normal, because the Crucial P1 is the only QLC drive in this bunch to include the full 1GB per 1TB of DRAM. Most low-end DRAMless TLC drives will show an even earlier drop in performance, and many of the more mainstream TLC drives that have switched to a lower DRAM ratio will also show the same drop that the Rocket Q and MP400 show.