CPU Performance
While multitasking on Surface 2 can struggle, the same really can't be said for Surface Pro 2. The tablet is effectively a Haswell Ultrabook, capable of delivering the exact same performance as a 2013 MacBook Air – but in the form factor of a thick tablet. The performance of Intel's Core i5-4200U is a fairly known quantity at this point, but to put Surface Pro 2's tablet performance in perspective here are some comparisons to the best of the best in the ARM tablet space.
I ran tests using both Chrome and IE11, the latter is really only optimized for SunSpider and horribly unoptimized for everything else. In general you're multiple times better performance than what you can get from a quad-core Cortex A15 based device. If we look at Kraken, Surface Pro 2 running IE11 completes the test in 1/4 the time as Surface 2 running the same browser.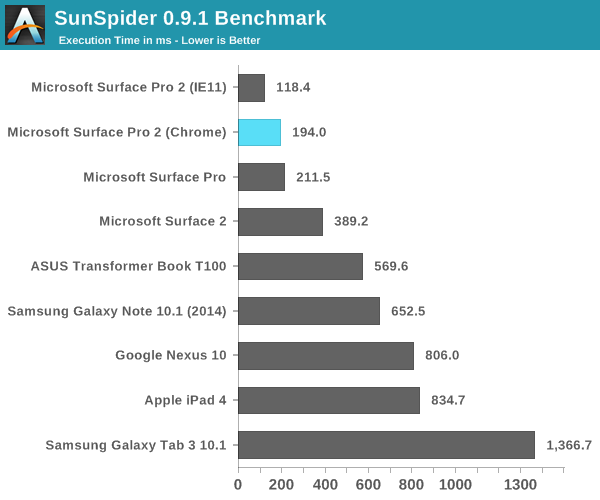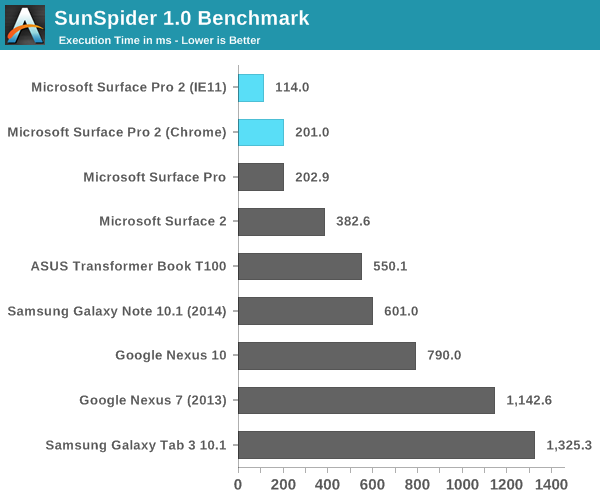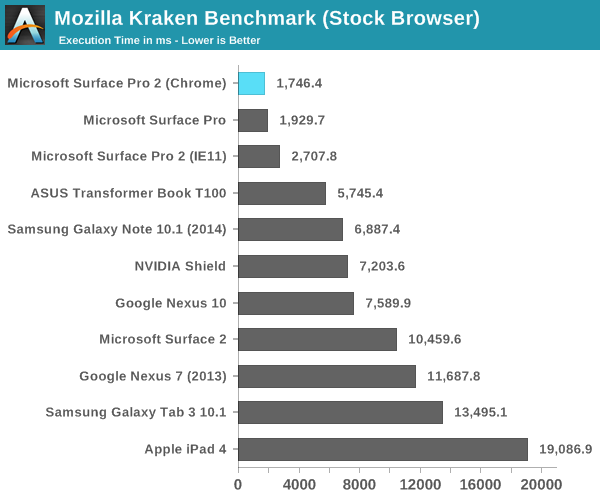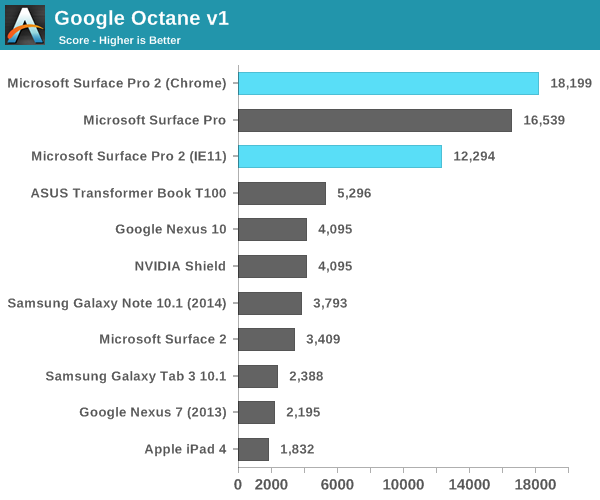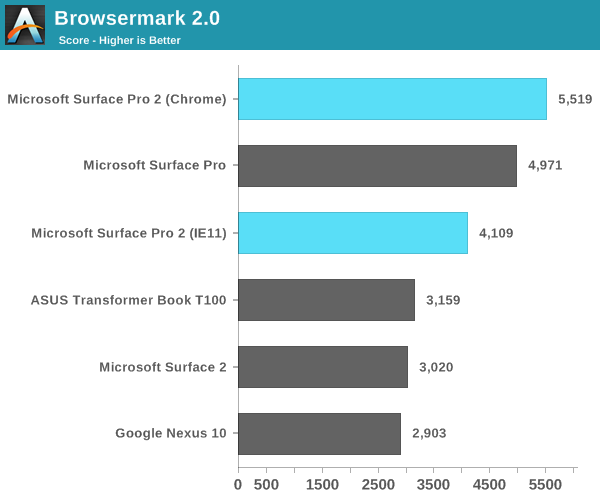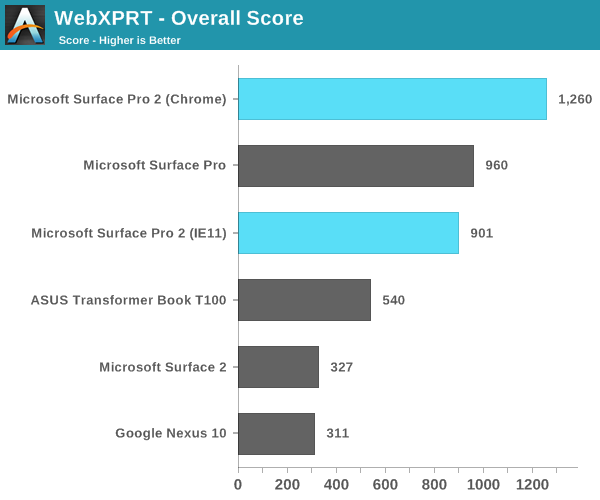 GPU Performance
Intel's HD 4400 is good enough for light gaming and is a huge step above what you can find in a traditional ARM based tablet. Microsoft only gave us a few days to review both devices so I didn't have a ton of time to re-characterize the performance of Intel's HD 4400, but I've done that elsewhere already.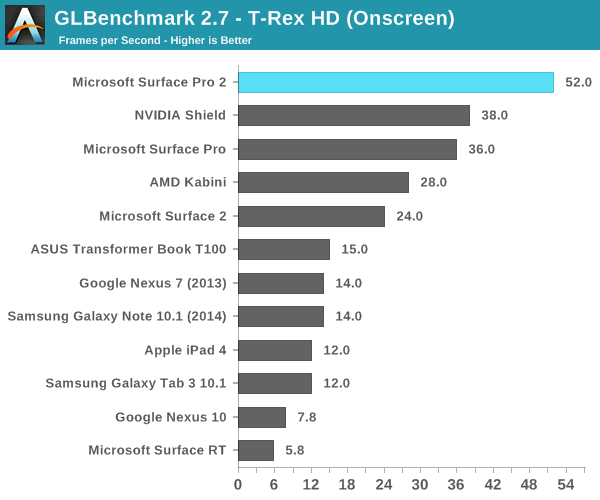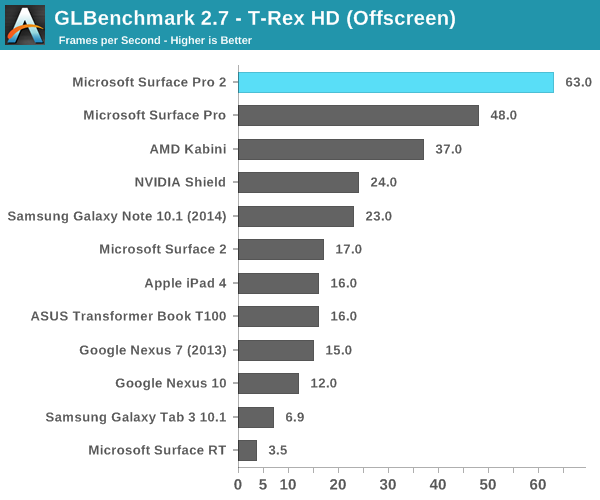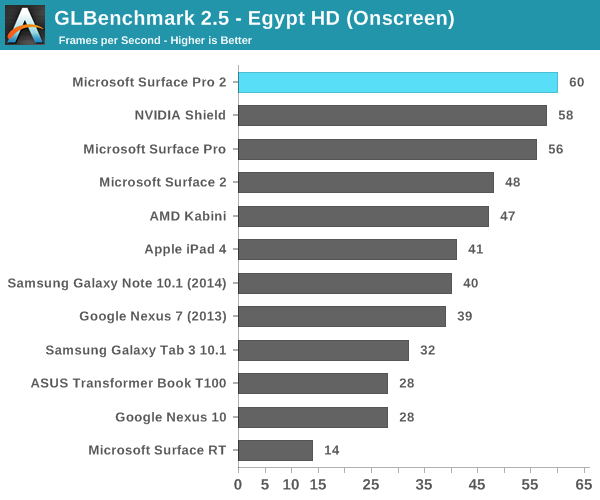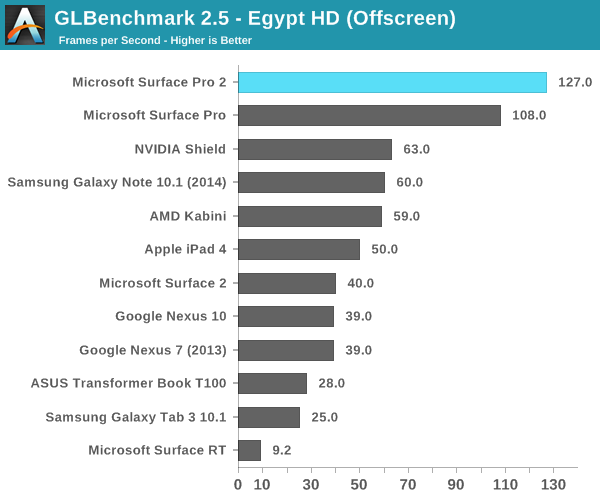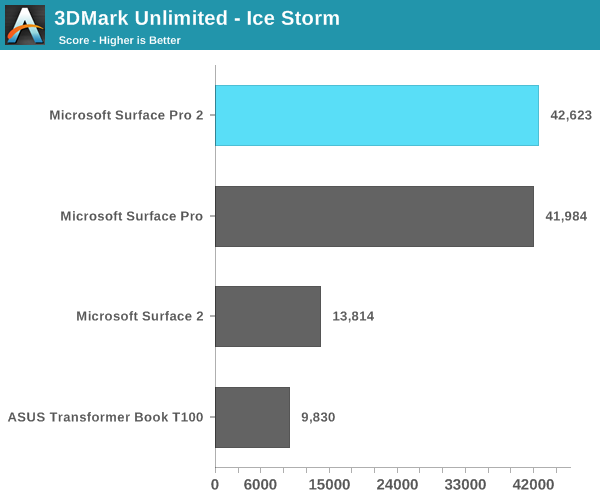 Storage Performance
My review sample appears to have a SK Hynix based SSD. I ran it through the same modified IO tests I did on the ASUS T100:
Our Android IO tests rely on Androbench with a relatively limited LBA span. I increased the difficulty of the test a bit under Windows 8.1 but still kept it reasonable since we are dealing with eMMC solutions. I'm testing across a 1GB LBA span and testing for a period of 1 minute, which is an ok balance between difficulty of workload and sensitivity to the fact that we're evaluating low-class SSDs here.
Surface Pro 2 is a completely different league of IO performance. The number to pay attention here is the tremendous increase in random write performance compared to the eMMC solutions we've tested. I suspect the gap increases if we were to look at worst case sustained random write performance. Killer sequential performance definitely helps Surface Pro 2 feel quick.