At Flash Memory Summit this week, Samsung is sharing details of their storage technology roadmaps and showing off several prototypes.
Last year, Samsung announced their fourth generation of 3D NAND, a 64-layer design. This fourth generation V-NAND is now in mass production and will be rolling out to many product segments over the coming months. Most products will be using either 256Gb or 512Gb TLC dies. Compared to the 48-layer third generation V-NAND, the 64-layer V-NAND offers the same read performance but approximately 11% higher write performance. Power consumption has been improved more significantly, with the current required for a read operation dropping by 12% and for a program operation the current required has decreased by 25%. Samsung claims their 64-layer V-NAND in a TLC configuration can last for 7,000 to 20,000 program/erase cycles.
Samsung has now also announced their fifth-generation V-NAND, which will increase the layer count further to 96 layers with relatively few other changes to the design. The fifth generation will include Samsung's first QLC NAND flash (four bits per cell), with a capacity of 1Tb (128GB) per die.
Beyond the fifth generation, Samsung says they may start using techniques like string stacking, putting the peripheral logic under the memory array, or shrinking the horizontal dimensions of their flash. String stacking is more or less inevitable if the layer count is to continue increasing, but it is not clear exactly when that transition will be worthwhile. At the moment, Samsung estimates string stacking would increase production costs by about 15% due to the extra process steps involved, and aligning a second stack of 3D NAND layers will present serious yield challenges. Putting the peripheral logic under the memory array has worked well for the 3D NAND from Intel and Micron, and Samsung estimates it could reduce their own die sizes by 20-30%. Shrinking the horizontal dimensions of their NAND flash memory cells also offers a way to increase density and improve price per GB, but that path leads to the same endurance and reliability problems that eventually made planar NAND a dead end technology.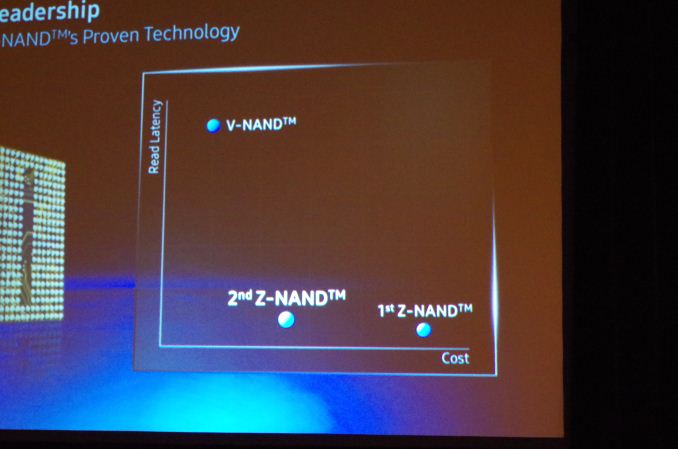 Samsung provided an update on Z-NAND memory, their near-term solution for offering lower latency than existing flash memory. In the long run, non-flash persistent memory technologies will be required, but by modifying their existing 3D V-NAND architecture they have an SLC-based memory that offers 3µs read latencies, 15 times faster than their V-NAND flash memory (whether that's comparing against MLC or TLC V-NAND was not specified). Their first Z-NAND product, the Z-SSD SZ985, offers overall random read latencies of less than 15µs, which is 5.5 times faster than their TLC-based enterprise SSDs. Samsung also announced a second generation Z-NAND, this time based on MLC NAND instead of SLC. This sacrifices a bit of performance (5µs read latency compared to 3µs) but offers much better storage density. Looking beyond Z-NAND for new memory technologies, Samsung is working on both phase-change memory and spin-torque magnetoresistive RAM (ST-MRAM).
Samsung's SSD announcements based on the above V-NAND technologies include a 128TB 2.5" SAS SSD based on QLC V-NAND. For this drive, Samsung will be stacking 32 dies per package, for a total of 4TB in each BGA device.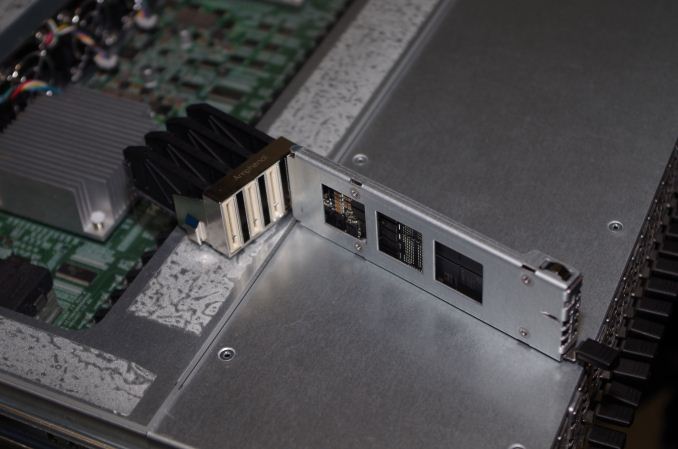 Samsung is also previewing a proposed new enterprise SSD form factor they are referring to as "NGSFF" for now. This form factor uses a 30.5mm by 110mm PCB, substantially wider than the most commonly implemented M.2 form factors and wide enough to accommodate two rows of flash packages. The PCB is mounted on a metal carrier that allows the drive to be used in a new hot-swappable backplane. Samsung is demonstrating a reference 1U server design codenamed "Mission Peak" that achieves a total capacity of 576TB through the use of 36 PM983 SSDs in the NGSFF form factor, each with a 16TB capacity. The motivation and benefits of this style of form factor are the same as for Intel's newly announced "Ruler" form factor: M.2 offers great density but isn't hot-swappable, and high-capacity 2.5" SSDs are hard to cool effectively when they stack two PCBs inside a closed 15mm case. Samsung has not mentioned whether they intend to participate in making NGSFF into an industry standard.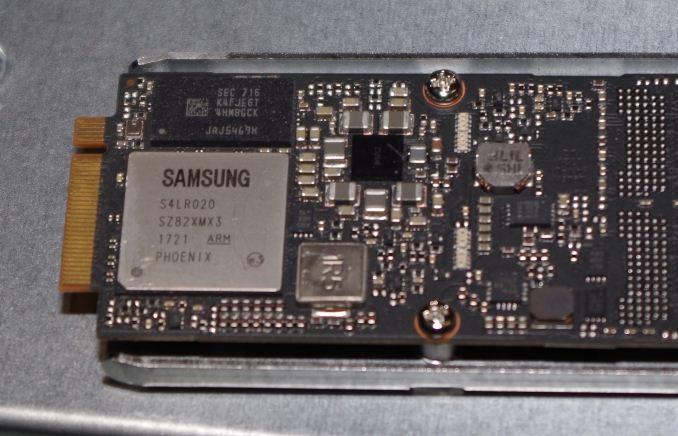 The drive Samsung is using to feature the NGSFF form factor is the PM983. The controller on this SSD is Samsung's Phoenix, likely the successor to the Polaris controller used in the retail 960 series and Samsung's other recent M.2 NVMe SSDs.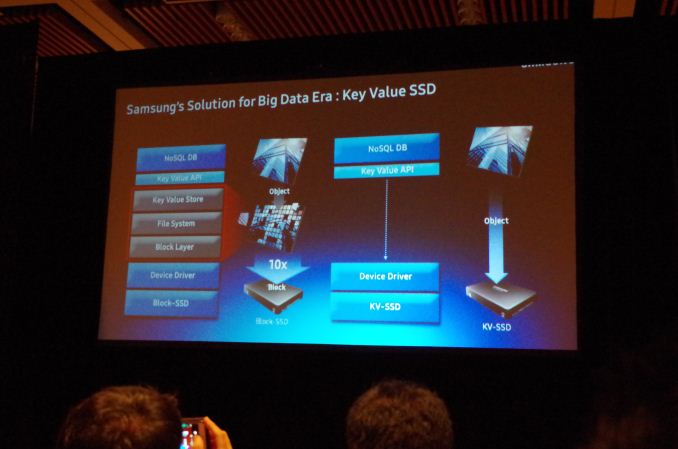 Moving slightly higher in the storage technology stack, Samsung is developing a new specialized software interface for enterprise SSDs. Rather than use block-based addressing, Samsung's PM983K presents a key/value storage interface similar to what is used by many NoSQL databases. Samsung claims this allows for significant performance scaling improvements compared to running RocksDB on a standard PM983, and that it leads to a huge reduction in write amplification. Samsung hasn't discussed the low-level details of the key-value interface, but it may be implemented using the NVMe 1.3 Directives feature, which would give Samsung an easy path to standardization.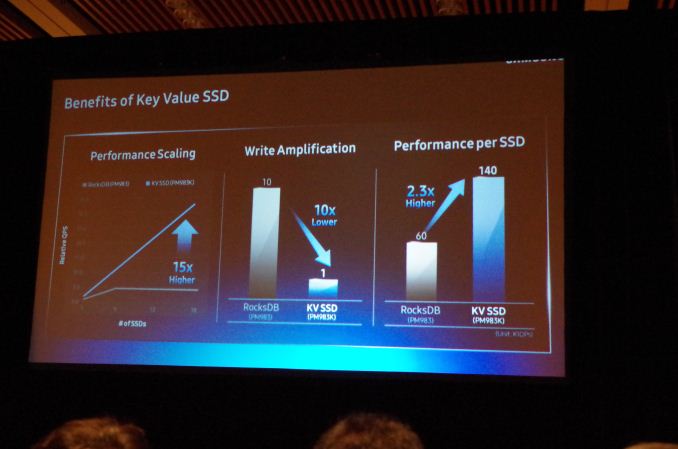 Separately from the key/value interface, Samsung's enterprise SSDs are now adopting the NVMe 1.3 Controller Memory Buffer feature and implementing the IO Determinism feature that has been approved for the next NVMe standard. That feature allows for separating the SSD into sets of namespaces that reside on physically separate NAND chips and channels, so that operations on one set will not be able to block operations on another set.