Conclusion
With their latest SFX/SFX-L units, Be Quiet! is trying to balance themselves somewhere inside the boundaries of the mainstream market by designing a reliable product that performs well but, at the same time, is antagonistically priced. SFX PSUs are becoming a significant part of the market share and Be Quiet! obviously wants to entice as many system builders as possible.
The SFX-L Power 500W unit that we reviewed today is a little longer than a standard SFX PSU, limiting its compatibility with some cases and designs, but offering better thermal and acoustics performance for more advanced systems. The presence of four 6+2 pin PCIe connectors also makes it ideal for more advanced gaming systems that have, or may eventually have, more than one graphics card installed. The output of this unit should be able to handle two mainstream cards, yet we definitely do not recommend trying to power two current generation top-tier cards with it. Future generation cards may be more energy-efficient, allowing the SFX-L Power 500W to effortlessly power them.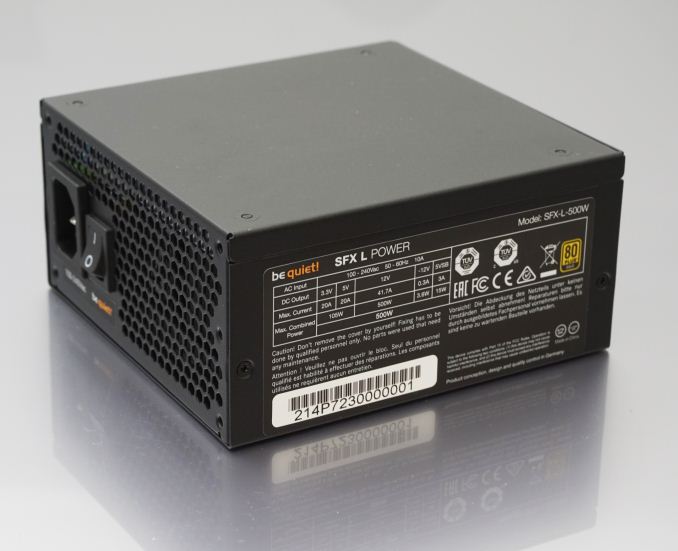 While its power quality figures could certainly use an improvement, they are well within the design guideline limits. OEM High Power's designs rarely are great performers when it comes to line filtering, so the relatively high voltage ripple was not surprising. On the other hand, the energy conversion efficiency of the SFX-L Power 500W PSU is excellent, easily meeting the 80Plus Gold certification standards. The PSU also displayed exceptional low load efficiency performance during our testing, which is particularly good for systems that stay on 24/7, such as, for example, NAS or NVR servers.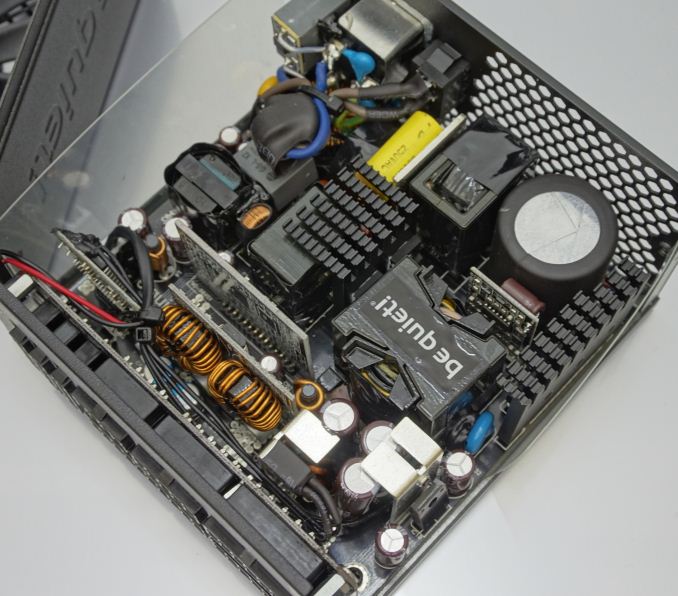 The marketing focus of the SFX-L Power 500W PSU, and nearly of all PSUs that the company retails, is low-noise operation. The concept of elongating the chassis and using a 120 mm is also based on the improvement of the unit's thermal performance and, in extent, lower noise operation. While the SFX-L Power 500W definitely is not loud, we feel that Be Quiet! failed their supporters here by not implementing a semi-fanless control mode. The high efficiency of the SFX-L Power 500W could allow it to easily output hundreds of watts before active cooling became necessary, even with its currently undersized heatsinks. Other than that, the thermal performance of the SFX-L Power 500W is good but has room for improvement, as the cooling capabilities of the unit are hindered by the small heatsinks, resulting to high noise levels when the PSU is heavily loaded.
The retail price of the SFX-L Power 500W at the time of this review is $100, which is reasonable for a quality 80Plus Gold certified SFX 500W PSU. It comes with a three years manufacturer warranty, which is alright but, again, not impressive by today's standards. We feel that the Be Quiet! SFX-L Power 500W is without a trump card against the several other SFX PSUs now available around that price, which limits the market potential considerably. It is not by any means a bad SFX-L PSU but, at the same time, it is unimpressive. We believe that if it had a semi-fanless mode or perhaps a longer warranty, it could convince a significantly larger percentage of users.