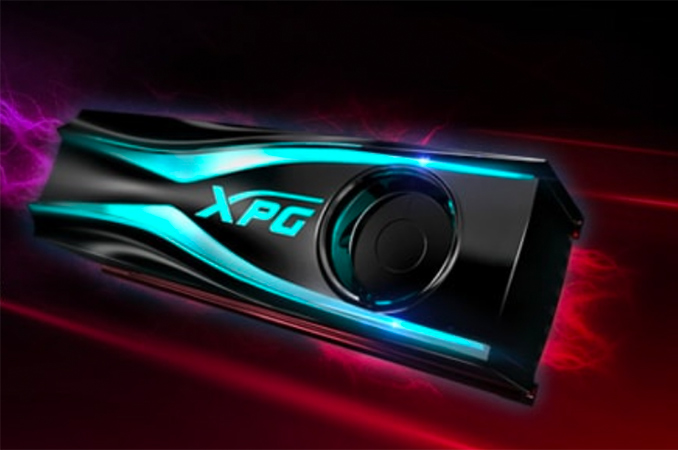 ADATA this week has introduced its first aftermarket cooler for M.2-2280 SSDs. The XPG Storm is meant to ensure stable performance with the latest drives under high loads, while also adding some visual effects via its integrated RGB LEDs.
The ADATA XPG Storm features a large, ten fin anodized aluminum heatsink painted to resemble copper. The heatsink in turn is cooled by an Sunon MF20100V1-10000-A99 20-mm fan, a small-but-powerful fan that can spin at up to 16,500 RPM (see detailed specs of the unit below). Overall the cooler is 2.4 centimeters thick and is among the largest cooling devices for M.2 SSDs launched to date.
While dimensions of the XPG Storm will affect its compatibility with small form-factor PCs (e.g., Mini-ITX motherboards with an M.2 slot on the backside), the maximized surface area means better heat dissipation, further reducing any remaining thermal throttling under high loads. ADATA does not quantify advantages of its XPG Storm (it only says it makes SSDs 25% cooler, but that is not a very precise valuation), but according to EKWB, a passive heatsink can reduce controller temperature by 8-10°C, or even more with appropriate airflow. Since the XPG Storm has its own fan, expect it to perform a bit better than passive coolers. Meanwhile, keep in mind that the noise generated by the aforementioned 16,500 RPM fan is speced at 25 dBa, which is noticeable.

Besides just cooling SSDs, the ADATA XPG Storm is an accessory that adds style to a modern gaming PC. The shroud of the XPG Storm's cooler features RGB LEDs that support external 4-pin RGB controllers, as well as ASUS Aura Sync, GIGABYTE RGB Fusion, and MSI Mystic Light Sync applications. The fan can be connected to a system fan header on a motherboard, or directly to a PSU using a an appropriate adapter.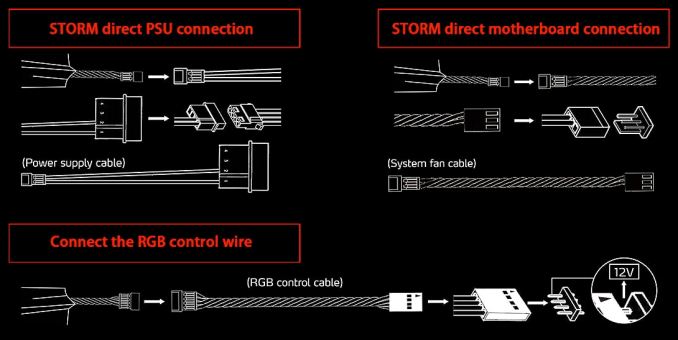 The vast majority of high-performance SSDs these days use M.2 form-factor because of PCIe interface and broad compatibility with all types of desktop, laptop and even hybrid computers. However, M.2 drives have a drawback that affects their performance occasionally: they are hard to cool down. Modern SSD controllers contain multiple computing cores to perform rather intensive mathematical operations while using ECC based on LDPC algorithms in order to work with contemporary NAND flash memory, all the while the NAND dies themselves also produce heat of their own. As a result, high-end drives in particular have been known to throttle some in heavy write scenarios, especially in systems with poor airflow.
Manufacturers of SSDs naturally try to tackle heat issues by equipping their drives with thermal pads (Samsung) or heatsinks (ADATA, Plextor), but since the majority of M.2 SSDs come without any cooling, the market of custom cooling solutions for such drives is expanding. Over the past 12 months we have seen aluminium M.2 coolers from Alphacool (passive and liquid cooled) and EKWB (passive), whereas Silverstone is selling aftermarket thermal pads. As it appears, ADATA decided to take aftermarket cooling of its M.2 SSDs into its own hands, thus offering a comprehensive service to its demanding clients as well as increasing its revenue and profits.
ADATA XPG Storm at a Glance
AnandTech.com

ASTORM-C

Bearing Type
Vapo-Bearing
Fan Diameter
20 mm (?)
RPM
16,500 RPM ± 15%, non-PWM
Airflow
1.9 CFM (at 16,500 RPM)
Noise level
25 dBA (max)
Fan life
unknown
RGB Compatibility
External controllers
ASUS Aura Sync
GIGABYTE RGB Fusion
MSI Mystic Light Sync
Dimensions
81.5 × 24.55 × 23.1 mm
Voltage
12 V, 80 mA
MSRP
$29.99
Check Availability
Amazon
Newegg
ADATA will start selling its XPG Storm cooler for $29.99 starting early next month. The unit will be covered by a one-year warranty.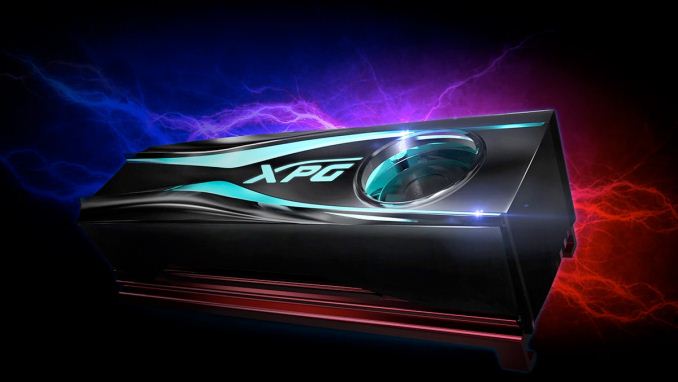 Related Reading: