The Test
As is usually the case for launches without reference hardware, we've had to dial down our Sapphire cards slightly to meet AMD's reference specifications. In this case, Sapphire's secondary BIOS offers reference settings, so for our reference-spec testing, we're using that BIOS. Otherwise, for at-stock testing of the Sapphire Pulse RX 5500 XT 8GB, that is being done with the primary (performance) BIOS.
Meanwhile on the driver front, we're using AMD's new Radeon Software Adrenaline Edition 19.2.2 software set, which are the launch drivers for the RX 5500 XT. AMD has introduced a number of control panel features here (not to mention a UI overhaul) that we'll cover in a separate article. Otherwise for performance testing, these drivers are not substantially different from earlier AMD drivers – though we've retested the RX 570 and RX 5700 to ensure those results are fully up to date.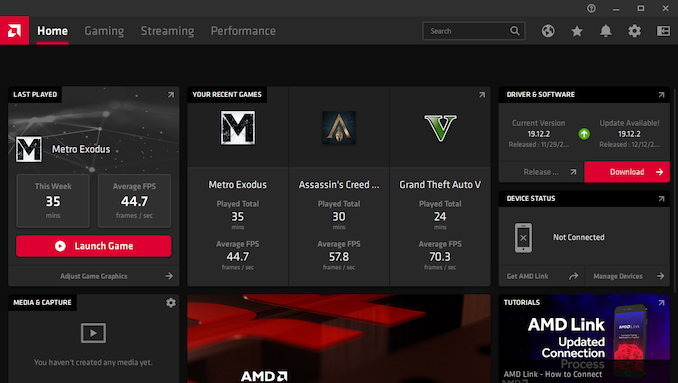 Finally, as the RX 5500 series is focused on 1080p gaming, this is what our benchmark results will focus on. I have also tested the RX 5500 XT 8GB at our 1440p settings – as expected, it's not very playable there – and while these results haven't been graphed, they are available in our Bench system.
CPU:
Intel Core i9-9900K @ 5.0GHz
Motherboard:
ASRock Z390 Taichi
Power Supply:
Corsair AX1200i
Hard Disk:
Phison E12 PCIe NVMe SSD (960GB)
Memory:
G.Skill Trident Z RGB DDR4-3600 2 x 16GB (17-18-18-38)
Case:
NZXT Phantom 630 Windowed Edition
Monitor:
Asus PQ321
Video Cards:
AMD Radeon RX 5700
Sapphire Pulse RX 5500 XT 8GB
Sapphire Pulse RX 5500 XT 4GB
AMD Radeon RX 580
AMD Radeon RX 570
AMD Radeon RX 460 4GB
AMD Radeon R9 380
NVIDIA GeForce GTX 1660 Super
NVIDIA GeForce GTX 1660
NVIDIA GeForce GTX 1650 Super
NVIDIA GeForce GTX 1060 3GB
Video Drivers:
NVIDIA Release 441.41
NVIDIA Release 441.07
AMD Radeon Software Adrenalin 2020 Edition 19.12.2
AMD Radeon Software Adrenalin 2019 Edition 19.10.2
OS:
Windows 10 Pro (1903)