Two Models, Neither Perfect
The one common trend I've noticed from companies that are building products people want to buy despite the current economic climate: prices haven't dropped. Nikon raised prices last year and Apple introduced two new Mac Pros one at $2499 and one at $3299.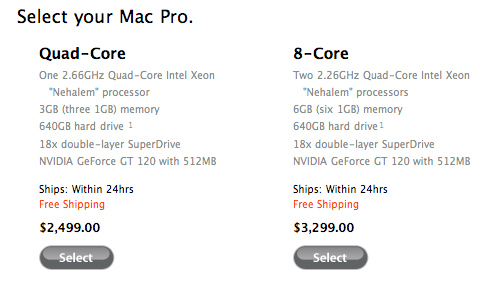 The $2499 model comes with a single quad-core Xeon running at 2.66GHz. This is the Xeon equivalent of the Core i7-920. You get 3GB of memory, a 640GB HDD, an 18x DVD-DL burner and a GeForce GT 120.
Another $800 will get you two quad-core Xeons running at a slower 2.26GHz. You get twice the memory and everything else stays the same.
I suspect that for most users the $2499 configuration is more than enough, but for this review I'm testing the $3299 system and will attempt to explain how the $2499 machine would perform.
There's basically a $30 cost difference between 6GB of DDR3 memory and 3GB of DDR3. It's silly for Apple to not offer the base configuration with 6GB. Anything less than 4GB in a workstation is ridiculous for a system being made and sold in 2009. If you've read our Nehalem articles you'll know that each chip has three 64-bit wide memory controllers, thus you'll want to install DIMMs in triplets. You can install four DIMMs, but accessing memory in the fourth module will be slower - something you'll never notice if you're wondering.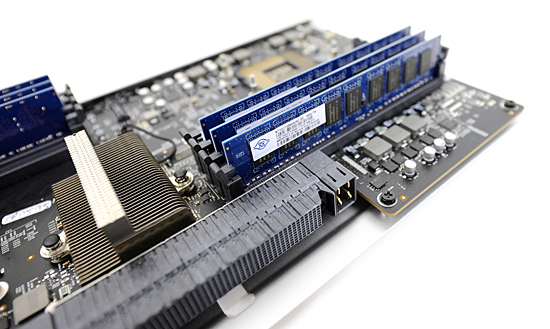 You'll find six DIMMs in the 8-core Mac Pro. Two LGA-1366 CPU sockets, 3 memory channels per CPU socket, 3 DIMMs per chip.
I won't complain too much about the hard drive. A 640GB HDD is fine, not great and I'll soon show you how much better one of these machines is with an SSD but no complaints there.
The video card could use some work. I'm not concerned about the GPU power; it's the amount of memory that bothers me. If any of Apple's users are likely to have a multi-monitor setup it is a Mac Pro owner, and 512MB isn't enough to enable silky smooth Exposé across a 30" + 24" setup. And you can forget about smooth transitions on two 30" panels.
Even the upgraded video card, the Radeon HD 4870 only comes with 512MB of GDDR5 memory. Apple charges an extra $200 for that card, even though that's how much the 4870 1GB cards cost at Newegg. I have no problems with Apple making money, but not even offering a single 1GB graphics card is silly; especially when more memory is actually useful.
If you want the best solution for multiple monitors in a Mac Pro, you'll want to get two GeForce GT 120s it seems (although there is a 3rd party option).