EVGA GeForce GTS 450 FTW
The second card in our roundup is EVGA's GeForce GTS 450 FTW. FTW is EVGA's 3rd and highest factory overclocking tier, placing it among the fastest cards the company sells. For the GTS 450 FTW, the card ships at 920MHz core and 1026MHz memory (4104MHz effective), representing a 137MHz (17%) core overclock and a 124MHz (13%) memory overclock. Notably this means that EVGA is shipping the card at a memory clockspeed above 4GHz, which is what the Samsung RAM on the card is rated for.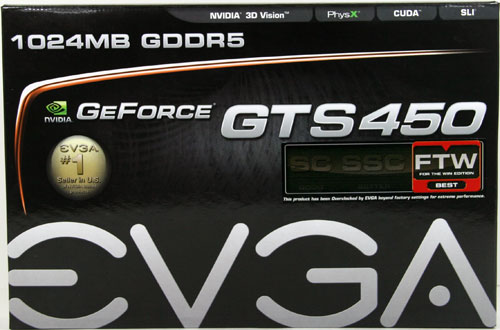 As we alluded to earlier, we've had some trouble with this card. The card we ended up reviewing was in fact our second card – our first card was a pre-production sample that failed FurMark testing at the factory overclock. Our second card was a proper retail sample that went through the usual QA process and behaved properly at factory overclock speeds, however it was also the sample with the slight PCB warping that we mentioned earlier. Currently EVGA has put a hold on these cards pending an investigation, but we believe the hold is only temporary as we do not believe the PCB warping is severe enough to cause any issues with the card.
EVGA is one of NVIDIA's closest partners, so it's very common to see them launching cards using a straight reference design. The GTS 450 FTW is no exception – the only thing non-reference about it is its clockspeeds. As a result it has all the benefits and downsides of the NVIDIA reference design – the same 8.5" length, the same components, and the same cooling - and in practice it's only distinguishable by its higher performance and its greater temperatures and power draw that come as a result of its factory overclock.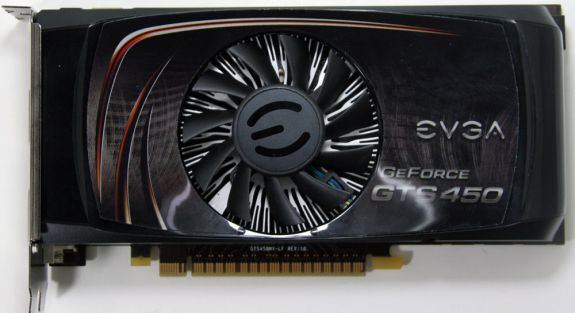 Since EVGA isn't looking to differentiate itself from the reference design on its hardware, their key selling points lie in the overclock and then the software. For the software side of things the FTW comes with EVGA's two homegrown software utilities: EVGA Precision, and the EVGA Overclock Scanner.
EVGA Precision is a freely released overclocking utility based on the classic overclocking utility RivaTuner. As with RivaTuner before it, EVGA Precision is a simplified overclocking utility designed to allow easy overclocking and monitoring of a card, and supports a wide variety of cards including non-EVGA cards. It also includes support for overclocking profiles and an on-screen-display overlay for use in games.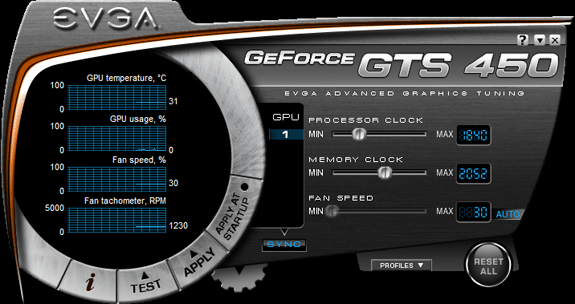 For the version the GTS 450, EVGA is defaulting to a minor redress of the circular skin we saw with the GTX 460. Unfortunately this continues to be one of the worse skins the utility ships with – if you're more a fan of the KISS principle, we'd strongly suggest using one of a number of other skins included with the utility to give the utility a more orthogonal layout.
Nitpicking about skinning aside, EVGA Precision currently sets the gold standard for an overclocking utility along with MSI's RivaTuner-derived Afterburner software. Precision is easy to use, light on resources, and in our experience we have never encountered any notable bugs with the utility. It has the features most users should need without going overboard and getting bloated with useless features. We would however like to see them take a page out of MSI's book and add overvolting support, even if it's in an unofficial capacity. The FTW already ships with a fairly high voltage, but there's still a decent amount of headroom left in the card for overclocking if you can give it more power; and the GF106 GPU is cool enough that the cooler doesn't have an issue keeping up.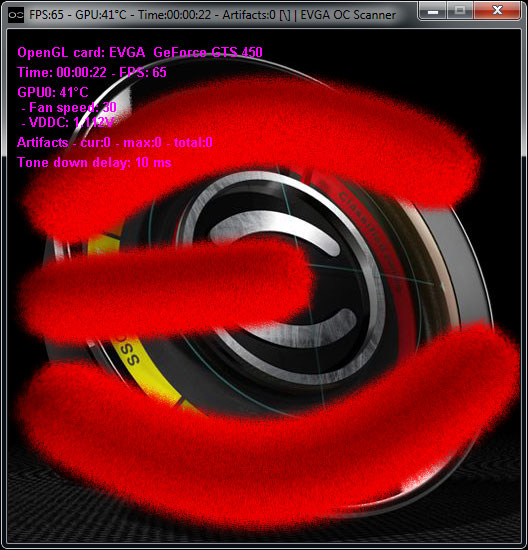 EVGA's second overclocking utility is the EVGA Overclock Scanner, which we have had the chance to watch evolve throughout the year. In a nutshell, the OC Scanner is a load-generating utility (ala Furmark) which rather than generating a moving image generates a static image. By generating a static image it's possible for the software to identify any rendering errors in the image that would be indicative of a bad overclock. Or in other words, if you've overclocked your card too far, this utility will let you know. Unlike EVGA Precision however, this utility is only for EVGA card owners, specifically owners of GTX/GTS 400 series cards.
In our experience with the utility it's fairly – but not perfectly – accurate. As we mentioned earlier we had our pre-release card fail Furmark, while the EVGA OC Scanner would pass it. We've also had this occur in the past when overclocking. Furmark is by design a pathological case so we won't make any claims about the realism of the load, but it means the EVGA OC Scanner can miss something now and then. Anything it passes should be safe for gaming, but we would probably knock 10MHz off just to be safe.
Rounding out the package is the obligatory quick start manual, a molex to PCIe power adaptor, a driver/utility CD, and a DVI-to-VGA dongle.
Unfortunately EVGA is not offering a lifetime warranty version of the card, so the FTW comes with their standard 2-year warranty. Meanwhile EVGA has priced the card at $149, a $20 premium over a reference card.