SilverStone Raven RV05 Exterior
Much like the previous models of the Raven series, the RV05 sports a very aggressive appearance, with numerous sharp angles and long lines. It is less extravagant than most of the previous Raven models but it definitely is not a case for everyone. Most of its body is made out of plastic, with the metal parts reduced to just the core of the chassis and the side panels. It is much more compact than the previous models of the series and no larger than a typical Midi-ATX tower, while it weighs 7.75kg.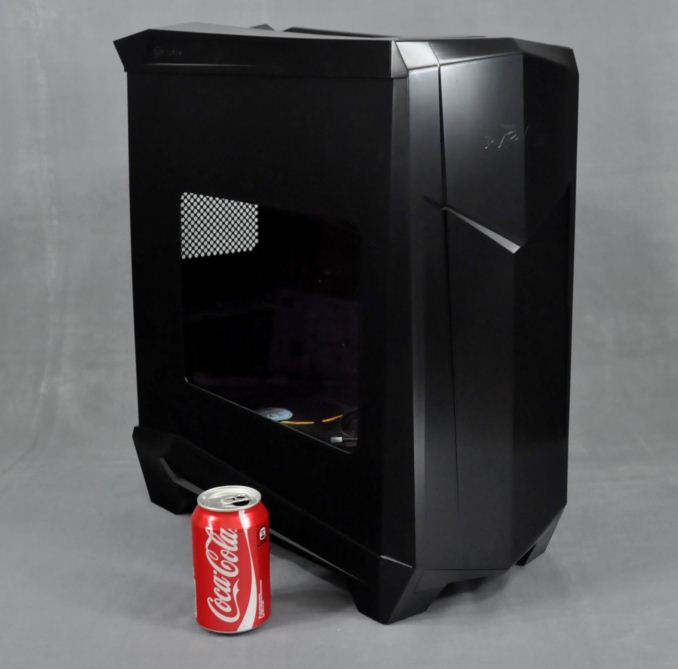 The Coke can is there for size comparison, if you're wondering.
There are no external 5.25" bays on the Raven RV05, but SilverStone does offer a solution for an optical drive, albeit an expensive one. An opening to the right side of the face panel gives access to a slim slot-loading optical drive (not included). In their attempt to blend the opening in the design as much as possible, there is no eject button either.
The power and reset buttons can be found along the top of the faceplate, one on either side of the front I/O ports. SilverStone installed two USB 3.0 ports and two 3.5" audio jacks (headphones, microphone), which are beneath a rubber cover. The rubber cover is functional as far as keeping the dust out goes, but it hardly is practical at all. It needs to come off and stay off completely each time the user needs to attach any cable. We suspect that many users will just put it in a drawer (and eventually lose it).
All of the air intake is at the bottom of the case, which is why the small case has such tall feet. SilverStone installed a single, large washable filter there, removable towards the front of the case. This is the only filter pre-installed on the Raven RV05 and cleaning it should be a very easy and quick task for any user. There is another opening at the rear of the case, but that is for the PSU fan intake only.
The top of the case is perhaps the most important part of the Raven RV05. Beneath the plastic cover, we see a spacious area for routing cables, the expansion slot cover, and a 120mm fan opening. Device cables (USB, monitor, LAN, etc.) and the power cable enter this area from the opening at the rear of the case. There is no fan installed but SilverStone does provide an extra filter if you feel like installing one as intake. Latches hold the side panels in place and simply pressing on them is enough to remove a side panel; there are no screws involved. From this area, the user can also access the basic fan controllers of the case, two switches behind the I/O ports that offer three fan speed settings (High, Medium, and Low).