The Kits and The Markets
In our Haswell DDR3 scaling article, we introduced the concept of a Performance Index in order to compare memory kits of different frequencies and latencies against overall performance. The Performance Index is calculated by the rated speed divided by the CAS latency such that:
Performance Index = Frequency / CL
At the time it came across as a good indicator of performance when buying from the shelf, although most companies do not particularly advertise the latencies on the package. Our conclusion for DDR3 on Haswell was that the higher the Performance Index the better, although with two potential options close together, the one with the higher frequency is the better choice. So for example, when given DDR3-2133 C10 (PI of 213) against DDR3-1866 C10 (PI or 187), the first one should be chosen. However with DDR3-2133 C10 (PI of 213) and DDR3-2400 C12 (PI of 200) at the same price, the results would suggest the latter is a better option.
One of the big issues that the Performance Index does not take into account is the price, which fluctuates weekly depending on DRAM supply but also the capabilities of a kit through rarity. When purchasing memory ICs from the big three (Samsung, SK Hynix, Micron), the chips themselves are only rated at a basic speed and it is up to the module manufacturer to do further binning to find the best silicon for the high speed memory kits. As a result many of these companies will bid on certain batches with a history of high performance, and then the extra time required to separate the good chips from a batch adds into the high cost of the top frequency kits. Usually frequency defines the difficulty, rather than the sub-timings and latency because frequency is a defining factor.
When it comes to DDR4, we will be taking a similar broad approach to kit designation, taking the Performance Index of each memory kit in each benchmark and attempting to find a correlation.
The Market
At launch, DDR4 kits had the obvious premium of being a new technology as well as being is short supply due to Intel moving up the date for release. The prices at this time, as we reported, were the equivalent to $213 for a 4x4GB 2133 C15 kit going through $300 for a 4x4 GB 2666 C15 up to $413 for 4x4GB 3000 C15. Based on these numbers it would seem that the high end modules have come down in price quickly, but the lower range products have stayed similar. We took a range of pricing from Newegg to see the effect of being at market for just over six months has done.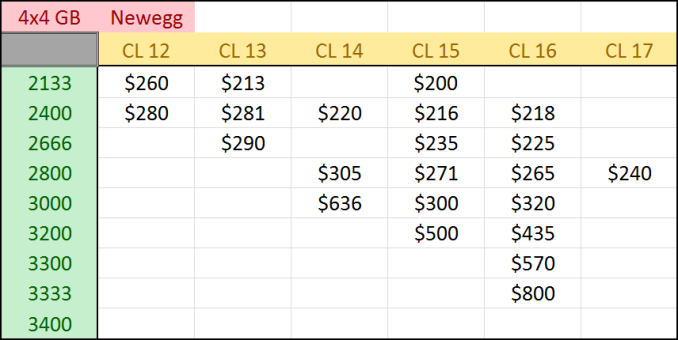 The cheapest standard kit of 2133 C15 4x4 GB comes in at $200. The best kit in this layout would be towards the bottom left, as indicated by the performance index in each square: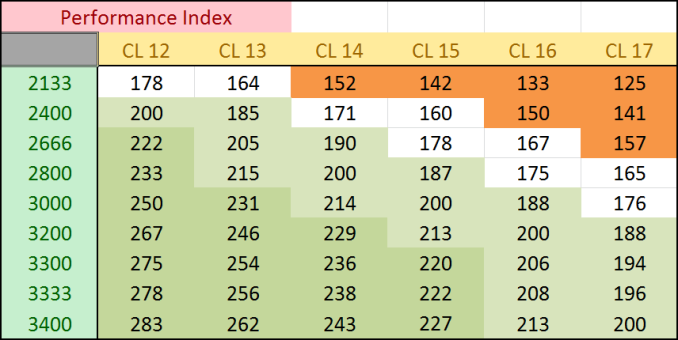 Here I have marked four areas, representing the low end memory in orange, the more standard in white, the performance modules in green and the super-high performance in dark green. There are currently no modules in that last group, going through all the pricing from 2x8GB kits to 8x8GB kits: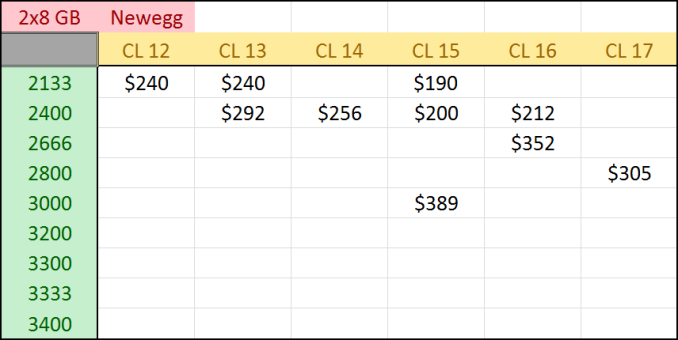 The lowest price per GB is at $387 for 4x8GB of DDR4-2133 C15, at $12.09 per GB, compared to $1800 for 8x8GB of 2800 C16 which makes out to $28.13 per GB.
The interesting segments based on price alone that catch my in that case are:
4x4GB DDR3-2133 C13 for $213
4x8GB DDR3-2133 C13 for $400

At this point, a CAS latency below 15 is something of a novelty. It seems a little more esoteric than usual, as none of the manufacturers we spoke to even considered sampling us something of this nature. I would be interested to actually see how it performs.

4x4GB DDR4-2666 C13 for $290
4x4GB DDR4-3000 C15 for $300

I picked both of these based on the closeness of price and on Performance Index. The latter kit is something we have in for review, but similar to the previous kits listed, a CAS latency of 13 is an interesting element to the equation.

4x8GB DDR4-2800 C15 for $510

Measuring up at nearly $16 per GB, this kit mixes the elements of on-paper specifications, density and price for a nice X99 system.
The Kits
For this roundup and subsequent reviews, we received kits from almost every major memory manufacturer. G.Skill, Corsair, ADATA and Crucial were all willing to send various speeds and densities of memory, ranging from the basic 4x4 GB of DDR4-2133 C15 to 8x8GB of DDR4-2133 C15, or 8x8GB of DDR4-2400 C16 to 4x4GB of DDR4-3200 C16.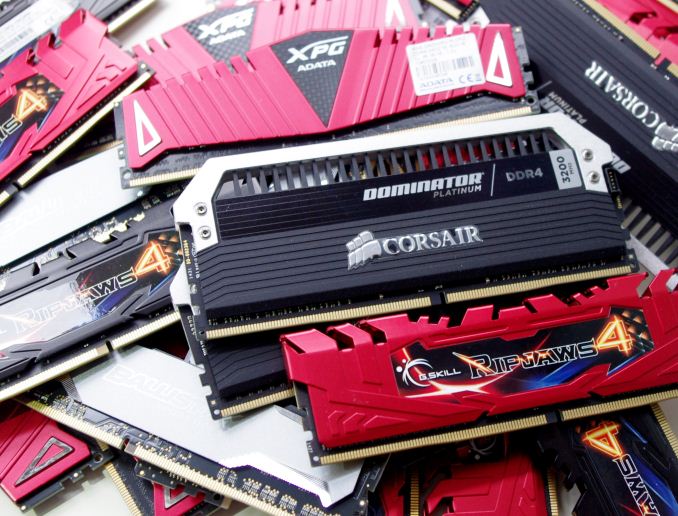 The main conclusions from this testing will be from the 4x4 GB modules in order to keep consistency, however the 4x8 GB and 8x8 GB results will be included for comparison. Larger modules (and more modules in a kit) tend to lead to relaxed sub-timings in order to ensure full compatibility with all CPUs in all motherboards. This means that in synthetic testing we may end up with some slightly different results, although this may differ in real-world tests.
Another point to note is module compatibility. When DDR4 was first launched with Haswell-E in September 2014, compatibility issues were a problem. Intel had moved up the time of the launch from mid-September to early September very late in the day, leaving memory vendors to scramble kits to market. This gives them a shorter time to work with ASUS, GIGABYTE, MSI and ASRock in order to insure no issues when working with motherboards, especially with high end memory. Due to this shortened timeframe there were some issues to begin with but these should have been ironed out since. Also on the high speed memory front, it would seem that early motherboard BIOSes were also unable to cope with the higher speed, higher density memory kits. Therefore it is important to make sure that all BIOSes are up to date when buying the expensive memory sets.
DDR4 Module Comparison
SKU
Kit Size
Kit Speed
Sub-Timings
Voltage
PI
Corsair
CMD16GX4M4B3200C16
16 GB (4x4)
DDR4-3200
16-18-18 2T
1.35 V
200
G.Skill
F4-3000C15Q-16GRR
16 GB (4x4)
DDR4-3000
15-15-15 2T
1.35 V
200
G.Skill
F4-2800C16Q-16GRK
16 GB (4x4)
DDR4-2800
16-16-16 2T
1.20 V
175
G.Skill
F4-2666C15Q-16GRR
16 GB (4x4)
DDR4-2666
15-15-15 2T
1.20 V
177
Crucial
BLS8G4D240FSA
16 GB (4x4)
DDR4-2400
16-16-16 2T
1.20 V
150
G.Skill
F4-2133C15Q-16GRR
16 GB (4x4)
DDR4-2133
15-15-15 2T
1.20 V
142
ADATA
AX4U2400W8G16-QRZ
64GB (8x8)
DDR4-2400
16-16-16 2T
1.20 V
150
Corsair
CMV8GX4M1A2133C15

64GB (8x8)

DDR4-2133
15-15-15 2T
1.20 V
142

The memory in this test is as follows, starting with the 4x4GB kits and fastest/most expensive:
DDR4-3200 16-18-18 2T 4x4 GB 1.35 V Corsair CMD16GX4M4B3200C16, PI of 200
$746 on Amazon
$685 on Newegg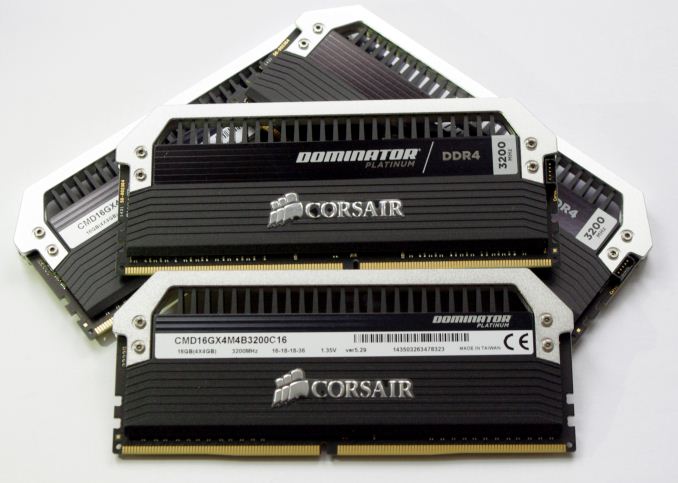 DDR4-3000 15-15-15 2T 4x4 GB 1.35 V G.Skill F4-3000C15Q-16GRR, PI of 200
$436 on Amazon
$300 on Newegg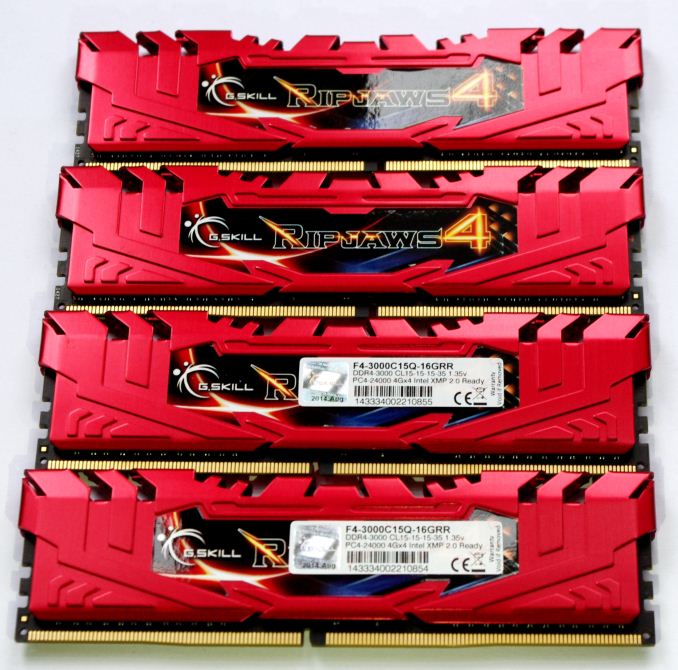 DDR4-2800 16-16-16 2T 4x4 GB 1.2 V G.Skill F4-2800C16Q-16GRK, PI of 175
$305 on Amazon
$270 on Newegg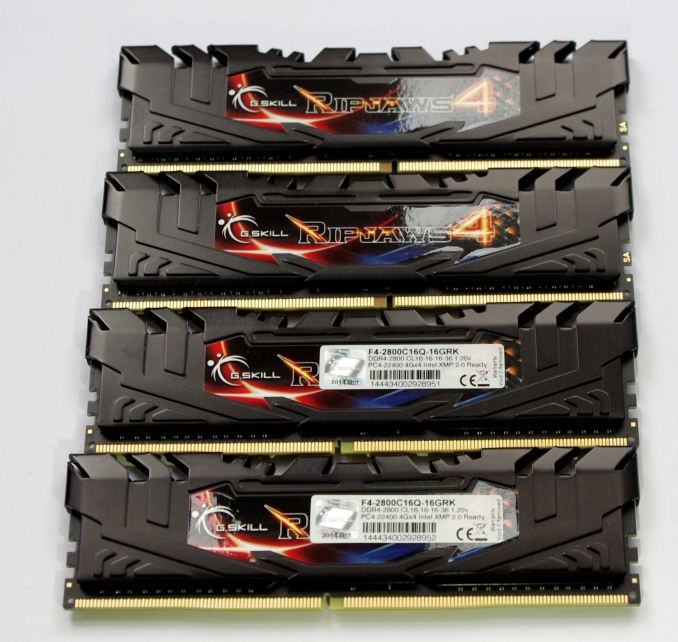 DDR4-2666 15-15-15 2T 4x4 GB 1.2 V G.Skill F4-2666C15Q-16GRR, PI of 177
$290 on Amazon
$250 on Newegg

DDR4-2400 16-16-16 2T 4x4 GB 1.2 V Crucial BLS8G4D240FSA.16FAD, PI of 150
$180 on Amazon

DDR4-2133 15-15-15 2T 4x4 GB 1.2 V G.Skill F4-2133C15Q-16GRR, PI of 142
$315 Amazon
$250 Newegg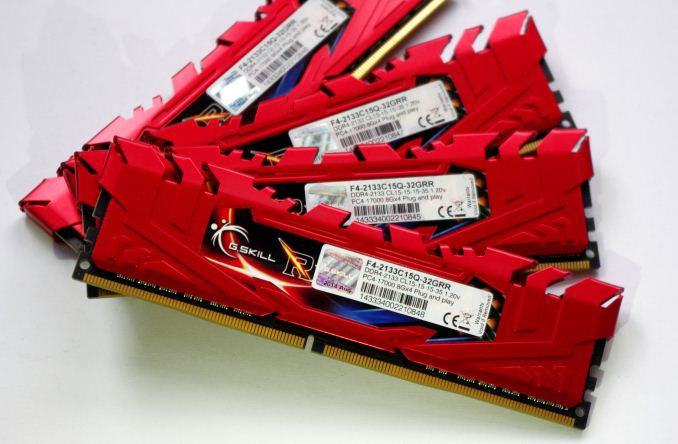 For good measure, we also have the following kits for testing:
DDR4-2400 16-16-16 2T 4x8 GB and 8x8 GB 1.2 V ADATA AX4U2400W8G16-QRZ, PI of 150
$400 for 4x8GB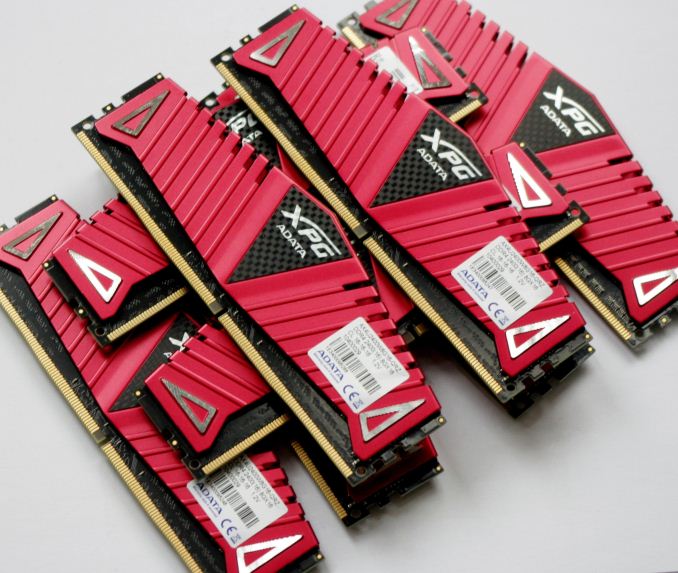 DDR4-2133 15-15-15 2T 4x8 GB and 8x8GB 1.2 V Corsair CMV8GX4M1A2133C15-ESM, PI of 142
$120 per module

We also have more kits from Crucial, Corsair, G.Skill and KLEVV incoming for when we tackle individual reviews. The purpose of this scaling piece is merely to demonstrate the general effect of speed across the modules currently on the market. As mentioned, some of those kits with a CL of less than 15 look interesting, so I will have to give Mushkin a call or get a contact at Kingston.
Test Setup