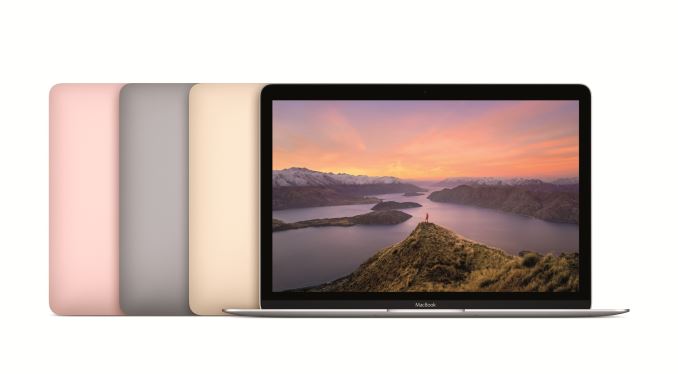 Today Apple has introduced its new generation of its MacBook laptops. On the specification sheets, this generation introduces Intel Skylake based Core m processors, updated integrated graphics, a faster storage solution (either controller or NAND), faster DRAM and bigger batteries. The new notebooks use the same thin chassis and retina-class display as the Broadwell-based MacBooks released last year, but in using the new Skylake silicon the new models are are expected faster and more energy-efficient, and combined with bigger batteries should mean longer battery life. Apple is also expanding the color options, bringing the popular Rose Gold option from the iPhone line to the Macbook.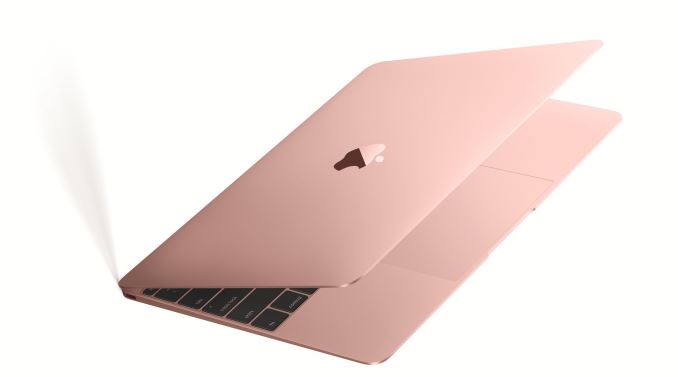 The new Apple MacBook line is based on the dual-core Intel Core M processors based on the newest Skylake microarchitecture as well as the ninth-generation of Intel's integrated graphics (HD 515, Gen9) with improved media playback support. The new processors are the Core m3-6Y30, the Core m5-6Y54 and the Core m7-6Y75, but are upgraded from their listed base frequencies due to Apple using them in a 'configurable 7W TDP up' mode. This adjusts the base frequency up by 100-200 MHz and offers more TDP headroom for longer turbo periods. The latest microarchitecture and increased frequencies should increase the base performance of the new laptops in general-purpose applications whereas hardware-accelerated playback of HEVC and VP9 video streams should improve battery life in video streaming scenarios. Just like predecessors, the new laptops use 8 GB of memory, using LPDDR3 to minimize power consumption of memory sub-system. This time, Apple uses LPDDR3-1866 memory for its MacBook, which is a tad faster than the LPDDR3-1600 DRAM it used last year. This should have a knock-on effect on the integrated graphics performance as well.
Apple MacBook Line
2015 (Broadwell)
2016 (Skylake)
CPU
SKU
Intel Core
M-5Y31
Intel Core
M-5Y51
Intel Core
M-5Y71
Intel Core
m3-6Y30
Intel Core
m5-6Y54
Intel Core
m7-6Y75
cTDP Up
7W cTDP Up
Base
1.1 GHz
1.2 GHz
1.3 GHz
1.1 GHz
1.2 GHz
1.3 GHz
Turbo
2.4 GHz
2.6 GHz
2.9 GHz
2.2 GHz
2.7 GHz
3.1 GHz
GPU
SKU
Intel HD Graphics 5300 (GT2)
24 EUs, Gen 8
Intel HD Graphics 515 (GT2)
24 EUs, Gen 9
Base
300 MHz
300 MHz
Turbo
850 MHz
900 MHz
850 MHz
900 MHz
950 MHz
DRAM
8GB LPDDR3-1600
8GB LPDDR3-1866
PCIe SSD
256 GB
512 GB
256 GB
512 GB
256 GB
512 GB
256 GB
512 GB
PCIe 2.0 x4
PCIe 3.0 x2
Display
12-inch 2304x1440 IPS LCD
Ports
1 x USB 3.1 (Gen 1) Type-C
3.5mm combo jack
Network
2x2:2 802.11ac with BT 4.0
Battery
39.7 Wh
41.4 Wh
Dimensions
H: 0.14-0.52-inch
W: 11.04-inch
D: 7.74-inch
Weight
2.03 lbs (0.92 kg)
Colors
Space Gray
Gold
Silver
Space Gray
Gold
Silver
Rose Gold
Price
$1299
$1599
$1749
$1299
$1599
$1749 ?
Since the chassis and the monitor essentially remained the same as last year, we are still talking about a machine with 12" IPS display panel with 2304x1440 resolution and a full-size keyboard. The maximum thickness of the new MacBook is 1.31 cm (0.52") and the weight is 0.92 kg (2.03 pounds), similar to the first-gen model.
Apple claims that the new MacBook laptops feature upgraded solid-state storage, which relies on the PCIe bus, but it offers higher performance than the previous-gen SSD the company used on its 2015 MacBook. Last year the company essentially used its own SSD with its own controller, based on iFixit.com's findings. Perhaps, this year Apple uses a new-gen SSD design developed in-house. Unfortunately, the company remains tight-lipped regarding the nature of its SSD improvements, but only discloses that they are faster than the predecessors. Last year's MacBook used a PCIe 2.0 x4 NVMe interface - moving to Skylake Core M and the fact that Skylake's PCH supports PCIe 3.0 by default means that the new drive is most likely PCIe 3.0, but we're not sure if it is still x4, or if something else has changed. We are asking about this!
In addition to the new components, Apple also uses larger 41.4-watt-hour lithium-polymer terraced battery, compared to a 39.7 watt-hour battery used on the previous-gen model, which should enable longer battery life. Apple itself declares up to 10 hours of wireless web browsing and up to 11 hours of iTunes movie playback, which is an hour longer than before.

The laptop still features a single USB Type-C port with 5 Gbps transfer rate, which can be used for charging, connection to an external display (up to 3840x2160 resolution at 30 Hz refresh rate is supported) and so on. The notebook also has two microphones, a TRRS connector for headsets and a 480p FaceTime camera. Wireless networking capabilities of the notebook also remained untouched: the notebook supports dual-band 2x2 802.11ac Wi-Fi as well as Bluetooth 4.0.
One element worth noting is that the use of Skylake Core M should open up features such as Speed Shift to Apple, where the system has the ability to respond quicker to CPU demands up to 30x and finish quick tasks faster than the previous generation even recognizes the request for a high-performance mode. This becomes significant for responsiveness and user experience, but Speed Shift requires specific OS support. Intel worked closely with Microsoft to enable it for Windows 10, and at this point Apple has not stated publicly if the new MacBook will support Speed Shift out of the box or will be in a future OS update.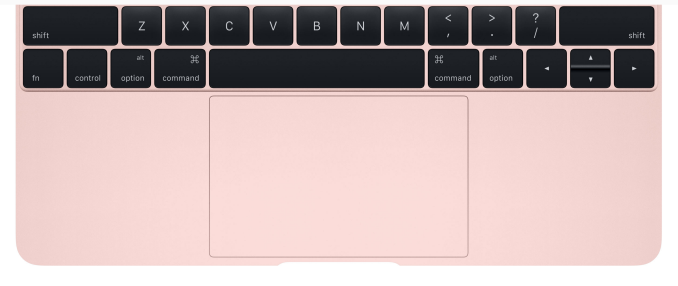 The new Apple MacBook laptops are available from Apple directly starting today and from its partners starting April 20, 2016. The most basic Apple MacBook model with Intel Core m3-6Y30 SoC, 8 GB of memory and 256 GB of solid-state storage costs $1299. The more advanced model featuring the Core m5-6Y54 and 512 GB of storage retails for $1599. The Core m7-based model is built-to-order and its price will be higher although we expect it to be similarly priced to the upgraded Broadwell model.
Source: Apple