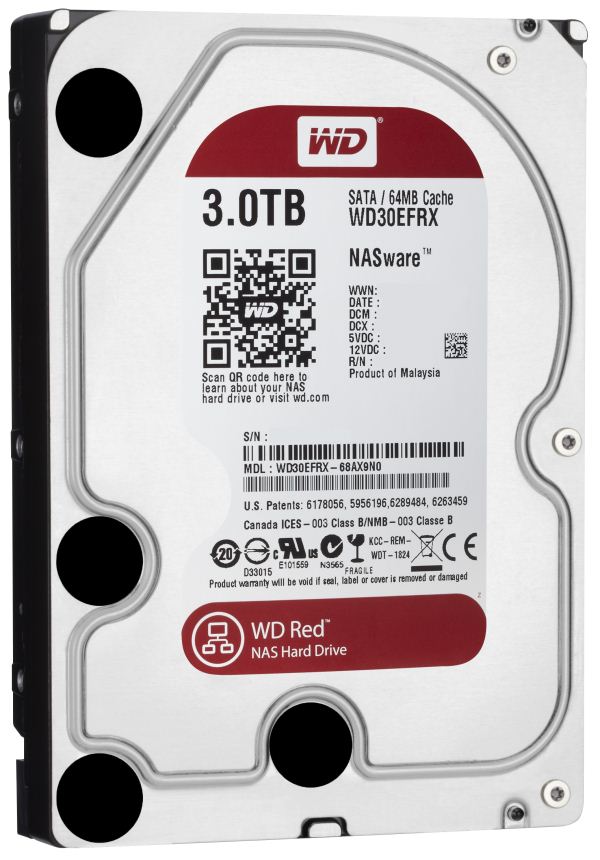 WD did everyone a favor when they reorganized their products under color-coded branding a few years ago. With the Blue (mainstream), Green (quiet and cool) and Black (performance) lines well laid out, consumers have a much easier time picking out the right drive for their application, rather than poring over spec sheets and complex model numbers. And now there's another line to add to that list: Red. Designed specfically to be used in 1-5 bay NAS devices, the Red line has hardware and software features that make it suited for that particular climate, while delivering impressive performance and reliability. WD has worked with major NAS manufacturer's to ensure compatibility with as many common NAS products as possible, and has a list of the tested devices here.
The secret sauce in these drives is the firmware, or as WD is calling it NASware. NAS devices in the home are often used for bulk storage of media, they may have some shared documents and be used as back-ups, too; but they're most often used to store movies, music and images. ATA streaming command is featured in NASware, to alter the behavior of the drive while streaming media, in an effort to ensure smooth playback, even while serving mutliple streams. They've also included error correction optimizations to prevent a drive from dropping out of a RAID array while it chases down a piece of corrupt data. The downside is that you might see an artifact on the screen briefly while streaming a movie, the upside is that you won't have playback pause for a few seconds, or for good depending on your configuration, while the drive drops off the RAID to fix the error.
Then there's the matter of performance. With quoted performance of around 150 MB/s these drives are nudging into Black territory. WD's new balance mechanism contributes to this. By actively balancing the drive during use there's no need to slow the drive down to prevent damage, so performance remains high. There's also a reported power savings, which WD says will make up the price delta for these drives over the rest of the line through your power bill. Speaking of price, the MSRP for the 3.5" 1TB, 2TB and 3TB drives are $109, $139 and $189, respectively. And these drives are available at your favorite e-tailer starting today. Ganesh is patiently awaiting our review samples so he can put them through the ringer and see how they do.