Remember the 5mm hybrid HDD announcement from yesterday? I just spent some time with the drive itself at the IDF Tech Showcase.
The 5mm drive will be OEM-only at this point as a result of its fairly unique SATA/power connector. WD implemented the SFF-8038 connector, which is standardized but very rare in the industry at this point. The new connector seems necessary to hit the ultra thin 5mm form factor.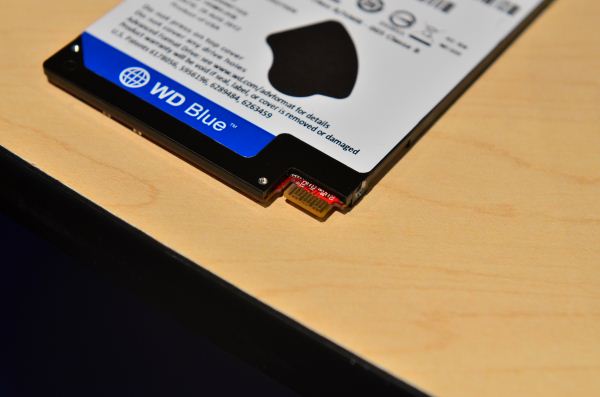 The drive will be available in both Blue (HDD only) and Black (HDD + NAND) varieties. The NAND on the Black drive is hidden by the bottom cover so you unfortunately can't see it in the photos below. WD gave us time with a 500GB model at 5mm as well as a 1TB model at 7mm. The NAND capacity varies from 8GB - 32GB depending on the OEM needs. Both reads and writes are cached in the NAND.
There's no word on OEM pricing or availability.