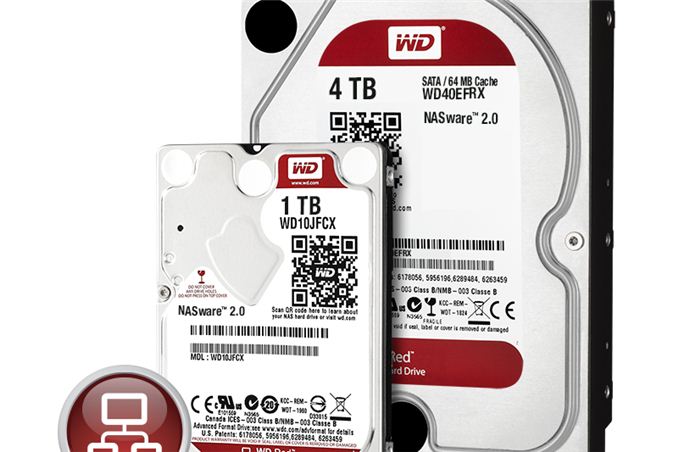 In July 2012, we saw Western Digital tackle the burgeoning NAS market with the 3.5" Red hard drive lineup. They specifically catered to units having 1-5 bays. The firmware was tuned for 24x7 operation in SOHO and consumer NAS units. 1 TB, 2 TB and 3 TB versions were made available at launch. Earlier this year, Seagate also jumped into the fray with a hard drive series carrying similar firmware features. Their differentiating aspect was the availability of a 4 TB version.
For a few months now, Seagate has held the crown for the NAS-specific drive with the largest capacity. Today, Western Digital is updating their Red lineup to achieve parity in that aspect. The 4 TB Red drive being launched today (WD40EFRX) now holds the joint record with the Seagate NAS HDD 4 TB version (ST4000VN000). The new drive also brings with it the NASWare 2.0 firmware platform, with updated features such as better error correction. Fortunately, the firmware on older Red drives can also be upgraded Update: WD got back to us with information that only drives manufactured after August 2013 can be updated with NASWare 2.0. To be on the safer side, readers should assume that none of the older models can get a firmware update with the new features.
Western Digital is also trying to kickstart a new range of NAS units for the SOHO market with the introduction of 2.5" Red models. Coming in 1 TB and 750 GB capacities, they may end up making small form factor NAS units with multiple bays attractive for consumers. As a NAS user, I am always torn between moving to fewer number of high-capacity drives or retain a large number of lower capacity drives. While space and power concerns may make the latter choice appear foolish, the prolonged risky rebuild and expansion times with higher capacity disks may also represent a legitimate concern. Under these circumstances, it might be really interesting to see small form factor NAS units which support 2.5" drives only. The following table summarizes the various models available in the WD Red lineup after today's launch.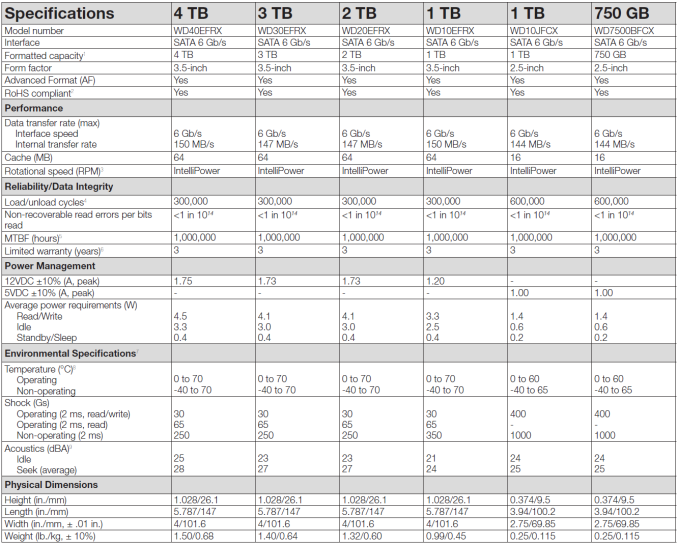 We had covered the launch of the WD Se hard drives for data centers and high end NAS units in May. One of the advertised aspects was the 180 TB/yr workload capacity. Western Digital is unable to commit to a workload capacity for the WD Red lineup because of the varying environmental conditions under which consumer NAS units operate. That said, WD expects (unofficially) the Red drives to be able to handle workloads between 120 and 150 TB/year.
A few months after the WD Red got introduced into the market last year, I began to spy lots of forum reports indicating incompatibility with certain motherboards. It was refreshing to see WD's social media / tech support team actually reach out to these users (even in the absence of an official support ticket) and gather the necessary information to improve the compatibility of the WD Red drives (not only with NAS units, but, also with standard off-the-shelf PC motherboards).
The 4 TB version has a MSRP of $229, while the 2.5" versions are $79 (750 GB) and $99 (1 TB) each. Samples of the WD Red 4 TB version are in-house and you can expect a detailed review to come up later tonight.