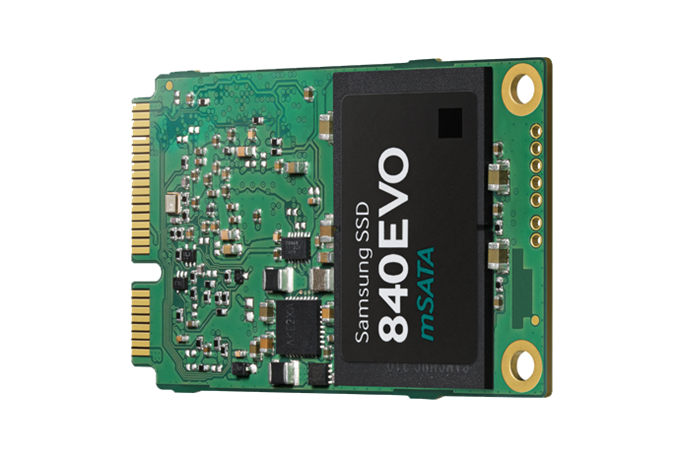 Today has been a busy day for Samsung's SSD department with three releases/announcements. With three different topics, I've separated this article into three, so let's begin with the hardware.
Samsung SSD 840 EVO mSATA
Samsung has been making mSATA SSDs for a couple of years but until now they've only been available to OEMs. The 840 EVO mSATA is Samsung's first retail mSATA SSD and like its 2.5" sibling, it's based on Samsung's own MEX controller and 19nm TLC NAND. Feature wise the EVO mSATA is similar to the regular EVO and supports both RAPID and TurboWrite.
Samsung SSD 840 EVO mSATA Specifications
Capacities (GB)
120, 250, 500, 1000
Controller
Samsung MEX
NAND
19nm Samsung Toggle-Mode TLC NAND
Sequential Read
Up to 540MB/s
Sequential Write
Up to 520MB/s
4KB Random Read
98K IOPS
4KB Random Write
90K IOPS
The part that's really interesting in the EVO mSATA is the fact that it's available in capacities of up to 1TB. To date the biggest mSATA SSDs we've seen have been 512GB (Crucial M500 and Samsung's OEM SSDs), although most mSATA solutions have maxed out at 256GB. The limitation has been due to the fact that the mSATA spec supports only four NAND dies as there isn't space for more. To achieve a capacity of 1TB with only four NAND packages, Samsung has done something we've not seen before: There are sixteen 128Gb (16GB) NAND dies per package. We've only seen up to eight dies per package before, so it'll be interesting to see what Samsung has done in terms of technology to double the amount of dies per package. My hypothesis is that instead of connecting each die separately to the package, the dies are now connected to each other in some way. The problem with high amount of dies per package has been the length of the interconnect for the dies on the top, but by connecting the dies to each other that is less of an issue. A start-up (can't remember the name, unfortunately) showed a technology like that at last year's Flash Memory Summit, so I'm eager to find out if Samsung has done something similar.
Update: I found the start-up, it's called HLNAND and they have a 16-die package.
The drive will be available later this month but pricing is to be announced. We are already waiting for our review sample to arrive and will put it through our regular tests once we receive it.
RAPID for SSD 840 Pro
When the EVO was released in September this year, one of the new features it brought was RAPID (Real-time Accelerated Processing of I/O Data). RAPID uses some of the system's RAM to buffer reads and writes to enable higher performance (check our review for deeper explanation and benchmarks) but in the beginning it was only available for the 840 EVO. Now, with the introduction of Samsung SSD Magician 4.3 (download here), RAPID is also available for the 840 Pro.
eDrive for SSD 840 EVO
Back when the 840 EVO was launched, Samsung promised that support for Windows 8's eDrive (hardware based encryption, click here to read more) would be coming shortly after the release via firmware update. It took Samsung a bit longer than expected but firmware EXT0BB6Q is now available and it brings support for TCG Opal 2.0 and IEEE 1667 (the required standards for eDrive). The update is available through Samsung's SSD Magician software but if you prefer the good old ISO update method, click here to get the ISO file.
Source: Samsung Press Release