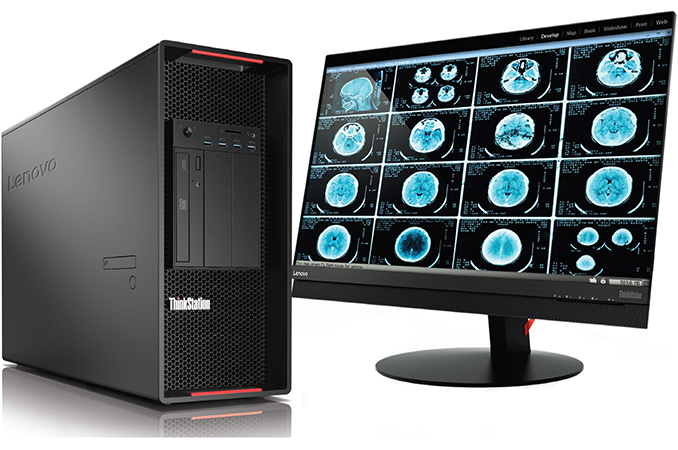 Lenovo this week upgraded its range of 2-way workstations with Intel's new Xeon E5 v4 microprocessors as well as recently announced NVIDIA's Quadro M6000 24 GB graphics card. The new ThinkStation P910 and P710 machines rely on the chassis and design of their predecessors and have a lot of similarities with machines introduced in 2014. However, the new systems have a number of improvements in addition to more powerful CPUs and GPUs.
Read our review of the design of the Thinkstation P900 (E5 v3 version) here: http://www.anandtech.com/show/9214/the-lenovo-thinkstation-p900-workstation-review-design-101
The new Lenovo ThinkStation P710 and P910 workstations are based on the Intel C612 platform controller hub (PCH) and are compatible with various Intel Xeon processors in LGA2011-3 packaging, including the latest Xeon E5 v4 (also known as the Broadwell-EP). Both systems support up to two Xeon processors, which gives their owners up to 44 physical cores in total (or up to 88 threads with the HyperThreading enabled). The P910 machine can also house up to three NVIDIA Quadro or NVIDIA Tesla graphics or compute cards to handle professional graphics programs and simulation applications including three M6000s. The P710, by comparison, can support a single M6000 or up to three M2000 GPUs. To better cool-down hot components, Lenovo's P-series workstations feature a special "tri-channel cooling" technology, which can quickly increase airflow in one of the "channels" to apply cool air to particular pieces of hardware, but not to all components in the chassis, thus, avoiding excessive noise.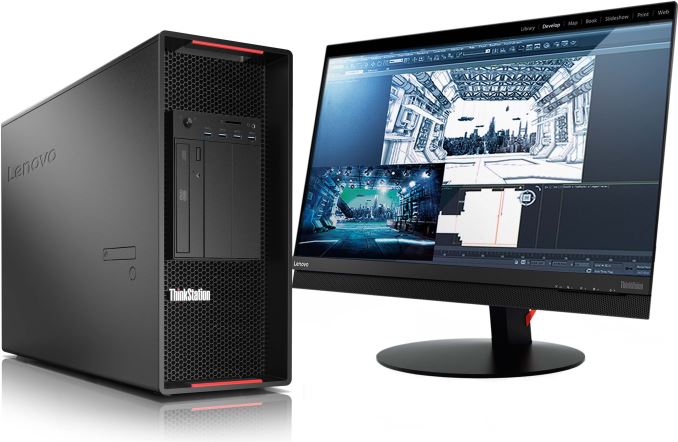 The full-size Lenovo ThinkStation P910 features 16 DDR4 DIMM slots and can install up to 1 TB of RAM (thanks to the new Xeon CPUs, DDR4-2400 modules are now supported). The system can also be equipped with up to 14 internal storage devices (RAID 0, 1, 5, 10 is supported), including four M.2 SSDs (which are installed into special Flex adapters, which are then plugged into PCIe x8 Flex connectors) and up to 10 2.5" and 3.5" HDDs in order to provide both speed and capacity. The ThinkStation P910 also has Flex Bay, which is designed to support an optical drive and a 9-in-1 media card reader, or the Flex module, which holds a 9.5 mm ODD, a 29-in-1 media card reader, eSATA and Firewire connectors. In order to support power-hungry processors, graphics cards, massive amount of RAM and storage as well as other devices, the P910 comes with a 1300 W PSU that should deliver the right amount of power even to the most demanding components and configurations.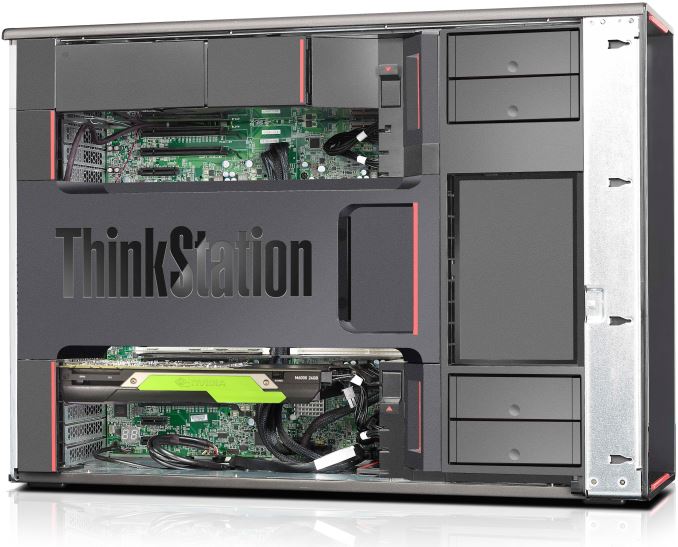 The ThinkStation P910 should be very similar to the ThinkStation P900, but with a couple of important additions such as Thunderbolt 3 and Wi-Fi 802.11ac. While Intel's Haswell-EP and Broadwell-EP processors feature the same packaging and Intel said that the new chips should be compatible with the LGA2011-3 sockets, Lenovo itself does not offer its ThinkStation P900 with new CPUs. The Xeon E5 v4 will be installed exclusively into the P910 and P710 and it is unclear whether the PC maker plans to release new BIOS revisions for its previous-gen workstations to enable upgrades.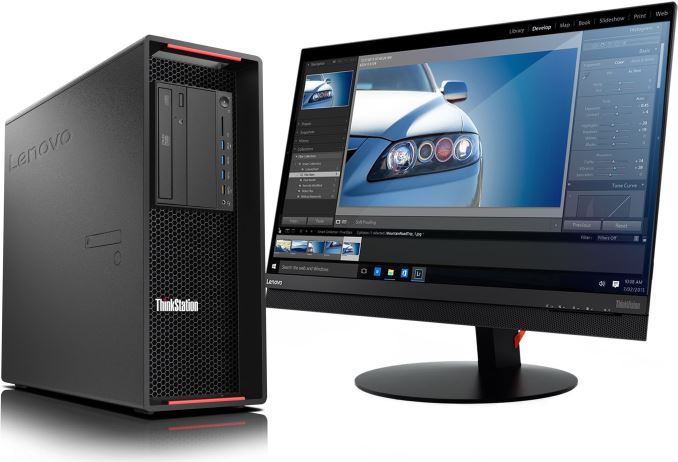 The Lenovo ThinkStation P710 does not have the vast expansion capabilities of the P910 because it is generally more compact, nonetheless, it is still a very robust 2P workstation. The P710 sports 12 DDR4 DIMM memory slots and up to 384 GB of RAM, can be equipped with up to 12 storage devices (two M.2 SSDs [because the system has only one Flex connector], up to 10 2.5"/3.5" HDDs) and a Flex module. Since the P710 is positioned as a compact 2P machine, it can be equipped with a 490 W, 650 W or 850 W PSU in a bid to balance performance and noise levels.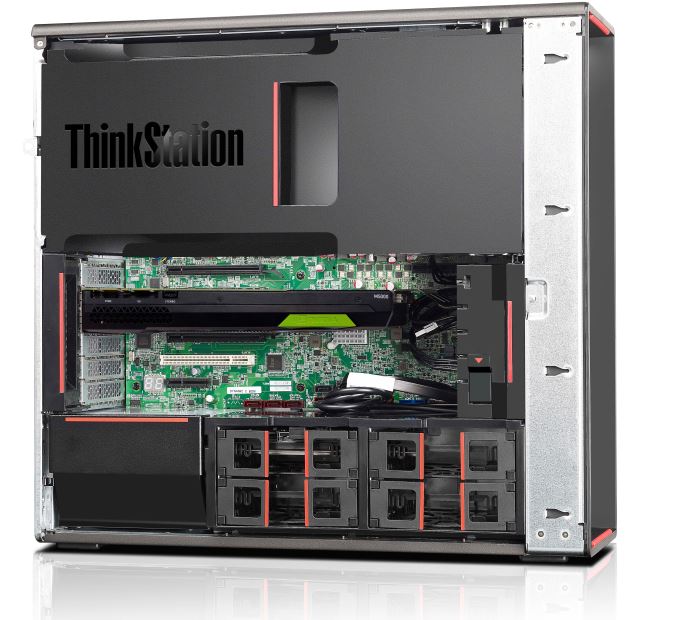 Both new ThinkStations from Lenovo support all the features and technologies of their predecessors, such as tool-less upgrades (even the PSU can be replaced without tools), a USB diagnostics port and so on (these features are described in our P900 review). What is different is that the P710 and the P910 workstations can also be optionally equipped with an Intel 802.11ac card (2x2, 2.4 GHz/5GHz + Bluetooth 4.0) as well as Intel's 'Alpine Ridge' Thunderbolt 3/USB 3.1 controller (which will support one USB type-C port). The addition of TB3 and a wireless module suggests that we are dealing with updated motherboards inside the new workstations, but Lenovo yet has to confirm this.
Lenovo's ThinkStation P710 and P910 workstations should hit the market in the coming weeks after the company finishes their certifications with key ISVs. Prices of the new systems will start at $1600 – $1800, but configurations with two CPUs, professional graphics cards, a lot of RAM and multiple storage devices will easily cost $15000 and higher.
Clarification 4/5: Originally this news article stated the P710 could accommodate up to three M6000 GPUs. The article has been updated to clarify that due to size, the P710 can have up to three M2000s or a single M6000.
Source: Lenovo