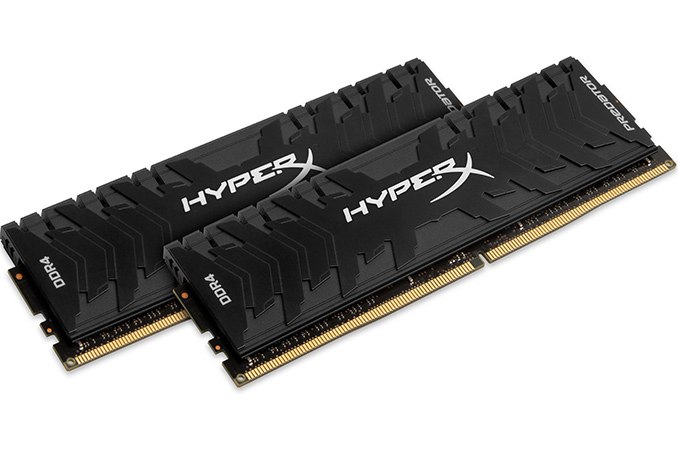 Following Intel's announcement of the new Core i7 Broadwell-E lineup of HEDT processors with six, eight and ten cores, Kingston has recently refreshed its HyperX family of DDR4 memory modules. The new kits offer up to 64 GB capacities and run at data rates of up to 3333 MT/s with relatively low timings.
The new Kingston HyperX Predator Black DDR4 memory modules feature 4 GB, 8 GB and 16 GB capacities and are offered in 8 GB, 16 GB, 32 GB and 64 GB dual-channel and quad-channel kits. Being designed primarily for quad-channel memory sub-systems (yet, compatible with all DDR4-supporting PCs), the modules will run at low data rates of 3000 MT/s, 3200 MT/s and 3333 MT/s (dual-channel only for 3333), and timings of CL15 for 3000 MT/s or CL16 for 3200/3333 MT/s. All modules are rated to operate at the recommended DDR4 enthusiast setting of 1.35 volts, which is higher than JEDEC's recommendations, but is in line with the voltage of all high-end DDR4 memory sticks.
To simplify setting the right clock-rates and timings on compatible Intel X99 and Intel 100-series motherboards, the HyperX Predator Black modules support XMP 2.0 SPD profiles. To maximize their cooling capabilities for overclocking, the memory sticks are equipped with aluminum heat spreaders. All of Kingston's HyperX Predator Black DDR4 modules are validated to work with Skylake-S (i7-6700K etc), Haswell-E (5960X etc) and Broadwell-E (6950X etc) processors.

Exact prices of the new HyperX Predator Black DDR4 memory modules from Kingston are unknown, but we expect them to be in line with similar components of these specifications.
Source: Kingston