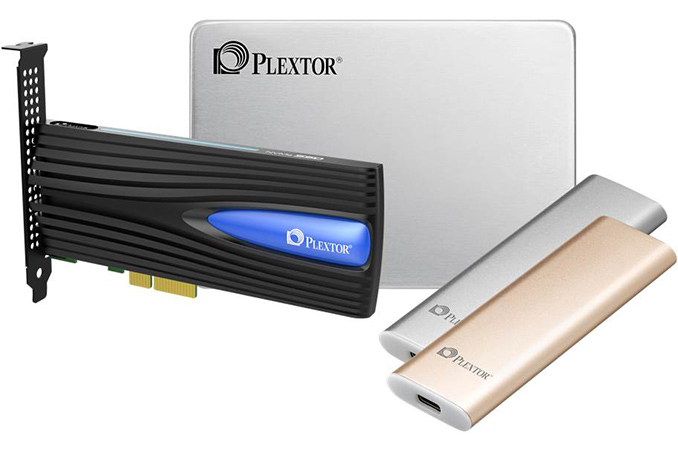 Plextor has announced plans to demonstrate some of its next year's products at the upcoming CES early next month. In particular, the company will show off the final versions of its M8Se performance mainstream SSDs as well as upcoming drives featuring 3D NAND memory. The biggest intrigue about the new products will not be their specifications, but their availability timeframes.
Up until 2014, Lite-On Technology, which produces SSDs under the Plextor brand, offered two lineups of SSDs within each generation - P (performance) and S (standard) - with different performance and positioning. The P-series were no-compromise SSDs featuring the best of what Plextor had to offer, whereas the S-series were aimed to be faster than the vast majority of drives on the market, but still a bit behind the P-series. Starting from the M6 family of drives in 2014/2015 timeframe, the company had to change the nomenclature and expand the number of lineups because it introduced multiple SSDs with various interfaces, memory types and form-factors. In 2016, Plextor released its M8Pe family of expensive SSDs targeting high-end desktops/workstations as well as four lineups of affordable drives targeting relatively inexpensive PCs. The company also demonstrated its M8Se series at Computex, but did not launch it. A good news is that the M8Se will resurface at CES and hopefully will make it to the market shortly afterwards.
As Plextor revealed back at Computex, the M8Se SSDs will be based on the same Marvell 88SS1093 controller that powers the M8Pe, which supports NVMe, uses a PCIe 3.0 x4 interface as well as Marvell's third-generation NANDEdge error correction control and management technology based on LDPC (low-density parity-check code) and other features available on the higher-end drives. The M8Se SSDs demonstrated at Computex used Toshiba's 15 nm TLC NAND (the M8Pe drives use Toshiba's MLC NAND) and their declared performance numbers were not significantly behind those of the M8Pe: up to 2.3 GB/s for sequential reads and up to 900 MB/s for sequential writes (we will still refrain from re-publishing specifications demonstrated at Computex simply because the final details may be different).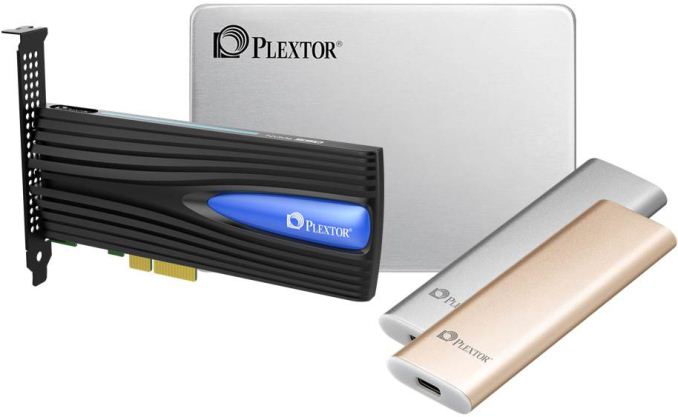 Plextor's M8Se drives are going to have a lot in common with Lite-On's CA1 NVMe SSDs, which are already listed on the company's website. Plextor's drives are going to have the brand's firmware enhancements that aim to ensure long-term high performance, come with blue aluminum heat spreaders in M.2 and AIC form-factors and while they have some other differences with the CA1, their capacity configurations are likely going to be the same: 128 GB, 256 GB, 512 GB and 1 TB. Now, since the CA1 drives are announced and listed, their retail availability is a question of time. As for the ETA for the M8Se, we expect Plextor to announce that at CES. At the end of the day, Plextor needs those drives ASAP to compete against products like Samsung's 960 EVO and offer something to gamers who cannot afford top-of-the-range models.
Another interesting product lineup that Plextor is going to demonstrate at CES will be the company's first 3D NAND-based SSDs. So far, Plextor has not announced any details about the upcoming products, but said that the drives would provide higher endurance and performance than predecessors, which is a typical way of describing such products. What remains to be seen is whether Plextor plans to use Silicon Motion's 3D NAND-supporting the SM2258 controller for its first family of 3D NAND drives (the SM2258 is the first turnkey 3D NAND-supporting platform), or intends to pick up something else. Keeping in mind that in the recent years Plextor ceased to exclusively use Marvell's controllers and Toshiba's NAND chips as well as some other changes on the market, making predictions about upcoming drives from the company is not a very good business, especially a couple of weeks ahead of the show.
Nonetheless, it is noteworthy that Plextor is prepping 3D NAND-based SSDs. Today, the only independent maker of drives shipping products featuring 3D NAND chips is ADATA, which has a tight relationship with Micron.
While Plextor yet has to introduce its M8Se and 3D NAND-based drives next month, it still has a number of competitive SSDs in its lineup. We've been informed that users can get a 10% discount with PLEXTORMAS promo code at Newegg for a short while.
Related Reading:
Source: Plextor