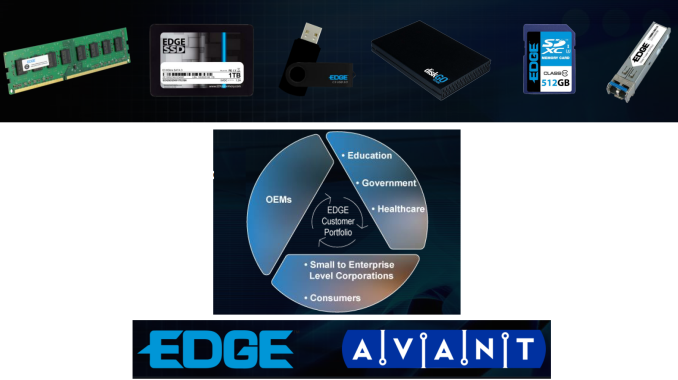 As part of our CES 2017 vendor visits, we talked to Mushkin and Edge Memory about their upcoming products. For those unaware, both Mushkin and Edge Memory are brands of Avant Technology. Both brands share a number of products, with Edge Memory focusing more on the enterprise and SMB / SME market segment. Mushkin's CES 2017 announcements have already been covered last week. The external direct-attached storage products are being currently prepared for sale under the Edge Memory brand.
The most interesting of all the new products are the VSC SD cards (Video Speed Class). While the SD Association recently announced the A1 application-performance class for use in general computing environments, the Video Speed Class rating is meant for cards used in video recording environments - including, but not restricted to, products like action cameras, dashcams, IP cameras, and the like. The key here is that the card must be able to guarantee a minimum sustained write speed to qualify for one of the VSC classes.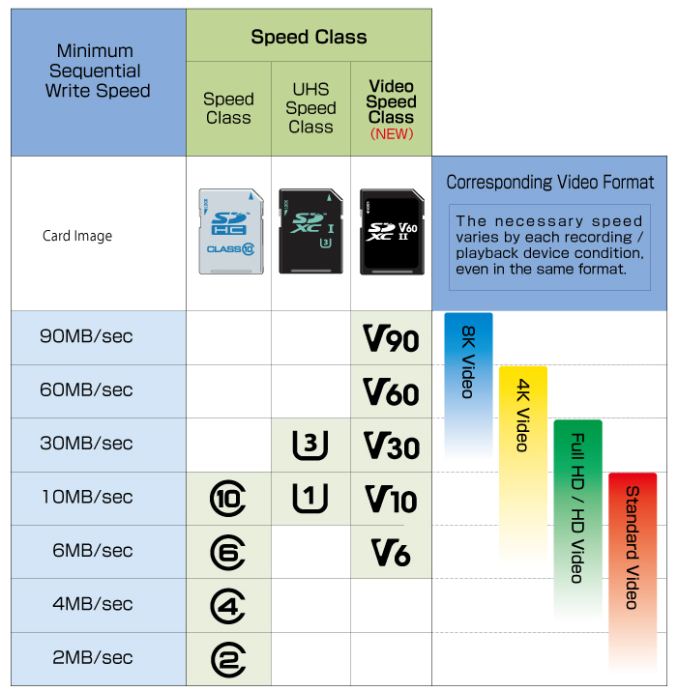 Image Courtesy: SD Association
In Spring 2017, Edge Memory plans to launch a suite of SDXC (16-256 GB) and micro-SDXC (16 - 128 GB) cards with operating temperature range between -25C and 85C. This makes them suitable for industrial use-cases also.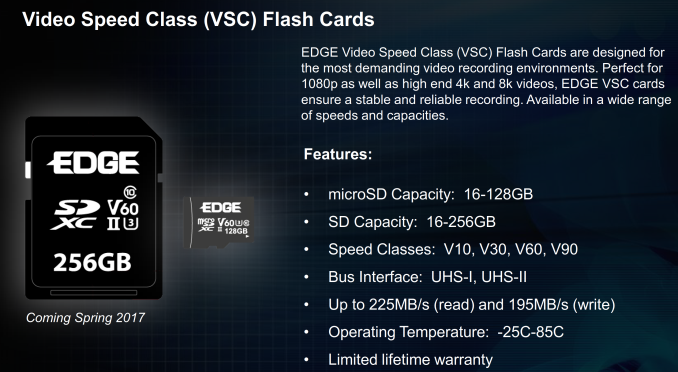 The cards are expected to come in a range of VSC ratings. Claimed performance numbers indicate 225 MBps reads and 195 MBps writes. However, what really matters is the VSC rating that reflects the sustained write speeds that decide the suitability of these cards for a particular application.
Edge Memory also announced a number of other products - a bus-powered USB 3.0 enclosure for M.2 SATA SSDs (using ASMedia ASM1153E for the micro-B version, and the ASM1351/1542 for the Type-C version), a USB OTG-compatible flash drive with both Type-C and Type-A interfaces, and new members in the diskGO Secure Ultra USB Storage lineup which has a keypad / physical PIN support to enable hardware encryption of the contents.
Avant Technologies seems to be sharing the required R&D for flash-based product lines between Mushkin and Edge Memory. In bringing the products to the market, it is clear that Mushkin is targeting the average consumer / gamer, while Edge Memory targets business and industrial use-cases. The DAS ineup from Edge Memory for the first half of 2017 appears to tap into that market quite well.