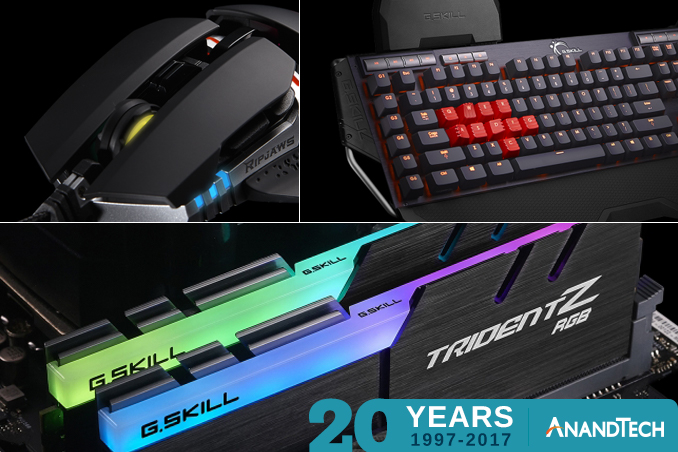 Closing out our giveaways for this Tuesday is G.Skill. The long-lived memory, storage, and peripheral manufacturer has sent over a trio of prizes from across their product lineup. The company's core specialty is of course RAM, so we have two of their Trident Z RGB DDR4 kits: a 32GB (4x8GB) DDR4-3200 kit, and the even faster 32GB (4x8GB) DDR4-3600 kit. Meanwhile from their peripherals business, we have a complete 780-series mouse and keyboard set, containing a KM780 RGB keyboard and MX780 mouse.
Trident Z RGB DDR4-3200 CL14 32GB (4x8GB) Kit
Trident Z RGB DDR4-3600 CL16 32GB (4x8GB) Kit
Ripjaws KM780 RGB Keyboard + Ripjaws MX780 Mouse
The AnandTech 20th Anniversary Celebration – G.Skill Giveaway
G.Skill Trident Z RGB DDR4 RAM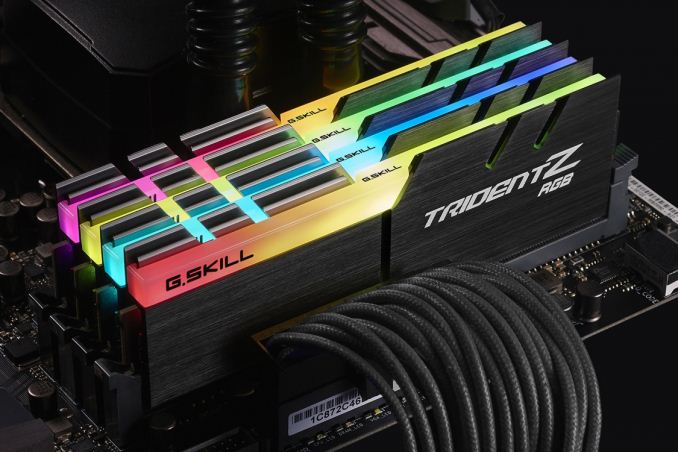 Starting things off, we have a duo of G.Skill's flagship Trident Z RGB memory kits, the DDR4-3200 and the DDR4-3600. The DDR4-3200 kit runs at 14-14-14 timings, meanwhile the DDR4-3600 kit trades a bit of frequency for timings, bumping the latter up to 16-16-16. Both kits offer frequencies well over the DDR4 official spec, so unsurprisingly both require a little more voltage – 1.35v to be precise – to get there, with an XMP 2.0 profile to help motherboards dial in the right settings.
Meanwhile both kits are clad in G.Skill's Trident Z RGB heatspreader. This black metal headspreader includes an exposed lightbar at the top of the memory, which in turn contains a full RGB color lighting solution, allowing the DIMMs to add some more color to a build.
G.Skill Ripjaws KM780 RGB Keyboard + Ripjaws MX780 Mouse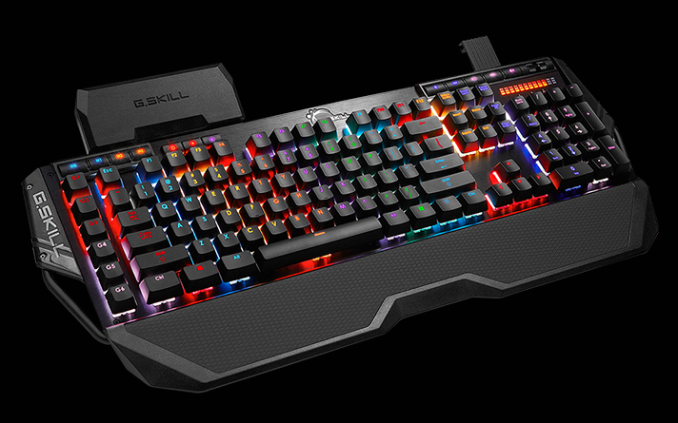 Our third G.Skill prize for the day is a mouse and keyboard combo pack containing the company's Ripjaws KM780 RGB keyboard and Ripjaws MX780 mouse. The KM780 RGB keyboard is a fully mechanical keyboard using Cherry's MX switches. Besides basic keyboard functionality, the board also includes several extra function keys (including a dedicated timer key!) and a USB 2.0 port for daisy-chaining a mouse. And as is common for high-end keyboards, G.Skill offers a macro command system. Finally, the keyboard offers extensive RGB lighting, with fully programmable per-key RGB backlighting.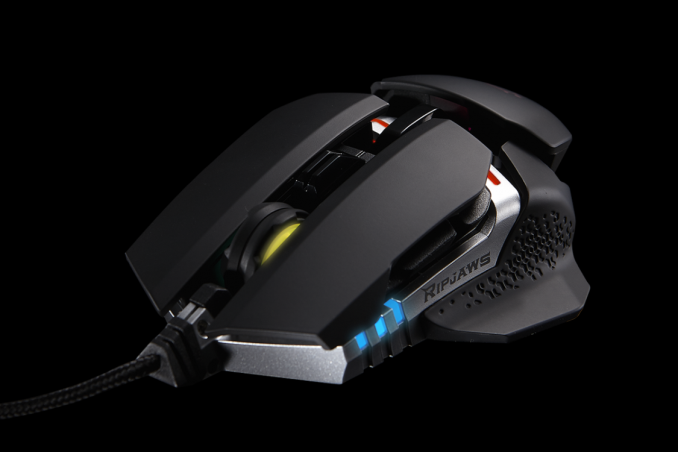 Meanwhile the MX780 mouse is the natural counterpart to the KM780 keyboard. The aluminum-framed ambidextrous mouse is based around an Avago ADNS 9800 laser sensor, one of the higher-end sensors on the market today. The body of the mouse itself includes swappable side grips, 8 programmable buttons, and height + weight adjustment. Oh, and of course, RGB lighting courtesy of a 4 zone lighting system.
Finally, as with our other giveaways, today's giveaway is only open for 48 hours, so be sure to enter soon. However please note that for legal reasons, we're only able to open these giveaways to residents of the United States.
Good luck to everyone! And be sure to check in tomorrow for our next giveaway.