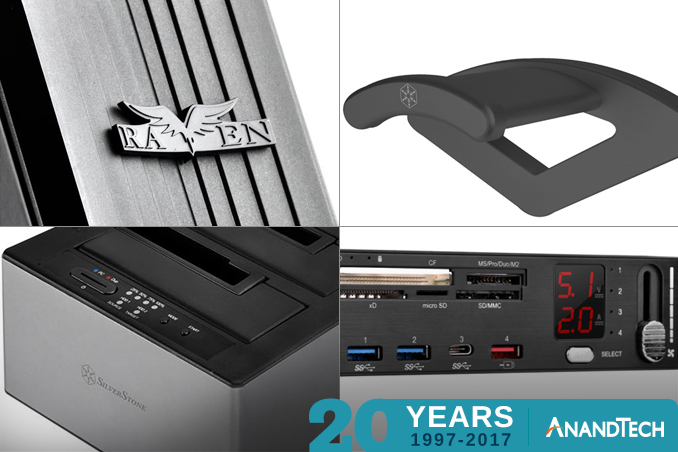 Taking us into this afternoon's AT20 giveaway is SilverStone. The prolific maker of computer hardware offers a large number of computer peripherals, running the gauntlet from computer cases and coolers to power supplies, bay adapters, and other peripherals. So for their giveaway it's only fitting that the company has sent an extensive selection of their products, giving you guys a chance to win a wide variety of prizes.
ECU04-E USB 3.1 PCI Express Card & FP59 Multifunctional Bay
TS12 External USB 3.1 Dual Drive Docking Station
ES02-USB PC Remote Starter & EBA02 Headphone Holder
QIB052-D Qi Battery Bank & NB04 Laptop Cooling Pad
SX800-LTI 800W SFX-L Power Supply
RVZ01-E Slim Mini-ITX/DTX Case
The AnandTech 20th Anniversary Celebration – Silverstone Giveaway
ECU04-E USB 3.1 PCI Express Card & FP59 Multifunctional Bay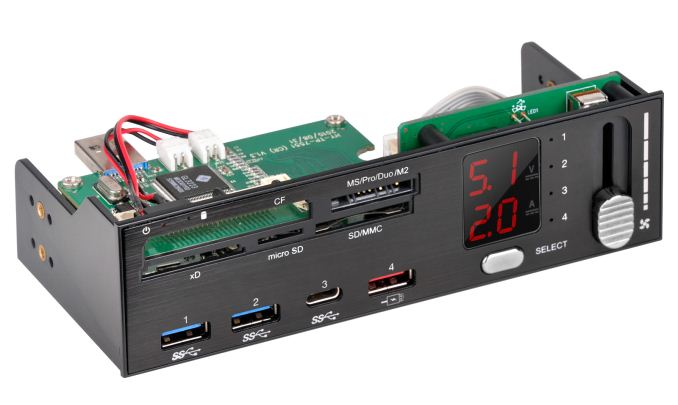 Our first prize pack is SilverStone's ECU04-E USB 3.1 host card, and a FP59 Multifunction Bay. The FP59 is a 5.25" bay and features three USB 3.1 ports – two Type-A ports and a Type-C port – along with a power-only 10W USB fast charging port. The bay also features a multifunction card reader that supports SD, microSD, and the other common media card formats. Finally, the bay integrates a fan speed controller for controlling 3pin fans.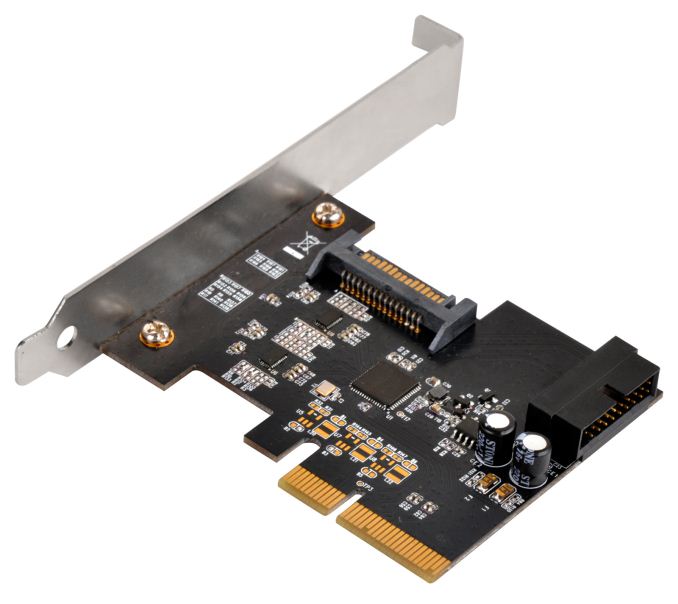 And in case you don't have any spare USB headers to drive the FP59 bay, SilverStone has also included their ECU04-E USB 3.1 host card. This PCIe x2 card uses an ASMedia ASM1142 controller to offer an internal USB 3.1 (Gen 2) 19pin header, which can be used to drive a pair of USB 3.1 ports.
TS12 External USB 3.1 Dual Drive Docking Station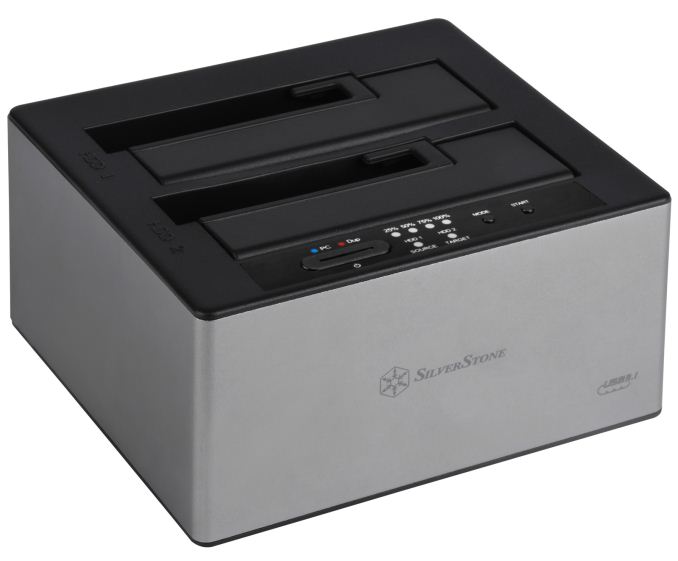 Our second prize is SilverStone's TS12 external dual drive docking station. This external drive station can connect up to a pair of 3.5"/2.5" drives, connecting back to the host computer via a USB 3.1 (Gen 2) connection over USB-C. Internally, the docking station uses ASMedia's ASM1352R USB to SATA controllers. Meanwhile, taking advantage of the fact that it's a dual drive dock, the TS12 also supports independent operation for direct hard drive cloning without a host computer.
ES02-USB PC Remote Starter & EBA02 Headphone Holder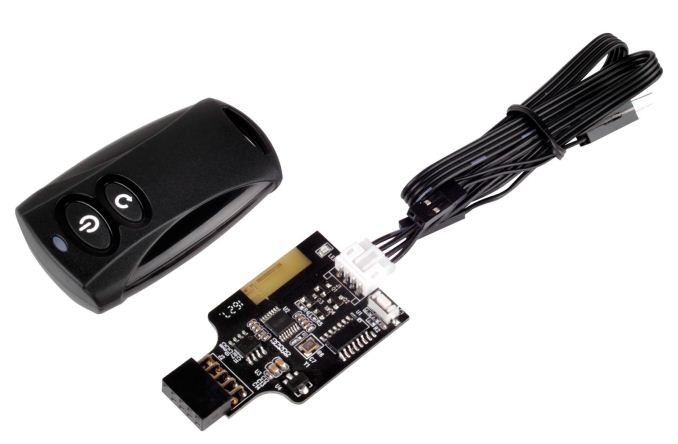 Our third SilverStone prize pack is composed of the company's ES02-USB PC remote starter and their EBA02 wall-mounted headphone holder. The ES02-USB is a simple remote starter that draws power from a USB 2.0 header, and then connects to the power and reset switches of a motherboard. The included remote can then remotely start and reset a PC from up to 20 meters away.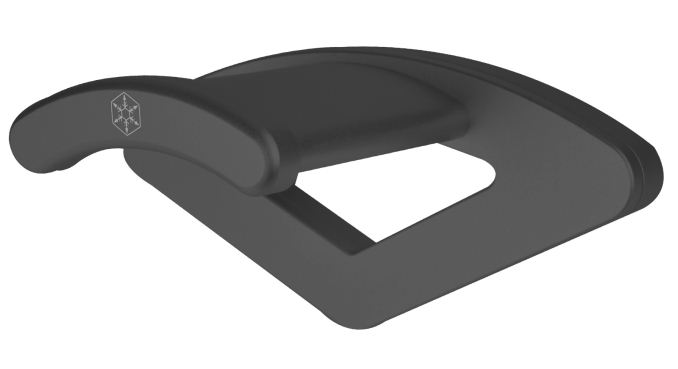 To go with the remote starter and to emphasize the remote nature of this prize pack, SilverStone has also thrown in one of their EBA02 headphone holders. This wall-mounted holder can be hung up via either screws or tape, and is made entirely out of aluminum.
QIB052-D Qi Battery Bank & NB04 Laptop Cooling Pad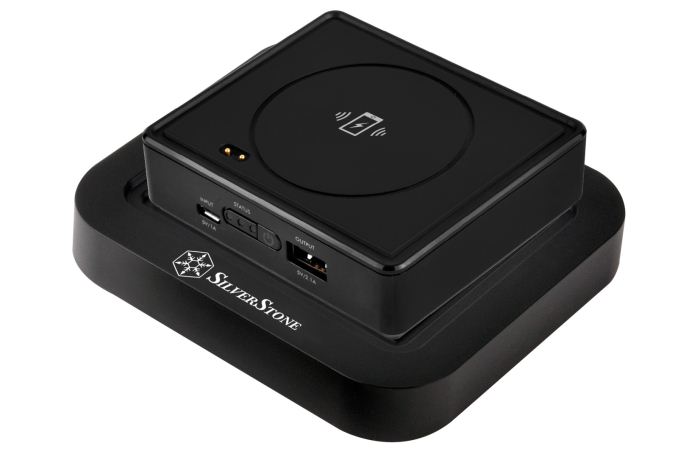 Our fourth SilverStone prize pack is the company's QIB052-D Qi battery bank, and their NB04 laptop cooling pad. The QIB052-D is a combination battery bank and docking station that supports both wired charging and wireless charging via the Qi wireless charging standard. The battery pack portion contains a 5200Mah battery and can charge both wireless and wired devices. And when the battery bank itself needs a recharge, the unit comes with its own dock to power & recharge the bank.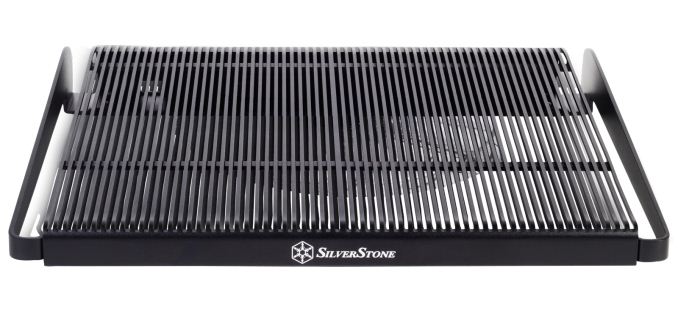 The second part of this prize pack is SilverStone's NB04 laptop cooling pad. The aluminum pad weighs 0.9kg, contains a 200mm sleeve bearing fan, and can hold a laptop up to 15 inches in size. The cooling pad itself is powered via a USB Type-A port.
SX800-LTI 800W SFX-L Power Supply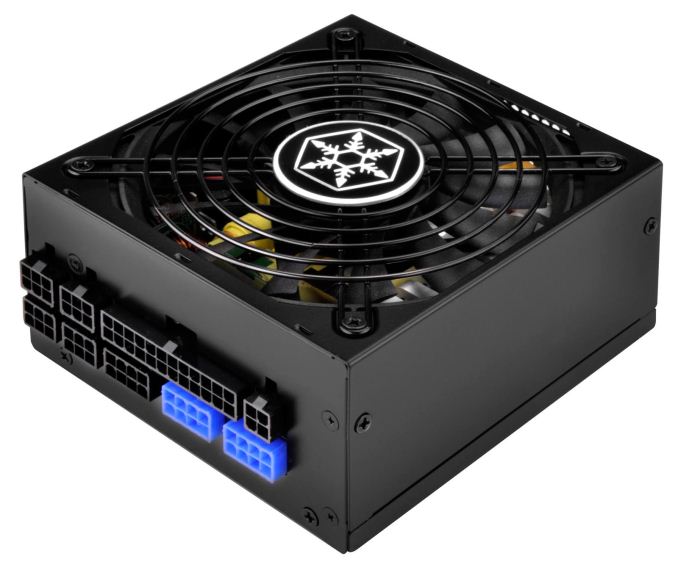 Fifth up for SilverStone's giveaway is one of the company's high-end SFX-L form factor PSUs, the SX800-LTI. The petite power supply is one of the most powerful SFX PSUs on the market – albeit in the slightly larger SFX-L form factor – and offers a fully modular layout. The PSU is rated to deliver up to 792W over its single 12v rail – almost certainly powerful enough for any small form factor build – and despite its high wattage is rated for 80Plus Titanium efficiency. Cooling is provided by a single 120mm fan, which can disengage for silent operation when the extra cooling isn't required.
RVZ01-E Slim Mini-ITX/DTX Case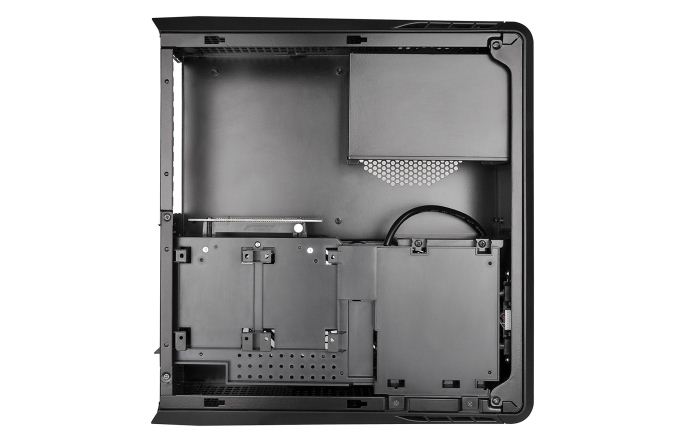 Last but certainly not least for our SilverStone prizes is the company's RVZ01-E slim PC case. The compact case is made from a plastic and steel body and accepts Mini-ITX and Mini-DTX motherboards, but for better PSU compatibility can accept a full ATX-size power supply. Despite its small size, the case can hold a video card up to 13" long thanks to the use of a PCIe riser card, while for storage there are a quartet of 2.5" drive bays. Meanwhile cooling is provided by a pair of 120mm fans – one at the top and one at the bottom –and the case itself can be oriented either horizontally or vertically.
Finally, as with our other giveaways, today's giveaway is only open for 48 hours, so be sure to enter soon. However please note that for legal reasons, we're only able to open these giveaways to residents of the United States.
Good luck to everyone! And be sure to check in tomorrow for our next giveaway.