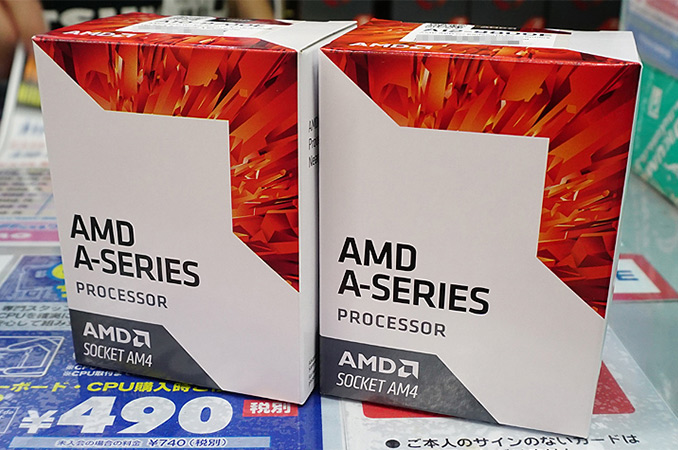 We have some good news for low-power AMD builders this morning: AMD has (finally) begun to sell the 35W versions of their "Bristol Ridge" desktop APUs. Overall the company has released 3 35W retail Bristol Ridge SKUs, the A12-9800E, A10-9700E, and A6-9500E, with these chips fleshing out the low-power segment of AMD's AM4 platform through the end of the year.
AMD originally released its Bristol Ridge A9000-series APUs to OEMs in mid-2016, targeting desktops and laptops. The SoCs integrate one or two Excavator v2 modules (two or four x86 cores in AMD's nomenclature), a Radeon R5/R7 iGPU featuring AMD's GCN 1.2 (3rd generation) architecture and up to 512 stream processors, a dual-channel DDR4 memory controller and so on. Earlier this year AMD finally decided to release a rather broad lineup of its 7th-generation A9000-series APUs on the retail market, enabling end-users to build their own inexpensive AM4 systems, essentially popularizing the AM4 ecosystem compatible with the company's latest Ryzen processors in general.
AMD Bristol Ridge APUs and CPUs
CPU
GPU
TDP
Modules/
Threads
Base/Turbo
(MHz)
Brand
Stream
Processors
Base/Turbo
(MHz)
A12-9800
2M / 4T
3800 / 4200
Radeon R7
512
800 / 1108
65W
A12-9800E
3100 / 3800
655 / 900
35W
A10-9700
3500 / 3800
384
720 / 1029
65W
A10-9700E
3000 / 3500
600 / 847
35W
A8-9600
3100 / 3400
655 / 900
65W
A6-9550
1M / 2T
3800 / 4000
Radeon R5
576 / 800
A6-9500
3500 / 3800
720 / 1029
A6-9500E
3000 / 3400
256
576 / 800
35W
Athlon X4 970
2M / 4T
3800 / 4000
-
65W
Athlon X4 950
3500 / 3800
Athlon X4 940
3200 / 3600
The originally planned retail lineup for Bristol Ridge included 11 SKUs with a mix of 35 W and 65 W TDPs, but until now, only select 65 W SKUs were available. In the meantime, the interest towards inexpensive Mini-ITX systems is high these days. AMD spent a little over a month after the formal introduction of the family to bring the 35 W A12-9800E and A10-9700E APUs to store shelves. In the last days of August, the new chips hit store shelves across the world: they can be purchased in the U.S., Europe and in Japan, a clear indicator that they are indeed available broadly.
The AMD A10-9700E costs $85 – $91 in the U.S., whereas the more advanced AMD A12-9800E is available for $105 – $113, depending on the retailer. Meanwhile, the A6-9500E, the most basic 35 W Bristol Ridge APU, can be purchased for around $55 – $58. In Europe and Japan, prices are traditionally higher, see the table below for details. Overall, the 35 W APUs from AMD do not look very affordable, but it is typical for chipmakers to charge extra for energy-efficient parts.
From AMD's standpoint, the main purpose of Bristol Ridge CPUs and APUs is to fill the gap in the AM4 lineup before the company releases Raven Ridge APUs and cheap CPUs based on the Ryzen microarchitecture later on.
Related Reading:
Sources: Amazon, Amazon UK, Caseking, Newegg, AKIBA PC Hotline, Hikaku.com.
Image Source: AKIBA PC Hotline.