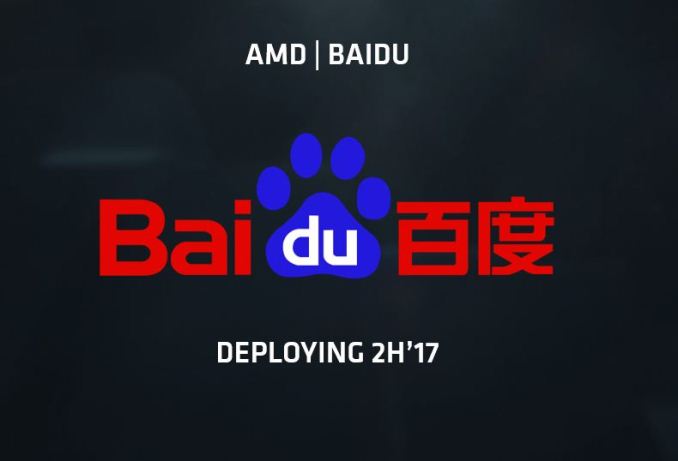 As part of the end-of-year news melee, Baidu and AMD have announced the next phase of EPYC in the cloud, with a large scale deployment of single socket servers as part of Baidu's ABC next-generation strategy. The lynchpin in the deployment will be AMD EPYC CPUs, which will be available to Baidu's customers with 'immediate availability'.
Baidu, the largest search engine in China, announced back at the June 20th EPYC launch that it was currently investigating the capability of EPYC within its infrastructure, and the recent announcement represents the culmination and results of that investigation. What makes the deployment of EPYC within Baidu's infrastructure different to previous announcements around the new processors is the target: not only are these systems being used for storage and IO, but compute is a large vector of the announcement. From our discussions with AMD, it is clear that they see the deployment of EPYC for a wide range of workloads, including Baidu's compute strategy, as a validation of its initial performance claims made back at launch.
"This is a validation of the single socket applicability in Cloud across a wide variety of compute and other workloads" said Scott Aylor, CVP and GM of AMD's Enterprise Solutions division.
The other angle to this is that Baidu is only implementing single socket systems based on the Scorpio form factor (and no, nothing to do with consoles). Scorpio is similar to the Open Compute Project/OCP form factor implementations. As part of the EPYC launch, AMD emphasized that a single EPYC CPU could replace a number of 2S systems targeting the bottom to the middle of the market, specifically Intel's E5-2650 and below or the current Xeon Gold, Silver and Bronze equivalents. As part of Baidu's ABC strategy (AI, Big Data, Cloud), AMD has stated that Baidu's compute workloads have be profiled on EPYC – when asked if they were profiled as part of the Zen core design, AMD refused to comment, but did state that they have been working closely with Baidu on this strategy for 18-24 months already, and this did include studies of Baidu's algorithmic workload. It was stated that while standard IO on a system was important, such as connectivity, core density and memory bandwidth ended up being fundamental factors in deployment.
Baidu is technically offering 'immediate availability' of EPYC systems to their major customers, although isn't announcing a specific instance type, like Microsoft Azure did a few days ago. With the implementation of the systems being single socket, we would expect the high-core count P series processors to be used, although that information was not available when going to press. There is no word on the ODM/OEM system partner working with Baidu, although we were told that several major players were involved.
We asked about the relationship between Baidu and AMD (to AMD), and were able to ascertain that this relationship is certainly good through 2018. AMD did not want to comment on whether it would be a multi-generational relationship, however one would expect that to be the case. No word was provided on the size of Baidu's deployment however. Baidu has already announced that it will collaborate with AMD to create GPU compute and AI instances with AMD hardware, although the time scale for this has yet to be announced.
This is the second major cloud partner to announce EPYC systems to be made available in its ecosystem after validation testing, along with Microsoft Azure a few days previously. The other four (plus one) are likely still in the process of validation, although it is not known how those relationships will progress until announcements are made. We are not expecting any news at CES in a couple of weeks, but ISSCC is the next major enterprise conference which would provide a prominent platform.