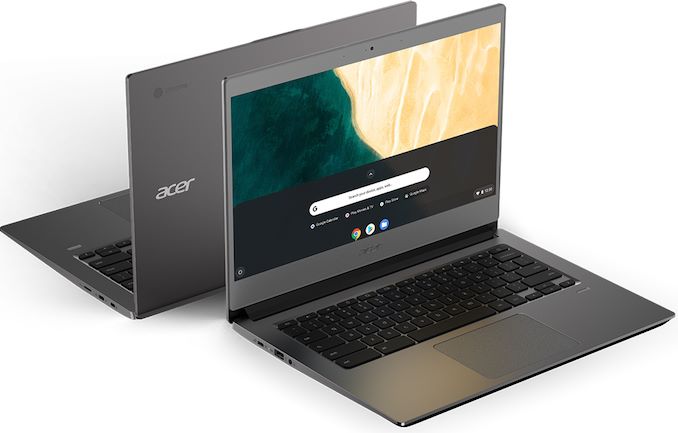 Acer on Thursday introduced its Chrome Enterprise portfolio, which includes six PC models, one of the broadest in the industry. Acer's Chrome Enterprise family includes laptops, convertibles, and desktops, all supporting security, management, and deployment features required by businesses.
Acer's Chrome Enterprise computers are equipped with Google's H1 secure microcontroller that enables verified boot, multi-layer security capabilities, battery cutoff, guaranteed reset, and closed case debugging. Meanwhile, Chrome Enterprise-powered machines also feature antivirus protection, sandboxing, guaranteed updates, and remote management/fleet control capabilities (via Google Admin) among other things. Besides, Google provides a 24/7 IT admit support for administrators of Chrome Enterprise computers.
At this time, Acer is not disclosing the exact specifications of its business-grade Chrome PCs, and instead has only detailed their key features and designs. One thing to note here is that instead of developing Chrome Enterprise systems from scratch, Acer took some of their existing designs and enhanced them with appropriate software and hardware.
The Chromebook Enterprise 13

Starting things off is the Chromebook Enterprise 13, which also happens to be in various consumer versions as well. The laptop comes in a slim aluminum chassis, has a 13.5-inch IPS display of a 2256x1504 resolution with a 3:2 aspect ratio, and packs Intel's 8th Generation Core processors with up to 8 GB of LPDDR3 memory as well as up to 32 GB of soldered-down solid-state storage. Like most modern mobile PCs, this one has Wi-Fi, Bluetooth, USB Type-A & Type-C, a micro-SD card slot, a 3.5-mm headset jack, and a webcam with IR sensors.
The Chromebook Enterprise Spin 13

The convertible Chromebook Enterprise Spin 13 is very similar to its non-convertible peer (consumer models are also available), but it naturally has 360-degree hinges, a touch-enabled 13.5-inch display, as well as an embedded stylus. The machine uses Intel's 8th Generation Core CPUs, LPDDR3 memory, and solid-state storage.
The Chromebook Enterprise 714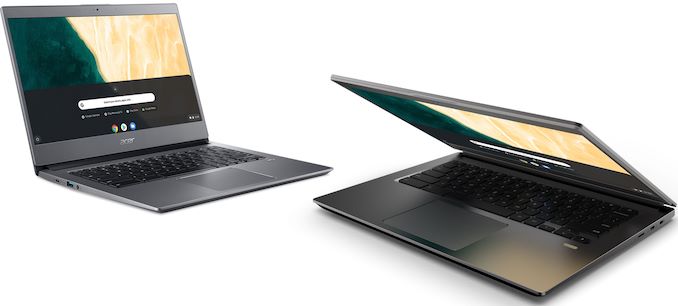 Time to talk about higher-end mobile systems starting from the Chromebook Enterprise 714 (consumer SKUs are available). Being a premium laptop, this one comes in a metallic chassis and, as the name suggests, has a 14-inch Full-HD IPS panel display with thin bezels. Inside, there is a familiar 8th Generation Core CPU with DDR4 RAM and NAND flash storage. As for connectivity, the system has Wi-Fi 6 as well as Bluetooth 4.2 on the wireless side of things, whereas its wired department includes GbE (with a dongle), USB Type-A, USB Type-C, microSD, and a 3.5-mm headset connector. Due to the fact that this is a fairly large system, it packs a higher-capacity battery that is rated for up to 12 hours of battery life.
The Chromebook Enterprise 715

Being the only machine in the family that does not have consumer analogues (at least, not on the US), the Chromebook Enterprise 715 comes with a 15-inch display, a keyboard with a numpad, and presumably a high-capacity battery. Other than that, the laptop is indistinctive from its smaller 14-inch counterpart, so expect Intel's 8th Generation Core processor with DDR4 memory and solid-state storage.
The Chromebox Enterprise CX13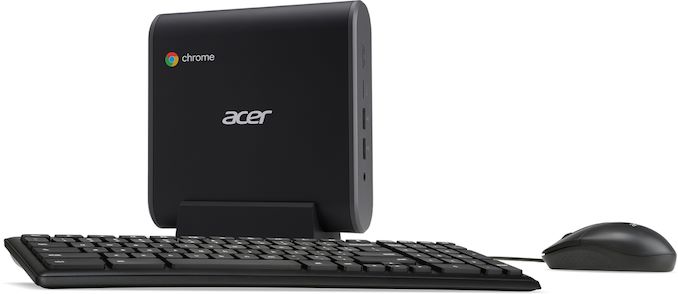 The Chromebox Enterprise CX13 is a revamped version of the Chromebox CX13 launched earlier this year that now features Chrome OS with Chrome Enterprise Upgrade. Based on one of Intel's 8th Generation Core processor paired with DDR4 RAM and an SSD, the CX13 has a host of ports required by a desktop computer, including GbE, USB 3.0 Type-A, USB 3.0 Type-C, HDMI, microSD, and a 3.5-mm audio jack.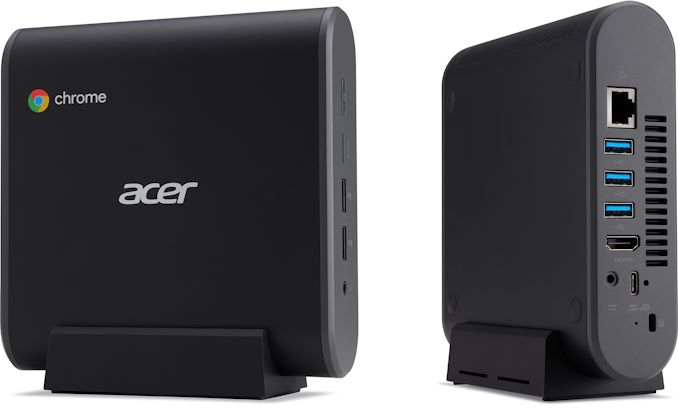 Officially, Acer calls the Chromebox Enterprise CX13 a media player, implying on its capabilities in the digital signage and embedded spaces. Meanwhile, the system ships with a keyboard and a mouse, so it will work perfectly as an ultra-compact form-factor desktop PC.
The Chromebase Enterprise CA2412

The all-in-one Chromebase Enterprise CA2412 was also not developed from scratch and there is a version without enterprise features. The AIO PC itself comes in a premium-looking chassis, has a webcam with IR sensors, and plenty of I/O ports one expects from a modern desktop. Inside this 24-inch Full-HD AIO machine is Intel's 8th Generation Core processor accompanied by up to 8 GB of DDR4 memory and an SSD.
Availability
Google's Chrome Enterprise computers will start to become available this month and will roll out in the near future depending on the region. Pricing will depend on exact configurations and other factors.
Related Reading:
Source: Acer