Introducing the SilverStone Raven RV03
At this point, SilverStone's signature in the enclosure world is the 90-degree rotation of the motherboard. This unique engineering decision makes cases like the FT03 possible, but for a long time enclosures with this design have been extremely pricey and outside the reach of most users. While the new Raven RV03 is still fairly expensive compared to the enclosures we've tested thus far, at $159 it's at least closer to the realm of reasonable though it still must contend with offering at least as much value as the cases at $100 or below we've reviewed so far. Is it worth spending up?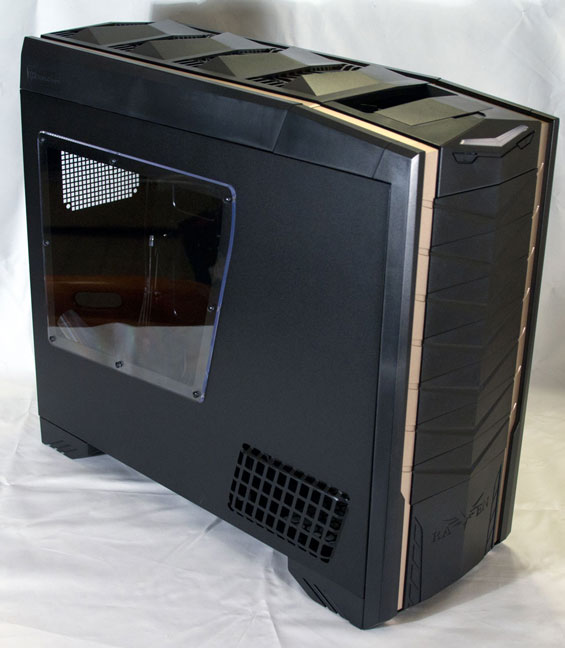 Since restarting our case reviews with the new testing methodology, we haven't had in an enthusiast-class (and enthusiast-priced) enclosure like the RV03 in house yet, so our comparisons may seem a little bit unfair. This can't really be helped, but we have a Thermaltake Level 10 GT in for review soon and that should balance things out a bit. In the meantime, the RV03 is certainly bigger than the other units we've tested, and I'm anxious to see how it turns out.
The last generation Raven, the RV02, was expensive but proved popular nonetheless. The trio of fans, fairly clean internal design, and SilverStone's signature rotated motherboard helped keep that enclosure running cool and quiet, and the styling was a little bit more subdued. To reduce the Raven's price tag (and its footprint) for the RV03, some changes needed to be made. SilverStone has reduced the number of internal 180mm fans from three to two, but increased their efficiency. Mounting space for drives has been dramatically increased, and as a whole the RV03 is a far more modular design than its predecessor. At least on paper, this Raven is an impressive specimen.
SilverStone Raven RV03 Specifications
Motherboard Form Factor
SSI EEB, SSI CEB, Extended ATX, ATX, Micro ATX, Mini ITX
Drive Bays
External
7x 5.25" (six occupied by 2x5.25"-to-3x3.5" adapters)
Internal
10x 3.5" (see above), 2x 2.5"
Cooling
Front
4x 120mm fan mount (attached to bay adapters)
Rear
1x 120mm fan mount
Top
1x 120mm
Side
1x 120mm fan mount (back)
Bottom
2x 180mm (compatible with three 120mm fans)
Expansion Slots
8 (one blocked off if rear fan mount used)
Front I/O Port
-
Top I/O Port
2x USB 3.0, headphone and mic jacks, fan controller
Power Supply Size
ATX
Clearance
13.58" (Expansion Cards), 163mm (CPU HSF), 180mm (PSU)
Weight
25.1 lbs.
Dimensions
20.55" x 9.25" x 22.44"
Price
$159
The enclosure is essentially designed to employ bottom-to-top convection style cooling, but SilverStone includes the means to turn it into a more typical front-to-back design using the bay adapters. Admittedly, one of my biggest concerns with the rotated motherboard design is the noise being moved out of the top of the enclosure instead of the rear since so many users keep their towers on the floor (myself included.) With cases as big as this one, that's really the only place for it.