Introduction
The Cooler Master Cosmos is more or less legendary among top-of-the-line enclosures. It's not hard to see why, either: it's big, it has loads of expansion, and it looks like a giant refrigerator...for your computer. That said, some time has passed since the Cosmos originally landed with very little in the way of updates. Today, Cooler Master brings us the long-awaited update, the Cosmos II. With a $349 MSRP and a shipping weight of nearly fifty pounds, this enclosure is oversized in every way. Will it retain the cachet of its predecessors, though, or have advances in the computing market since the era of the original Cosmos left the Cosmos II a shiny relic of a bygone era?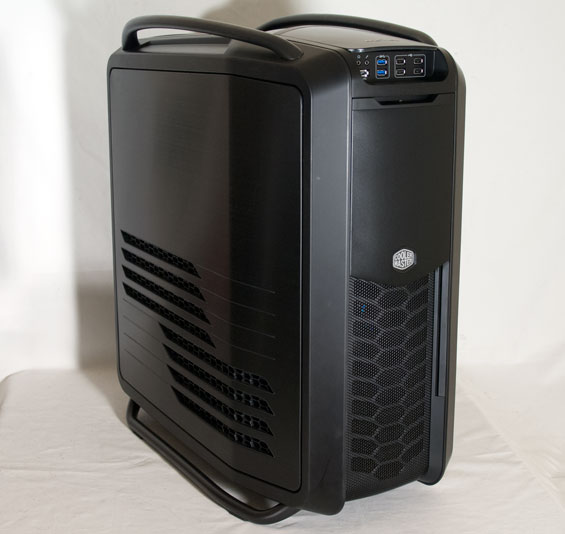 I remember when I was going to school back in 2006; a custom-painted Cosmos was on display in the local Fry's Electronics as pretty much the paragon of what a chassis could aspire to. The Cooler Master Cosmos was expensive, big, and beefy. Yet today interest in monster computers with Full ATX boards is waning somewhat. When you can get a motherboard like the ASUS Maximus IV Gene, an X79 monster with all the trimmings in a Micro-ATX form factor, the market for a case that can handle an XL-ATX board starts to shrink. More than that, when something like Rosewill's Thor v2 offers most of the same creature comforts at nearly a third of the price, it can be hard to justify shelling out $349 for an enclosure. But let's see what you get with the Cosmos II, and then we'll hit the assembly and testing and see how it all comes together.
Cooler Master Cosmos II Specifications
Motherboard Form Factor
XL-ATX, ATX, Micro-ATX, Mini-ITX
Drive Bays
External
5x 5.25" (2x Occupied by X-Dock, supporting 3.5" drives)
Internal
11x 3.5"
Cooling
Front
1x 200mm LED intake fan
Rear
1x 140mm exhaust fan
Top
1x 120mm exhaust fan (supports 1x 200mm/2x 140mm/3x 120mm)
Side
2x 120mm fan mount; 2x 120mm fans on HDD cage
Bottom
-
Expansion Slots
10+1
Front I/O Port
4x USB 2.0, 2x USB 3.0, mic and headphone jacks, eSATA
Top I/O Port
Fan and LED controls, power and reset buttons
Power Supply Size
ATX
Clearance
15" (Expansion Cards), 190mm (CPU HSF), 200mm (PSU)
Weight
21.5 kg / 47.3 lbs
Dimensions
13.5" x 27.7" x 26.1" (344mm x 704mm x 664mm)
Price
$349
When I look at the spec table, two things jump out at me. First, how am I going to move a case that's nearly fifty pounds? (Very carefully.) Second, expandability is at an all-time high. I have no trouble burning as many hard drive bays as an enclosure can give me, but the Cosmos II has me beat. It supports up to thirteen 3.5" drives, and up to eleven 2.5" drives. That's on top of having eleven expansion slots, four USB 2.0 and two USB 3.0 ports, and a built-in LED and three-speed fan controller capable of supporting seven fans and at least as many LEDs. Like the late, great John Candy, there's a lot to love in the Cosmos II.