Introducing the NZXT Switch 810
NZXT recently released the Switch 810, a new high-end full tower model they proudly had on display at CES at the same time they were seeding samples to reviewers. It's a looker to be sure, but NZXT's engineers also played a lot with the insides of the enclosure, and what they've put together is a chassis with a remarkable number of uncommon features designed to appeal to enthusiasts who want to maximize both the utility of their machines along with the control they have over that utility. It looks great on paper and great on display, but how does it work in practice?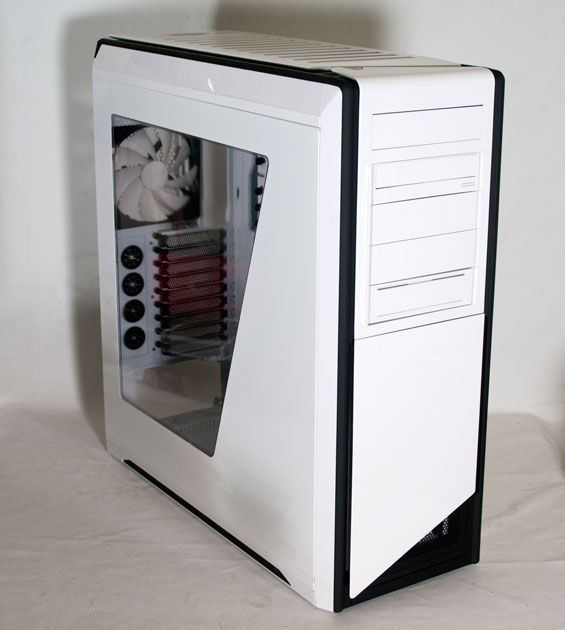 NZXT seems to be developing a taste for angular designs, but it's something I don't particularly mind. This is definitely the biggest case of theirs we've tested so far; while the others have been gunning for the elusive and lucrative sub-$99 market, this bad boy is set to go to market at $169. So while less expensive enclosures can play the balancing act between acoustics and thermals, when you're playing in this price bracket you need to bring both. That's a tall order when you're competing with enclosures like Antec's P280 and Rosewill's Thor v2--both of which aren't just excellent performers, they're cheaper too. Here's the quick overview of the Switch 810 specs.
NZXT Switch 810 Specifications
Motherboard Form Factor
E-ATX, XL-ATX, ATX, Micro ATX, Mini ITX
Drive Bays
External
4x 5.25" (one occupied by 3.5" hotswap bay)
Internal
6x 3.5"/2.5"
Cooling
Front
1x 140mm intake fan (additional 1x 120mm/140mm fan mount)
Rear
1x 140mm exhaust fan (height adjustable)
Top
1x 140mm exhaust fan (additional 2x 120mm/140mm fan mounts)
Inside
1x 140mm adjustable fan (additional 1x 120mm/140mm adjustable fan mount)
Bottom
2x 120mm/140mm fan mounts
Expansion Slots
9
Front I/O Port
2x USB 2.0, 2x USB 3.0, SD card reader, mic and headphone jacks
Top I/O Port
-
Power Supply Size
ATX
Clearance
14" (Expansion Cards), 190mm (CPU HSF), 220mm (PSU)
Weight
20 lbs (9.1 kg)
Dimensions
9.25" x 23.4" x 23" (235mm x 595mm x 585mm)
Price
MSRP $169
In a statement worthy of a marketing department, the word "Switch" isn't just a name, it's a philosophy and a design style. NZXT's enclosure has a lot of bells and whistles and really is designed to be as customizable as possible. What isn't listed on the spec sheet is an included pin block that converts six 3-pin fan headers to a single 4-pin molex header, white LEDs around the I/O cluster and expansion backs on the back that can be toggled on and off, and a vent on the top that can be opened, closed, or removed entirely. There is a lot going on with the Switch 810, so let's get a little more comfortable with it.