Not to be left in the dust by their big national counterparts, regional carriers are also moving onward to 4G LTE, and US Cellular today announced its initial 4G LTE markets and two devices. US Cellular has made a coverage map tool visible with its initial rollout markets, and noted that additional market announcements will happen later this month. US Cellular also makes note of its intent to deploy 4G LTE onto 700 MHz spectrum licensed to King Street Wireless.
A quick check on the spectrum dashboard indicates that indeed US Cellular will likely deploy 4G LTE into a host of 700 MHz Lower A and B block licenses, both of which are 5 MHz FDD. A quick spot checking of the announced markets revealed that most are regions where both lower A and B are held, though Des Moines Iowa has both A and B, so it seems as though 5 MHz and 10 MHz FDD will be the name of US Cellular's LTE game.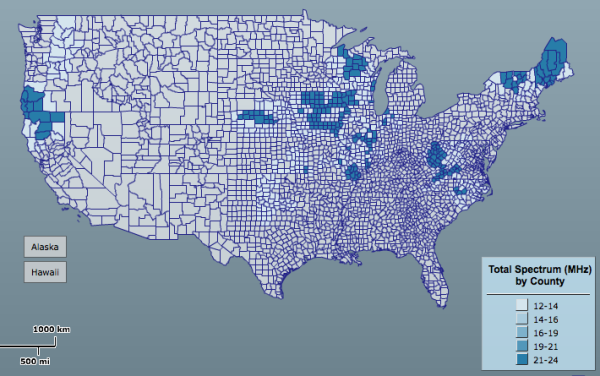 King Street Wireless National 700 MHz Spectrum Holdings
The two devices US Cellular has in store are the Samsung Galaxy Tab 10.1 LTE, and the Samsung Galaxy S Aviator, the latter of which looks virtually identical to the Droid Charge we've already reviewed. No doubt the Aviator will turn out to be based on the same hardware platform given the similar choice of air interfaces shared between Verizon and US Cellular (CDMA2000 1x/EVDO and 4G LTE).
Source: US Cellular (Devices), (Press Release)