Introducing the Cubitek HPTX ICE
Aluminum has been experiencing a bit of a renaissance in the notebook industry, spearheaded largely by Apple and now Intel's ultrabook initiative, but as a construction material for desktop enclosures it's largely been a specialty item. Most manufacturers use it in isolated places, usually as an accent, with entire cases built out of it becoming largely the purview of Lian Li...and not too many others.
Cubitek, on the other hand, has seen fit to employ it for an entire new line of cases under the "ICE Series". Five enclosures all using an almost entirely aluminum chassis and finish, ranging from the Mini-ITX "Mini ICE" all the way up to the grandaddy of them all and the enclosure that we have in for review today: the "HPTX ICE." The Cubitek HPTX ICE is as big as it gets and is able to support the biggest motherboards on the market, every spec from Mini-ITX all the way up to EATX and HPTX, and it has a supersized price tag to boot. Is it worth it?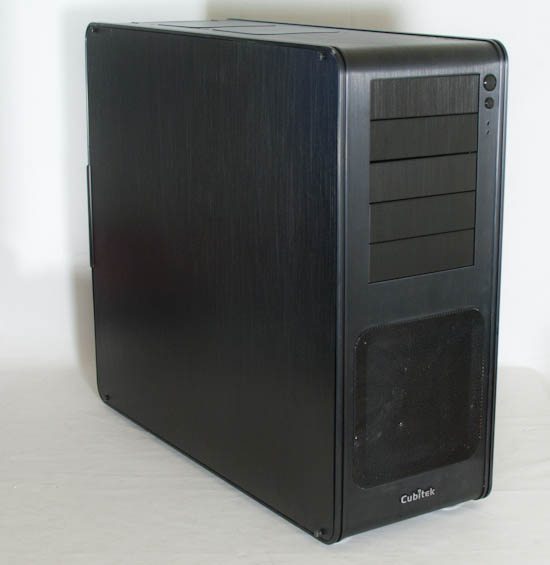 This is the first time we've had an enclosure in for testing from Cubitek, and the brand isn't as well known stateside. In fact none of the ICE series is readily available yet, and reviews are scarce. That's all the more reason to familiarize ourselves with their enclosures. After all, if we've learned anything from Bitfenix, it's that just because a brand hasn't gotten that much exposure in the states, it doesn't mean it isn't worth investigating. Here's the quick overview of the HPTX:
Cubitek HPTX ICE Specifications
Motherboard Form Factor
Mini-ITX, Micro ATX, ATX, XL-ATX, EATX, HPTX
Drive Bays
External
5x 5.25" (includes removable 5.25"-to-2x3.5" cage)
Internal
7x 3.5" and 2x 2.5" (converted from one 3.5" bay)
Cooling
Front
1x 200mm intake fan
Rear
1x 120mm exhaust fan
Top
2x 140mm exhaust fan
Side
-
Bottom
1x 140mm fan mount
Expansion Slots
10
I/O Port
2x USB 2.0, 2x USB 3.0, 1x Headphone, 1x Mic
Power Supply Size
Standard ATX
Clearances
HSF
180 mm
PSU
400 mm
GPU
17" / 430mm
Weight
19.6 lbs.
8.9 kg
Dimensions
9" x 22" x 24.1"
230mm x 559mm x 613mm
Special Features
Completely aluminum shell and chassis
USB 3.0 connectivity via internal header
Adaptor cages for 5.25"-to-2x3.5" and 3.5"-to-2x2.5"
Price
MSRP $359
Off the bat, the most noticeable thing about the HPTX ICE (at least for me) was the price tag. At an MSRP of $359, the HPTX ICE is the most expensive enclosure I've ever reviewed, which means it has some mighty big shoes to fill. Of course, that's no doubt due to employing aluminum over the entire enclosure. Cubitek also makes a point of using thicker aluminum, stating on their site, "Thicker materials mean less vibration," and we'll look into claim that later in the review.
The other place you're going to notice the aluminum, however, is the weight. The HPTX ICE is roughly as large as the SilverStone FT02, but it weighs half as much. That makes it substantially easier to manipulate, so if you have depressingly tiny chicken wing arms like I do, it'll be a nice change of pace.
As far as the specifications go, everything here is fairly standard for a full tower. Ten expansion slots, a wealth of internal and external drive mounts, and support for just about every motherboard standard you'd need concern yourself with. Cubitek is employing what is currently the bog standard cooling design, essentially negative pressure channeled through the front intake fan and at an angle up and out the rear of the case. What astute readers might notice, however, is the lack of allowances made for any kind of liquid cooling beyond a basic 120mm closed loop radiator and just two routing holes in the back of the enclosure. The two 140mm exhaust fans in the top of the case are mounted separately and there's no way to mount a double-length radiator instead.
That's enough of the basics. Let's see how it all comes together and performs.