QNAP is one of the NAS vendors known for providing affordable 10 GbE ready solutions, and they are continuing the trend with the TS-x70 series. At CES 2013, they are launching the TS-870U-RP 8-bay and TS-1270U-RP 12-bay models for cost effective NAS and iSCSI (IP-SAN) solutions. Both of them are 2U rackmount solutions. As with any rackmount storage product nowadays, the units are VMware, Citrix and Hyper-V ready. Based on a dual-core Intel Celeron processor running at 2.4 GHz, the units come with 4 GB of DDR3 by default (can be user upgraded to 16 GB). An important point to note is that ECC memory is not supported. Both units have dual GbE ports and two spare PCIe slot which can be used to add multi-port network cards (1 GbE or 10 GbE). QNAP claims that with 10 GbE cards, the units can provide more than 1800 MBps with 180K+ IOPS.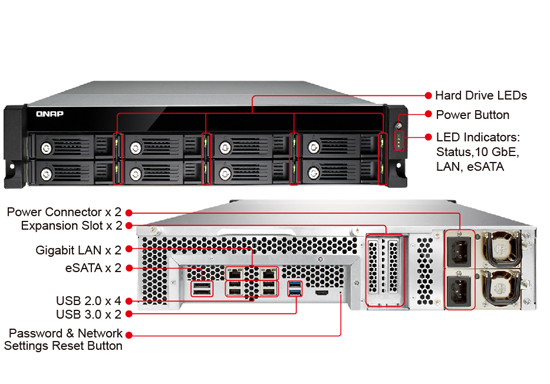 TS-870U-RP Hardware (The TS-1270U-RP has the same height, with the top row with the QNAP logo replaced by four drive bays)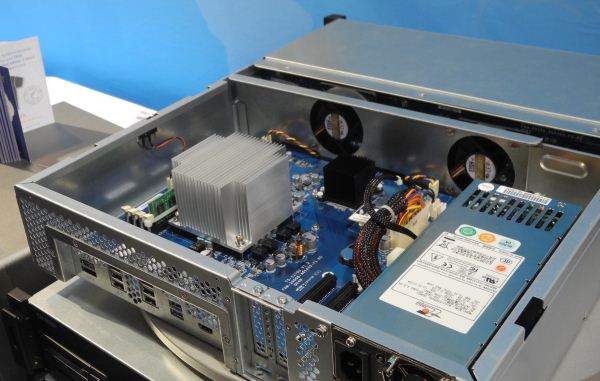 Inside the TS-870U-RP
In addition, we have a new firmware release in the Turbo NAS 3.8.1 with updated support for IP cameras in the Surveillance Station Pro. The interface has also been updated along with some multimedia apps.
With the increasing popularity of IP cameras in the business as well as home consumer space, NAS vendors are also looking at creating specialized Network Video Recorder units. At CES, QNAP is introducing 2,4 and 6 bay models catering to this market segment in the VioStor VS-x100 Pro+ series. With built-in hardware decoding, surveillance footage can be viewed without going through a PC. QNAP is also preparing a Linux-based turnkey CMS-2000 central management system for PCs to monitor up to 1024 channels.
The final announcement from QNAP for CES was the enabling of the HDMI output on the tower NAS systems based on the Atom D2700 (TS x69L). With an inbuilt hardware decode accelerated XBMC client, QNAP is positioning the units as media players also.