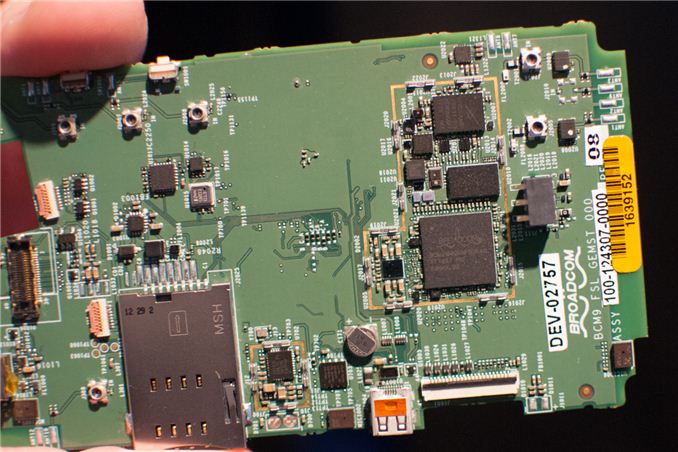 Yesterday we stopped by Broadcom to look at their newly announced BCM21892 LTE baseband, which we saw teased previously at CES doing a VoLTE call. If you're not famliar with the details of Broadcom's first LTE baseband, it's a 3GPP Release 10 modem supporting all the 3GPP air interfaces (GSM/EDGE, WCDMA, TD-SCDMA, LTE) with Category 4 LTE support, support for 10+10 MHz carrier aggregation, integrated 8 port transceiver into the baseband package, and built on a 28nm HPm process.
Broadcom's LTE Baseband
BCM21892
Air Interfaces
GSM/EDGE, WCDMA, LTE-A, TD-SCDMA
3GPP Release
Rel. 10 (LTE-A)
HSPA+ Category
Cat. 24, DC-HSPA+ 42.2 Mbps
LTE
Cat. 4, LTE-A 150 Mbps Downlink / 50 Mbps Uplink
2x2 MIMO
Voice
VoLTE, CS WCDMA/GSM voice
Process
28nm HPm
Package
Plastic(?) with integrated DRAM and 8-port Transceiver
Extra
External PMIC, "35% smaller required implementation area," envelope tracking supported
There's nothing new about the feature set, but it was nice to see BCM21892 silicon working and demonstrating all of the available features we heard about in the announcement working. I recorded a video of the entire demo walkthrough which I'd encourage you to watch if you're interested. The booth contained both BCM21892 working on a few demo boards, as well as integrated with their own platform form factor reference design which runs the full house of Broadcom silicon - WLAN/BT Combo, SoC, and GPS.
Broadcom demonstrated both full 150 Mbps UE Category 4 rates on a cabled up demo, 10 + 10 MHz carrier aggregation on Band 17 and 4 (AT&T's configuration) switching in and out the band 4 carrier, and envelope tracking support working on the BCM21892.