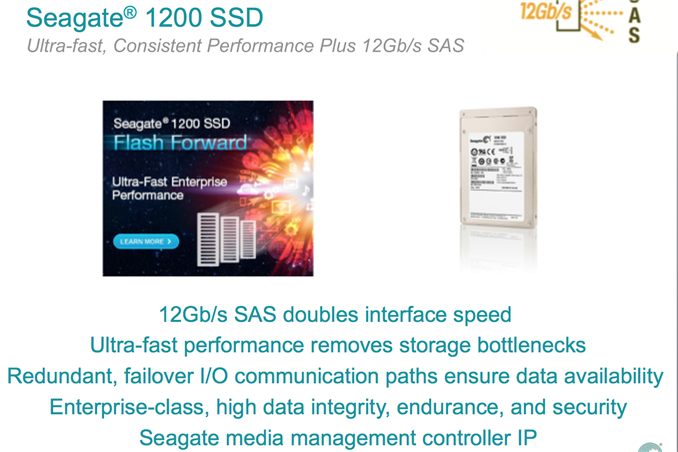 Alongside the Seagate 600 and 600 Pro SATA SSDs, Seagate is also announcing its 1200 SSD aimed squarely at the enterprise market. While the 600/600 Pro use Link A Media's LM87800 controller with some degree of Seagate firmware customization, the 1200 apparently uses a fully custom Seagate designed controller.
Seagate is planning on using a mixture of custom designed and 3rd party controllers with Seagate custom firmware depending on the application. As I hinted at in our review of the Seagate 600/600 Pro SSDs, I don't believe the Link A Media relationship is one that will last - eventually I see Seagate transitioning to its own controllers. The 1200 is an indication of just that.

We don't know a whole lot about the 1200 other than it is a 12Gbps 2.5" SAS drive. The 1200 will be available this quarter.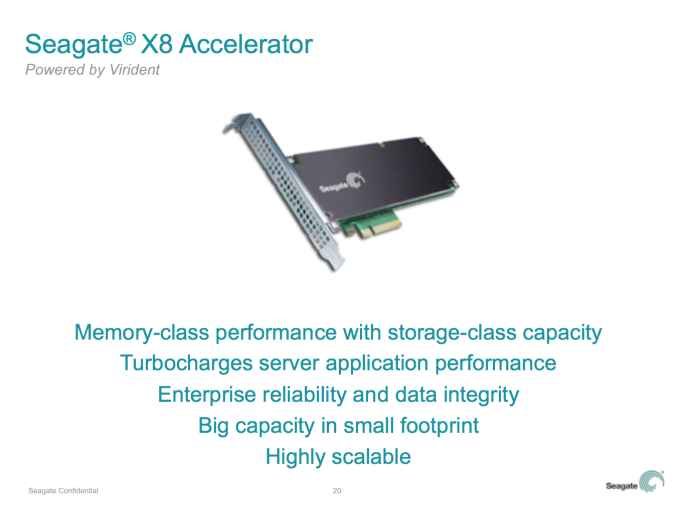 Seagate also unveiled a Virident FlashMAX II based PCIe SSD simply called the X8. The X8 features a FusionIO-like architecture that moves all NAND management from the SSD to the host CPU cores in the server. Given how readily available (and sometimes underutilized) host CPU resources can be, the tradeoff is sometimes worth it. The X8 will be available starting on May 27th.