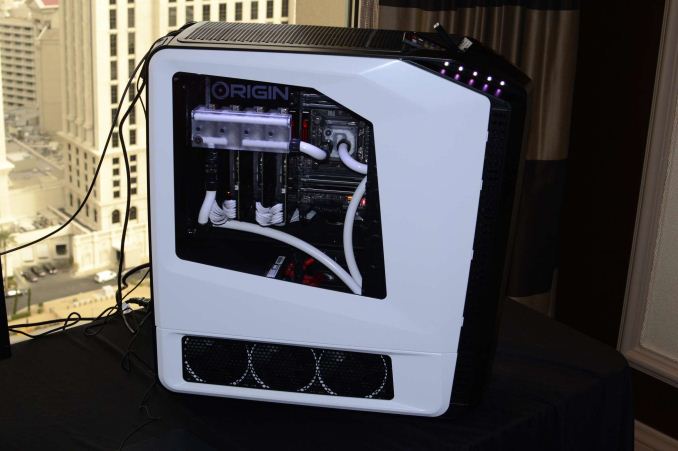 OriginPC is a boutique PC system integrator with a twist: they ship their systems in gigantic wooden crates designed to kill reviewers like Dustin (RIP). The past couple of years they've apparently been working on their own custom chassis design, with the intent of building one chassis to satisfy the demands of the vast majority of their clients. Whether or not they will succeed is yet to be determined, but at CES this year they're ready to unveil the fruits of their labors. The new chassis features variable mounting – a term coined by OriginPC to talk about their case – which simply put allows you to orient the motherboard and internals in one of four directions: standard ATX, inverted ATX (basically flip the motherboard to the opposite side of the case), 90 degree (e.g. vertical GPUs and expansion slots), or 90 degrees inverted (vertical expansion slots with the motherboard on the opposite side of the case). This allows users to have their system built in whatever orientation fits their particular needs best – e.g. if you have your case against the wall to the left of your desk, the "inverted" orientations will allow a case window to still show the interior.
Besides the variable mounting, the new chassis has plenty of other features. For one, the bottom of the chassis can be replaced on the Millennium and Genesis, so the top portion of the case is the same on both systems. The Millennium doesn't have anything extra on the bottom, while the Genesis has three options for the bottom compartment. You can install a custom water-cooling radiator and dual 3x120mm radiators, or a storage compartment with one of two setups: it can hold up to 14 3.5" drives, or you can flip things around and install up to 24 (possibly more?) 2.5" SSDs. The full-tower expansion kit that converts the Millennium into the Genesis will also be available for purchase. Either case has a variety of mounting options for radiators as well, with space for top, bottom, rear, and front radiators of varying sizes.
Other features include the ability to support up to 4-way SLI configurations (in any orientation), a smart fan controller (with a minimum fan speed of 30%, so that you don't accidentally cause your system to overheat), remote controlled LED lighting, a dual-hinge front panel that can be configured to open to either the right or the left, five hot-swap bays, up to E-ATX motherboard support (as well as support for dual-socket motherboards), and probably some other items I missed. It's a very impressive feat of engineering, certainly, though perhaps not for everyone considering the size, styling, and price. You can view OriginPC's video introduction to their new case for perhaps a better understanding of how things work, and Origin has also posted (better quality) pictures of the case. You can completely customize just about any aspect of a new desktop/workstation built using the new chassis, with pricing starting at $1629 for the Millennium and $1849 for the Genesis.
Other items shown at their suite included a sneak-peak of upcoming 3U and 4U rack mount workstation/server chassis, as well as their customizable notebook based on Clevo's P157SM (but with Origin's log on the touchpad and a custom cover, with perhaps a few other minor tweaks). OriginPC definitely isn't in the business of selling budget hardware, but if you're after customization and perhaps something different in terms of a PC chassis, they're worth a look.