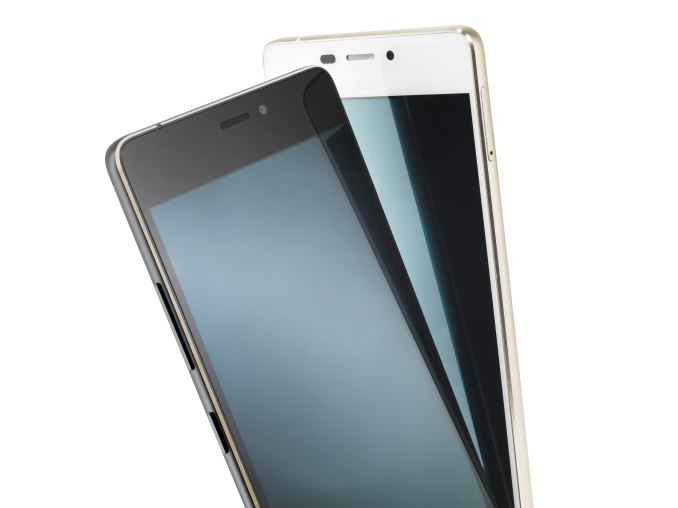 My take on thin phones is not a positive one. This comes from two main areas. Firstly I like my phone to have some form of bulk – this way I know it is in my pocket and I would notice if it went missing. Secondly, going thin often brings about several compromises, namely performance (due to heat dissipation), camera quality (due to z-height restrictions) and battery life. As a reference point, my daily driver is a 5.9-inch display with a 3300 mAh battery that measures 10.9mm and weighs 217g, so that device probably will not go missing unnoticed and I get a good range in performance and battery life.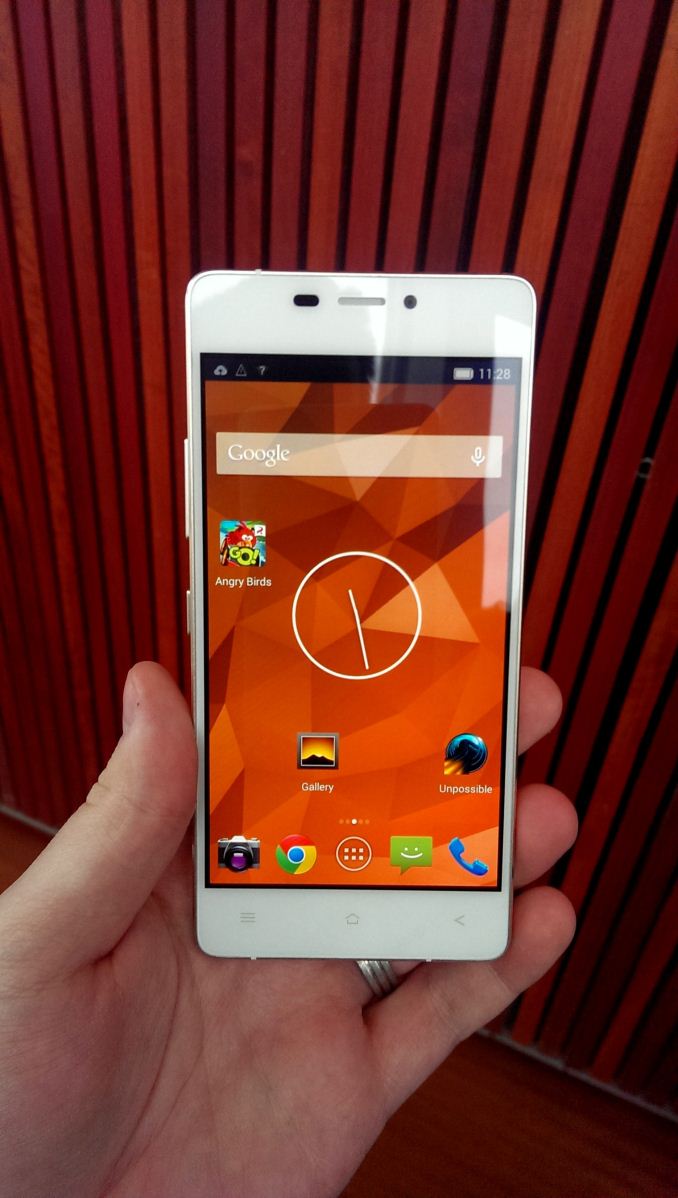 At a MediaTek conference this week in London, as part of MediaTek's strategy to educate the mobile media and analyst community about their strategy and goals, they invited Kazam's CEO Michael Coombs to show and formally announce the MediaTek powered Tornado 348, the world's slimmest smartphone. Kazam is a smartphone maker based in Europe formed by a number of former senior sales and marketing executives from bigger mobile companies. The company was founded earlier this year and have several models on the market already. The Tornado 348 is their latest model, with pre-launch stock already sold to distributors.

The phone itself is rather surprising. Despite being as thin as it is, it was relatively sturdy with no obvious issues by opposing pressure on opposite corners despite the metal frame design. The white model I played with felt comfortable in the hand with a rounded edge, using fixed android buttons on the bottom bezel (which I prefer) and a 4.8-inch 1280x720 AMOLED screen that came across as rather vibrant. Under the hood is MediaTek's 'True Octa-core' MT6592, with eight Cortex-A7s at 1.7 GHz and a Mali 450-MP4 for graphics. Normally if you hear 'eight Cortex A7' it seems odd to combine eight power efficient cores together for performance, especially in such a thin device. Kazam's CEO said that they initially wanted to run with one of MediaTek's 4-core, but the 8-core ended up more efficient in tasks as by using MediaTek's CorePilot they are able to keep control of enabling cores and frequencies but overall performance reasonable. The proof will be in the pudding for sure.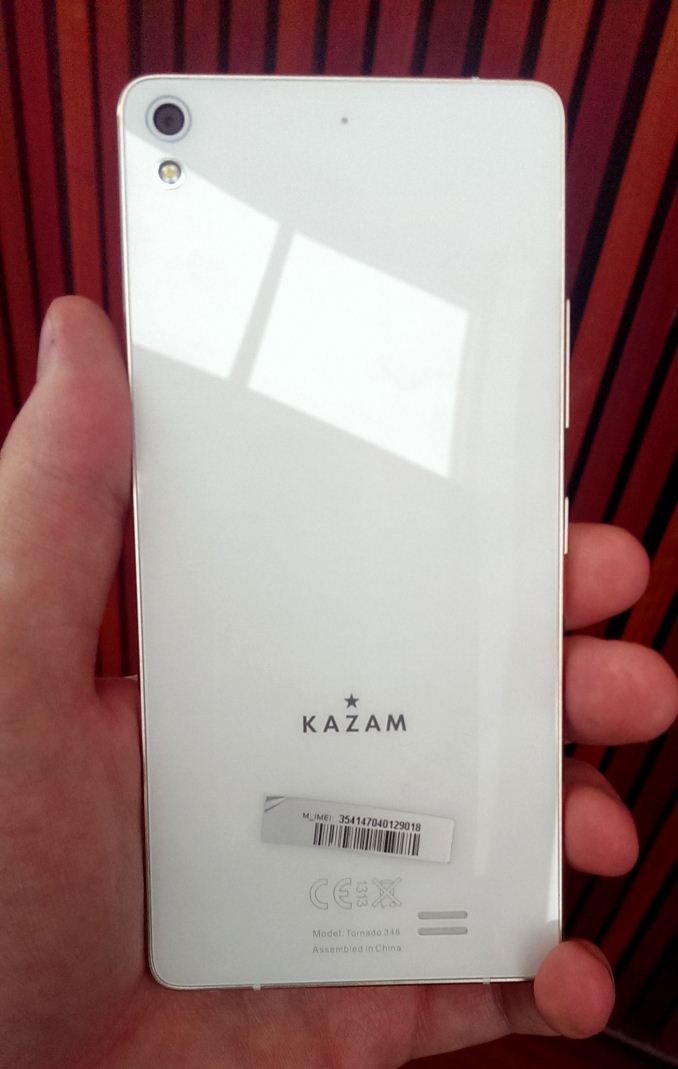 While Android 4.4.2 version the device had on the day was the near-final version for the device, and scrolling felt snappy and program selection felt responsive. There was a little stuttering when quickly swiping between screens, and the settings menu was in a different place than what I was used to, but at the end of the day this is not aimed at the high end flagship market. The device comes with 1 GB of DRAM and 16 GB of storage, but due to the stock (or near-stock) Android used in the final version, space should be suitable. Due to the size of the device there is no SD card slot, and the 2050 mAh lithium polymer battery is fixed into the device. Perhaps surprisingly, it requires a micro-SIM rather than a nano-SIM. With the battery, Kazam is quoting 6 hours of talk time.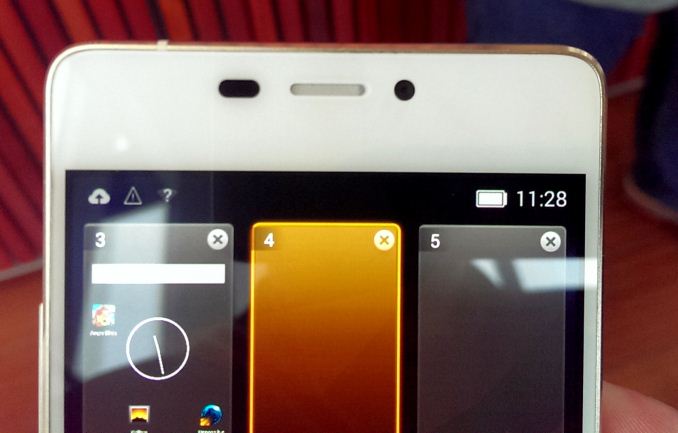 The main camera is good for 8MP and 1080p30, with the rear camera being a 5MP fixed-focus device. One area Kazam wants to push ahead of their rivals on is the 12-month screen protection service with the Tornado 348, allowing one free screen replacement in those 12-months. Users will have to log in and send their device away for a week or so, but it is reassuring to know that this service comes free with the device.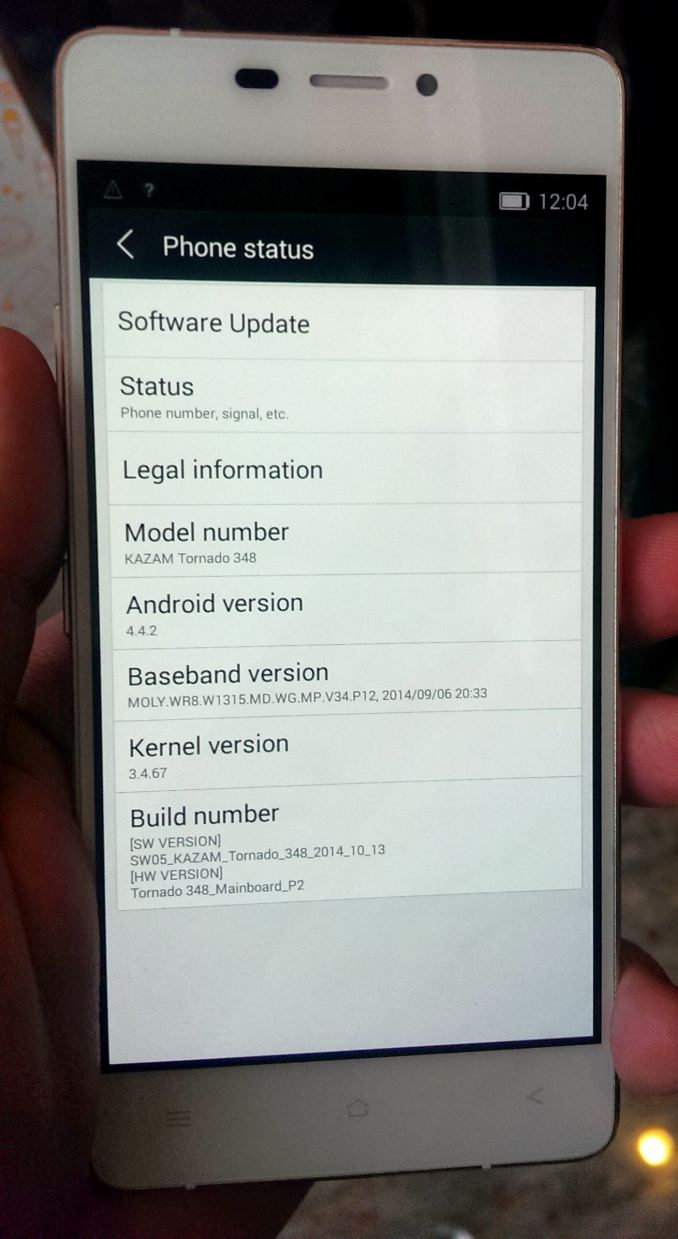 Overall device dimensions come in at 139.8mm x 67.5mm x 5.15mm and 95g weight (compared to the iPhone's 138.1 x 67 x 6.9 and 129g), although only GSM 850/900/1800/1900 and 3G 900/2100 are supported – no LTE here due to the mid-range it aims for. Kazam's CEO told me that due to Mediatek's structure for customers like Kazam it allowed him to get a handset from idea to market in only a few months, rather than the 9/12/18 month cycle required going through someone else.
The Tornado 348 is due out in November, with pricing in the UK around £250. At that price it pushes against that mid to high barrier albeit without 4G, wireless charging, more storage or a better camera design that has crept down from the high end over the last few quarters. This might limit the device in terms of future-proofing, but in the brief time I held it and used it, I could see it being used as a daily driver for many of my family members. I will look into it further if I get an opportunity to hook one up to the internet and download our testing tools. However, from the few moments I used the device I was suitably impressed.