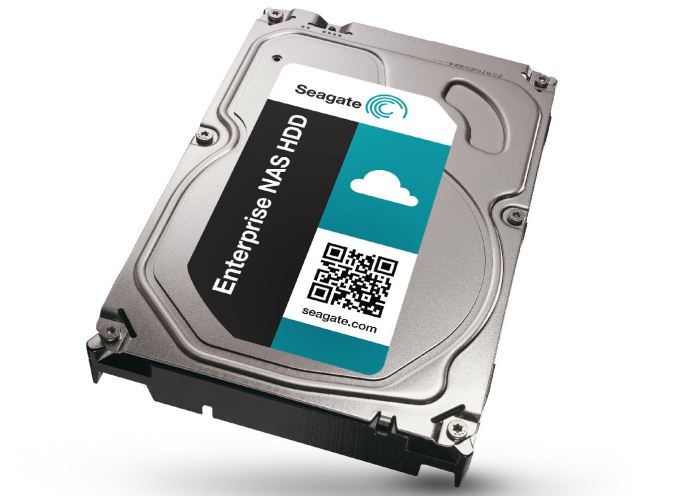 We have seen this story play out before. Western Digital delineates the hard drive market with a product aimed at a particular niche and Seagate comes in a few months later with a new product line aiming to one-up Western Digital's introduction. The specifications for the Seagate product are a little bit better (SKUs with higher capacity, slightly better performance etc.) - after all, it never pays to be a me-too product in the market without offering something extra to the end users. In the same vein, Seagate is introducing the Enterprise NAS HDD today to go against Western Digital's Red Pro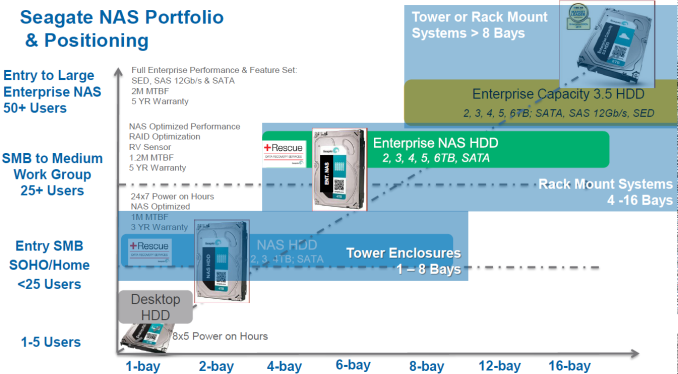 Similar to the WD Red Pro, the Enterprise NAS HDD is targeted at prosumers / SMB / SME tower and rackmount form factor systems with 8-16 bays (though nothing prevents them from being used in systems with a lower bay count). They are standard 7200 RPM drives with the right balance of features imported from both the NAS HDD as well as Enterprise Capacity lineups.
The key points of differentiation over the WD Red Pro are listed below:
Higher maximum capacity (6 TB for the Enterprise NAS HDD vs. 4 TB for the Red Pro)
Larger cache size (128 MB in the Enterprise NAS HDD vs. 64 MB in the WD Red Pro)
Slightly better MTBF ratings (1.2M for the Enterprise NAS HDD vs. 1M for the Red Pro)
Bundled data recovery service (not available for WD Red Pro)
Other aspects (such as warranty and URE ratings) are mostly similar. Out of the four points above, the bundled data recovery service is the most interesting. Seagate introduced their data rescue and hardware replacement services last year. In pursuit of differentiation and better integration of this offering with the rest of the company products, the Enterprise NAS HDDs come with this service bundled in the cost. In case of any failure (environmental, accidental or even human error), Seagate handles data recovery as well as replacement of faulty drives (within the warranty limitations). Failed RAID arrays are no exception. With the Enterprise NAS HDDs, this DRS is valid for 3 years starting with the date of purchase. Since the risk of data loss and recovery is borne by Seagate for a reasonable premium, both end-users and resellers are bound to be happy.
Coming back to the rest of the HDD products from Seagate, the table below compares their specifications and differentiating aspects.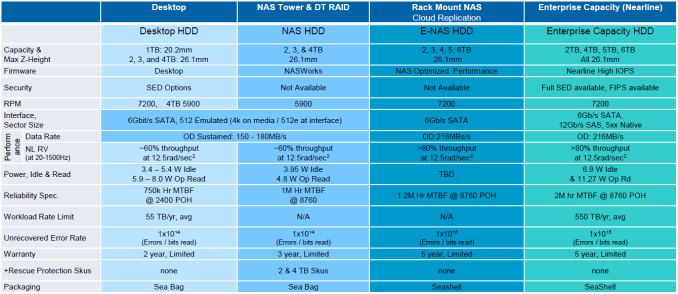 Even though it is not specifically mentioned, Seagate indicated that the Enterprise NAS HDDs are designed for workloads up to 180 TB/yr.
For the launch of the Enterprise NAS HDDs, Seagate has teamed up with QNAP. They are also running two webinars to cover any questions that SMB / SME IT decision makers may have regarding the new products.
Pricing information is not available yet, but Seagate indicated that they would be competitive with the WD Red Pro at similar capacity points (with a reasonable premium for the additional data recovery service).
Source: Seagate