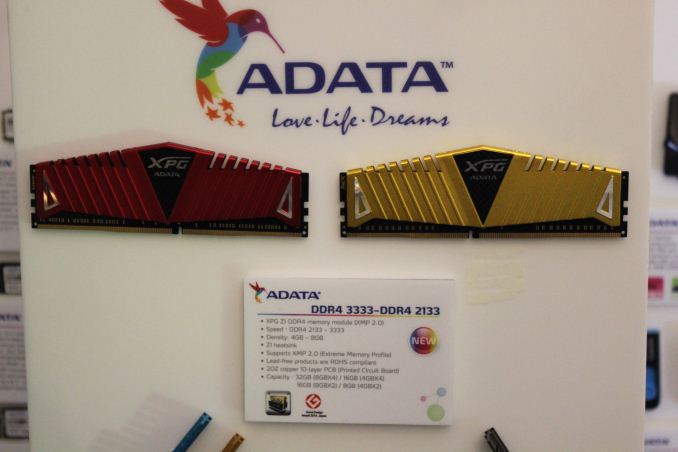 I stopped by ADATA's suite last week to see what the company has been up to in the past six months. While ADATA didn't release or announce anything new at the show, there were plenty of upcoming products on display in the suite.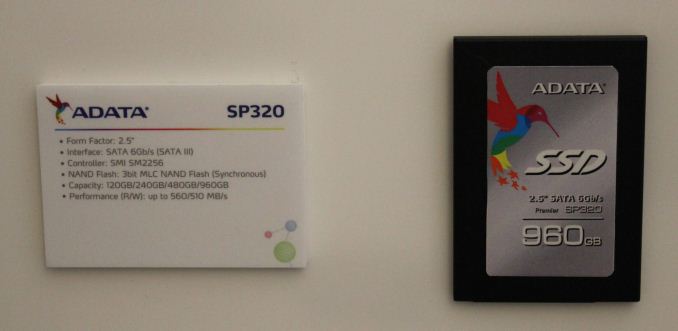 The SP320 will be ADATA's first TLC NAND based SSD and will be available sometime in the first half of 2015. It's based on Silicon Motion's new SM2256 controller, which supports LDPC error correction that increases the endurance (basically, LDPC can deal with a lot higher error rate compared to traditional BCH error correction). Capacities will range from 120GB to all the way to up to 960GB, but the exact specifications are unknown at this point.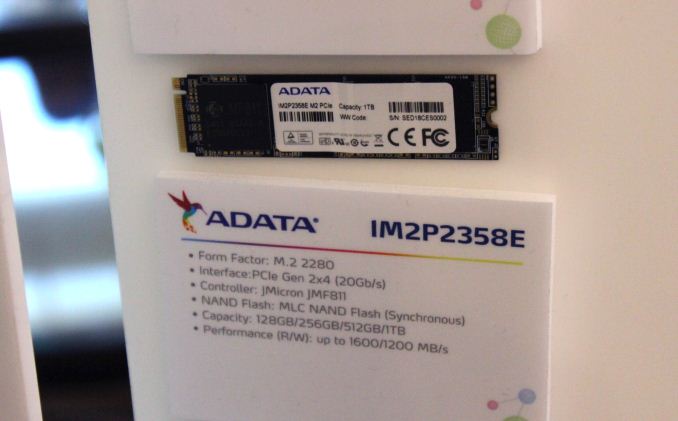 Moving on to PCIe, ADATA was showcasing industrial SSDs based on JMicron's JMF811 and JMF810 controllers. The JMF811 is the full-fledged version with four PCIe 2.0 lanes, whereas the JMF810 is capped to two lanes. Capacities go up to 1TB in M.2 2280 form factor and I was told that the drive is already shipping to ADATA's industrial partners. Obviously, the drive is not a retail version (hence the awkward name), but I wouldn't be surprised to see a client version with the same controller showing up later.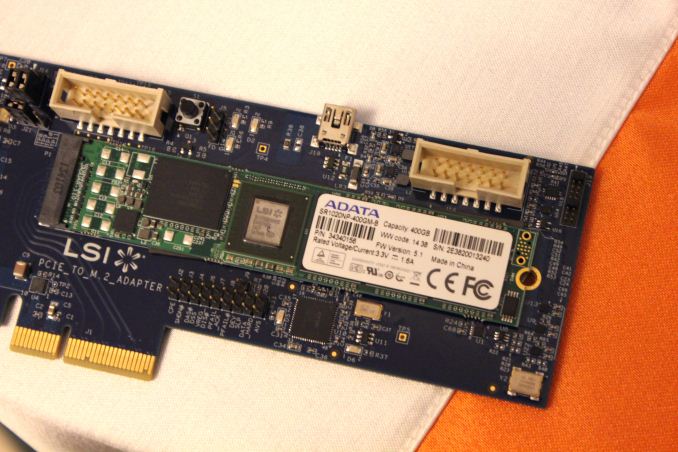 Similar to Computex, ADATA was also demoing the SandForce SF3700 based SR1020. To be honest, I don't really have anything new to share on the SF3700. The live demo ADATA was showing in the suite was just sequential writes, which we have already seen before for a few times. Timing wise Seagate/SandForce is now aiming for Computex 2015, so expect to see a ton of new SSD announcements and releases around June time.
In addition to products, ADATA was showing a neat power-loss protection test platform. The platform consists of a custom PCB that plugs into a USB port along with a special software that interrupts power delivery. The purpose of the demo was to show off ADATA's enterprise SR1010 SSD with full power-loss protection, but ADATA also promised to send us the test platform for use in future reviews.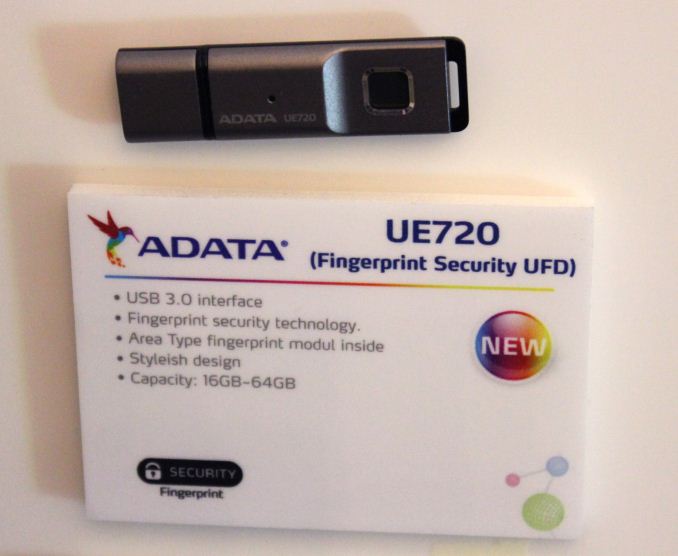 ADATA was also showcasing a couple of USB 3.0 drives with unique security features. The first one was the UE720, which is otherwise a typical USB 3.0 drive but features a fingerprint scanner to provide an extra layer of security.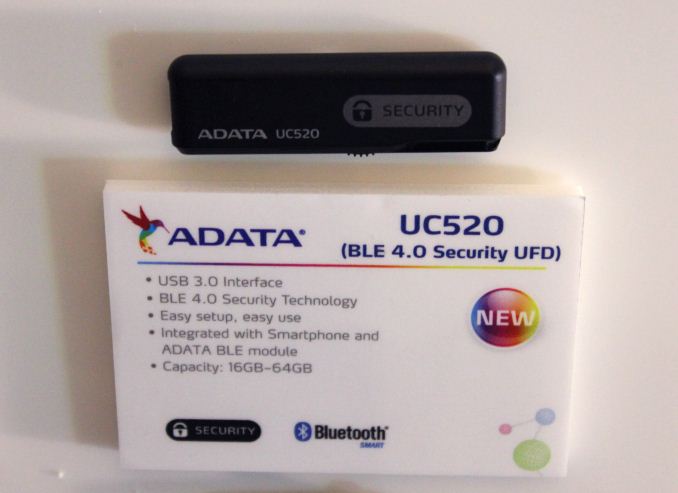 The other one was the UC520, which uses Bluetooth 4.0 for security. I'm not sure how exactly the encryption works with Bluetooth, but I assume the drive needs to create a Bluetooth connection with a known computer/tablet/smartphone before the contents can be accessed.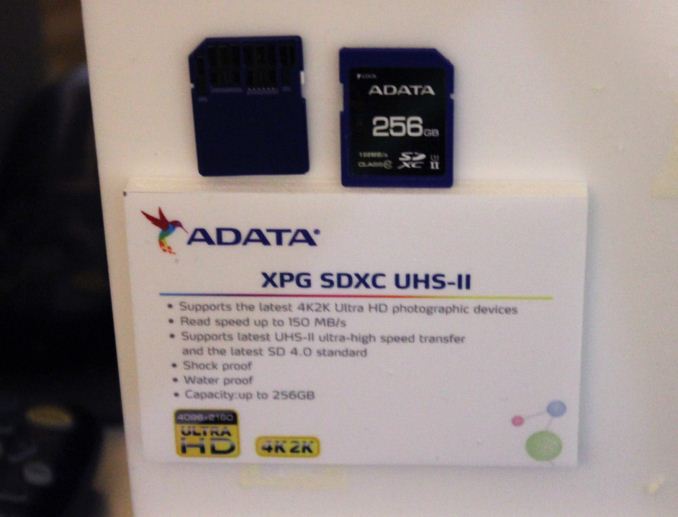 For SD cards ADATA has a new UHS-II type XPG SDXC card with capacity of up to 256GB. The card offers read speeds of up to 150MB/s and is capable of 4K2K recording.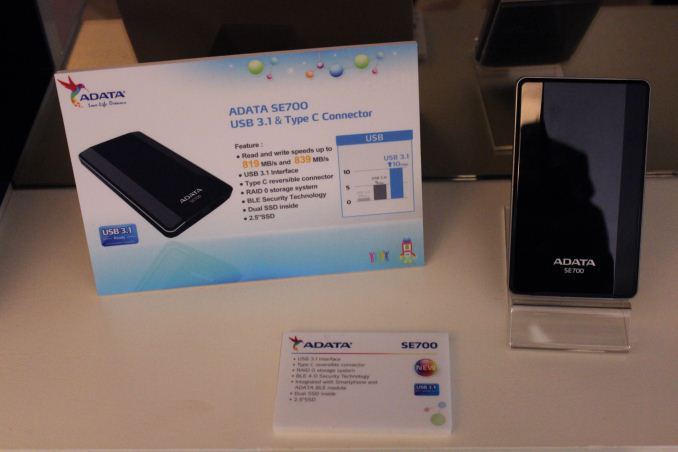 ADATA was also displaying a USB 3.1 compatible SE700 external drive with dual SSDs inside. Sequential performance goes above 800MB/s and the drive will be ready to ship once USB 3.1 platforms are available later this year.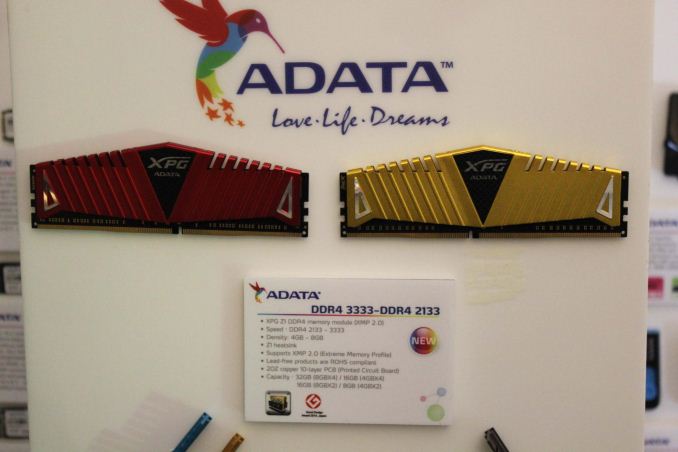 ADATA was one of Intel's original DDR4 launch partners and since the launch ADATA has been able to up the speeds to DDR4-3333.