Google has updated Chrome for iOS to version 40, specifically version 40.0.2214.61. With it comes a number of improvements that definitely justify the major increase in version number. The headline feature of Chrome 40 is that update brings Google's Material Design interface for Chrome to iOS. Chrome received many small Material Design additions over the course of 2014 as Google refined and slowly rolled out their new interfaces to all of their applications. There were changes to areas like the incognito tab page, the set up pages, and some of the menus, but this update finally brings completeness to these changes and makes Chrome a full Material Design application.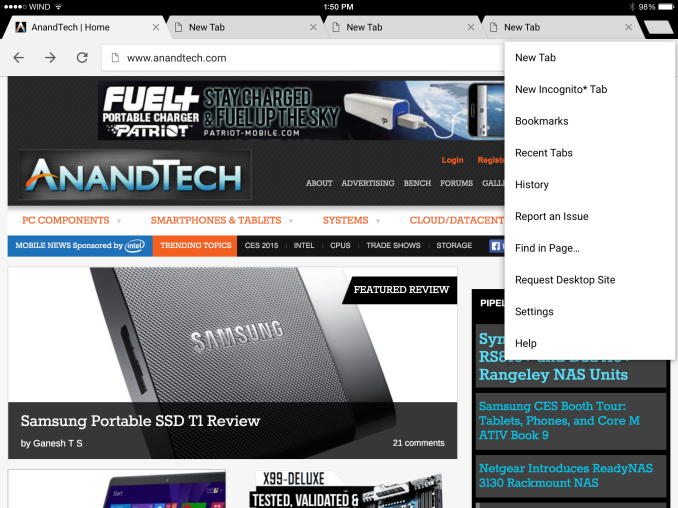 The new interface looks very nice, although Chrome for OS X has not received the full Material Design treatment yet so there are some differences between the appearance of Chrome on each platform. There's also a point to be made about Google making applications that follow their own design guidelines on iOS rather than Apple's. Having used Android Lollipop, using this new version of Chrome it almost feel like you're running an Android application on iOS. That's not necessarily a bad thing, and if Google brings this interface to OS X then the consistency between the two will certainly be a good thing, but it's something to note about Google's approach to iOS applications in general.
Beyond changes to the visual design of the application, Chrome 40 is going to look much better for iPhone 6 and 6 Plus users in particular. This is becsuse Chrome 40 now has native layouts for the iPhone 6 and 6 Plus, which will remedy any issues with blurriness or fuzziness caused by Apple's upscaling of the 1136x640 interface to the displays of the new iPhones.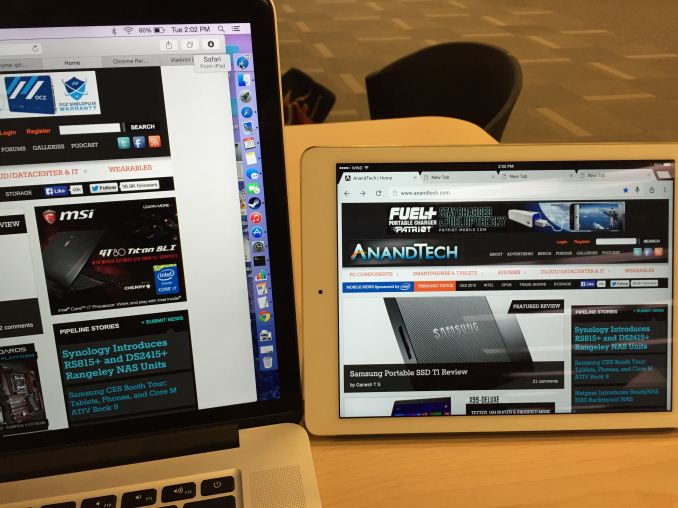 Google has also implemented support for Handoff, which is a very exciting improvement for anyone who uses an iOS device and an OS X device. What makes it even better is that Google has implemented Handoff for Chrome on iOS so that it works with the default browser on OS X. This means that you can move from a tab in Chrome on your iPhone or iPad and pick it up in Safari on your Mac, or whatever other browser you have set as your default. Unfortunately, this can't work both ways, and so you can't send a tab back from Safari to Chrome on iOS. To do that you'll need to be using Chrome on both devices.
Regardless, having a developer like Google implementing Handoff is exciting for any Mac users. Most applications that have currently adopted Handoff are those made by Mac and iOS centric developers, while bigger companies with multi-platform applications generally haven't bothered to add support for a feature specific to a single ecosystem.
In addition to the big changes, Chrome 40 includes the various improvements to speed and reliability that most Chrome updates bring.
Source: Google Chrome Blog