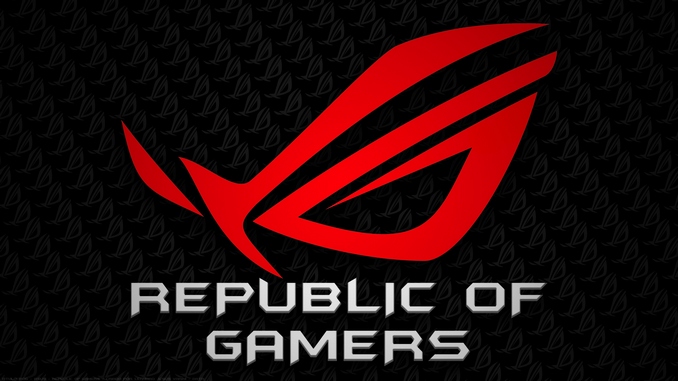 Today at IFA ASUS is announcing some of its fall laptop lineup. As with the other vendors, they have been waiting on Windows 10 which launched at the end of July, and Intel's Skylake processors which launched just a few hours ago. The combination of new operating system and new processor is likely going to mean there are a lot of new products coming out in the next while.
Specifically in this announcement is the refresh of the Republic of Gamers laptops. The G752 is an upgrade to the G751 that we reviewed. New of course is Windows 10 installed by default, as well as Intel's Skylake quad-core processor. There will be two options depending on the model purchased, with the Core i7-6700HQ processor as the base. This is a quad-core, eight-thread Core i7 with a 2.6 GHz base frequency and up to 3.5 GHz Turbo on a single core. On the top tier G752 you can get the Core i7-6820HK model, which is 2.7 GHz to 3.6 GHz and bumps the L3 cache from 6 MB to 8 MB. Being a K part, it means that it is overclockable as well which may let adventurous owners squeeze some extra performance out assuming they can keep the laptop cool. The G751 that we tested actually had a great cooling system so I don't see that being a big issue. As is usual for a mobile quad-core, these are 45W CPUs.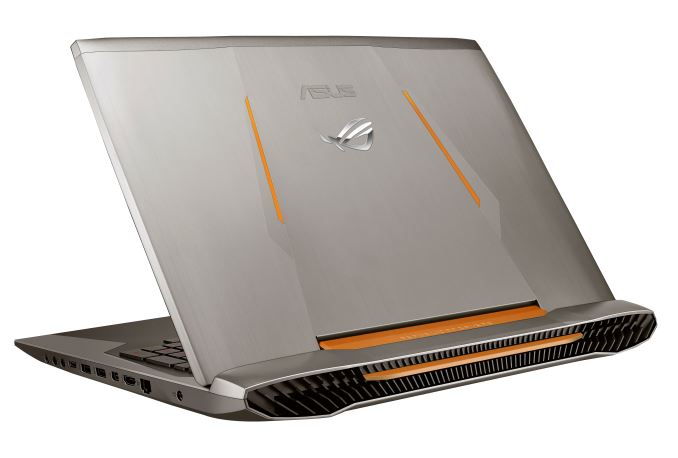 The G752 also keeps what is great about the G751, with the NVIDIA GTX 980M GPU available to handle the graphics duties. One of the great features from the G751 was the introduction of NVIDIA's G-Sync technology and I am pleased to say this has continued with the G752. The big difference though is that the G752 will be offered with a 1920x1080 panel as the base model, but the top version will be available with a 3840x2160 panel for the 17.3-inch laptop.
The G752 is not just a spec upgrade either. ASUS is rolling out a new chassis with a new design. It is not a huge departure from the outgoing G751 but it does clean up the lines and make the laptop a lot sleeker in my opinion. It will also be available in three colors, with plasma copper, armor titanium, and lava red options. The keyboard is a gaming keyboard with anti-ghosting 30-key rollover and 2.5 mm of travel in the keys. Thunderbolt 3 will also be available, and clearly Intel is pushing this quite heavily now that it can be piggybacked on a USB-C port.
ASUS ROG G752
G752VL
G752VT
G752VY
Processor
Intel Core i7-6700HQ
Quad-Core + HT 2.6 GHz-3.5 GHz
6 MB L3 45 watt TDP
Intel Core i7-6700HQ
Quad-Core + HT 2.6 GHz-3.5 GHz
6 MB L3 45 watt TDP
Optional
Intel Core i7-6820HK
Quad-Core + HT 2.7 GHz - 3.6 GHz
8 MB L3 45 watt TDP
Memory
Up to 64 GB DDR4-2133
GPU
NVIDIA GeForce GTX 965M 2GB
NVIDIA GeForce GTX 970M 3/6GB
NVIDIA GeForce GTX 980M 4/8 GB
Display
17.3" 1920x1080 IPS with G-SYNC
17.3" 1920x1080 IPS with G-SYNC
17.3" 1920x1080 IPS with G-SYNC
17.3" 3840x2160 IPS with G-SYNC
Storage
NVME 128/256 GB SSD
Up to 2TB SATA HDD
NVME 128/256/512 GB SSD
Up to 2TB SATA HDD
NVME 128/256/512 GB SSD
Up to 2TB SATA HDD
Optical Drive
DVD Combo Blu-ray writer
Dimensions
428 x 334 x 23-43 (mm)
16.85 x 13.15 x 0.91-1.69 (inches)
428 x 334 x 23-53 (mm)
16.85 x 13.15 x 0.91-2.09 (inches)
Weight
4.06 kg / 8.95 lbs
4.36 kg / 9.61 lbs
Price
Starting at $1499
I quite liked the G751 but I found the chassis to be a bit dated, so these updates make it a pretty compelling gaming laptop. It will be available in Q4 starting at $1499.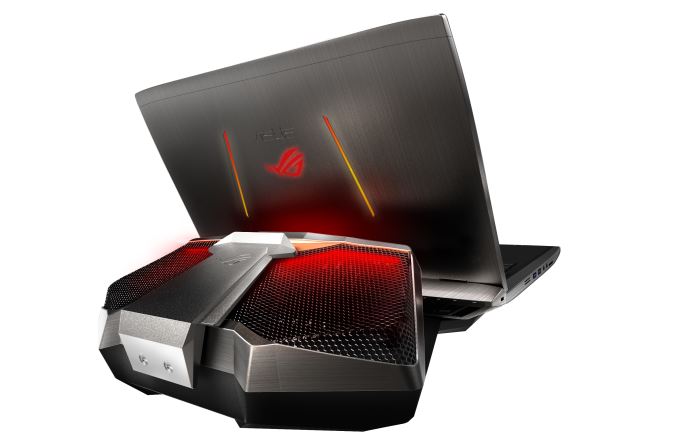 The big announcement from ASUS though is a completely new gaming laptop called the GX700 series. This is a new flagship gaming laptop from the company and they have tried to pack in quite a few unique features to differentiate from the competition. Someone can correct me if I am mistaken here, but I believe this is the first modern gaming laptop to be offered with a closed loop liquid cooling system. We have seen what a dramatic difference this can make under load on the recently launched AMD Fury X GPU, and ASUS is just teasing us for the moment and will release more details about this later. It will feature a 3840x2160 17.3-inch display, and a yet to be determined GeForce GTX graphics system. The GX700 will feature the mobile K-series Skylake processors much like the G752 and will therefore support overclocking. With the water cooling system, this could make for a pretty powerful laptop. The GX700 will be released in Q4 as well but the price is not final yet.
Source: ASUS