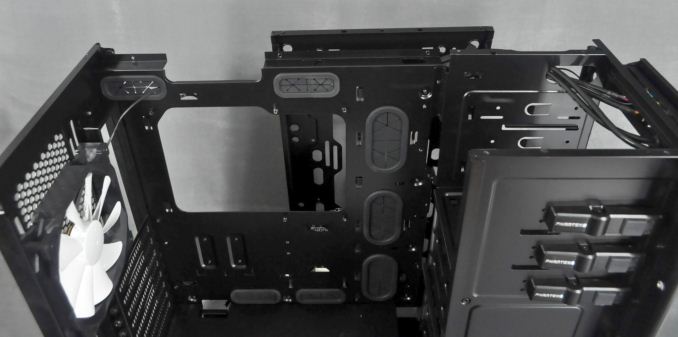 It would seem that many companies are trying to diversify towards computer cases lately. Most of them originally are manufacturers of power and cooling products, but there are companies that began as GPU and RAM manufacturers as well. However, marketing case products can be very tricky. Functionality and value might not as important as aesthetics, depending on who you talk to. Today we are going to have a look at a case from Phanteks, a Dutch company whose high performance cooling solutions quickly made them very popular.
The Phanteks Enthoo Pro
Phanteks made a successful entry into the case market with the Enthoo Primo that we reviewed a year and a half ago. The Enthoo Primo was an excellent high-end case, although it came with a very hefty price tag. After their first successful attempt the company released a few more designs aiming to move a greater number of customers. All of the cases share the same series name "Enthoo" - not an actual word or name in any language based on the Latin alphabet but actually half the pronunciation of the word "enthusiast" (en-thoo-zee-ast). Today we are going to have a thorough look at their currently most popular case, the Enthoo Pro. The Enthoo Pro is a case designed for maximum cooling and versatility but retails for $90 (solid side panel) / $100 (window side panel), less than half the retail price of the Primo.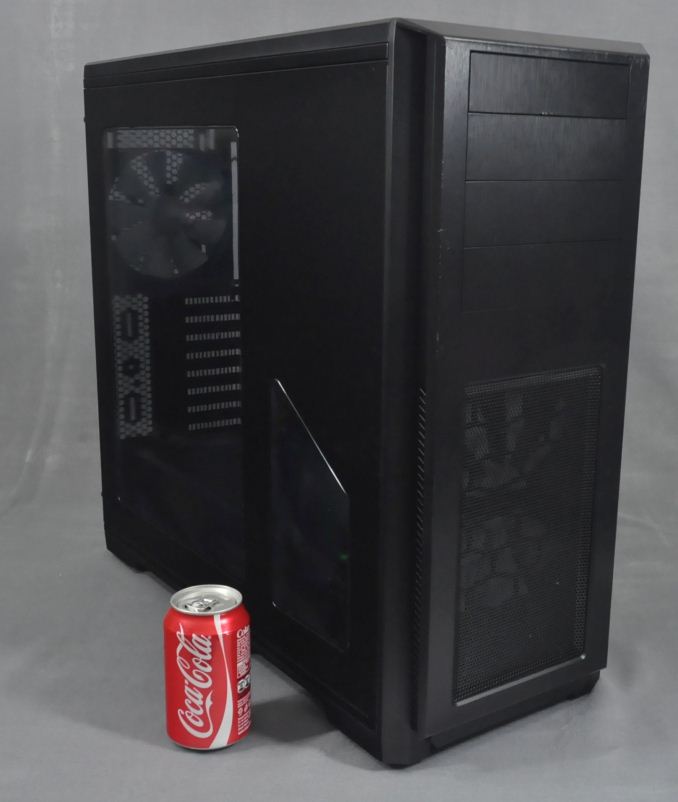 11.2oz coke can for size comparison
Phanteks Enthoo Pro Specifications
Motherboard Size
EATX, ATX, Micro-ATX, Mini-ITX, SSI EEB
Drive Bays
External
3 x 5.25"
Internal
6 x 2.5"/3.5" (internal drive cages)
1 x 2.5" (SSD Bracket)
Cooling
Front
1 x 200mm (included)
2 x 120mm/140mm (optional if stock fan is removed)
Rear
1 x 140/120mm (one 140mm included)
Top
3 x 140/120mm or 1 x 200mm (optional)
HDD
2 x 120mm (optional)
Bottom
1 x 140mm or 2 x 120mm (optional)
Radiator Support
Front
Up to 240mm
Rear
120mm/140mm
Top
Up to 360mm/420mm
Side
-
Bottom
Up to 240mm/140mm
I/O Port
2x USB 3.0, 2x USB 2.0, 1x Headphone, 1x Mic
Power Supply Size
ATX
Clearances
HSF
193mm
PSU
-
GPU
347mm (472mm if HDD cages are removed)
Dimensions
535 mm × 235 mm × 550 mm (H×W×D)
21.06 in × 9.25 in × 21.65 in (H×W×D)
Prominent Features
- Extreme cooling capacity
- 2 included Phanteks' premium fans
- The PWM hub makes it possible to control all the connected fans (also 3-pin fans) with PWM function through 1 PWM connector and create a better cable management.
- Extensive water cooling support. Provides up to 4 different installation areas for slim and thick radiators varying from single to triple (120mm and 140mm form factors). Clearance for push-pull fan configurations.
- Innovative liquid cooling mounting systems: radiator brackets for easy installation
- Closed HDD panel strengthens the chassis' rigidity, even when both HDD cages are removed.
- Removable Drop-n-Lock SSD bracket that can be installed on 2 different locations. (1 bracket incl.)
- Removable dust filters for easy maintenance.
- Pre-installed cable management tools behind the motherboard tray that can be fastened and released.
- 2x USB 3.0, 2x USB 2.0, microphone, 3.5mm audio jack
Price
$90 (solid side panel) / $100 (window side panel)
Packaging and bundle
The packaging of the Enthoo Pro is simple with just a basic schematic of the case printed on the brown cardboard box. Inside the box, a nylon bag and astonishingly thin polystyrene foam slabs provide protection. Although we believe the aesthetics of the packaging to be unimportant, the functionality is in contrast quite importiant. Unfortunately, the packaging is far too basic for a case of this size and weight. The sample for this review received significant damage on its way to us, as the thin foam slabs had crumpled and the case was literally floating inside the box. The purchaser should always check the condition of the case before accepting its delivery.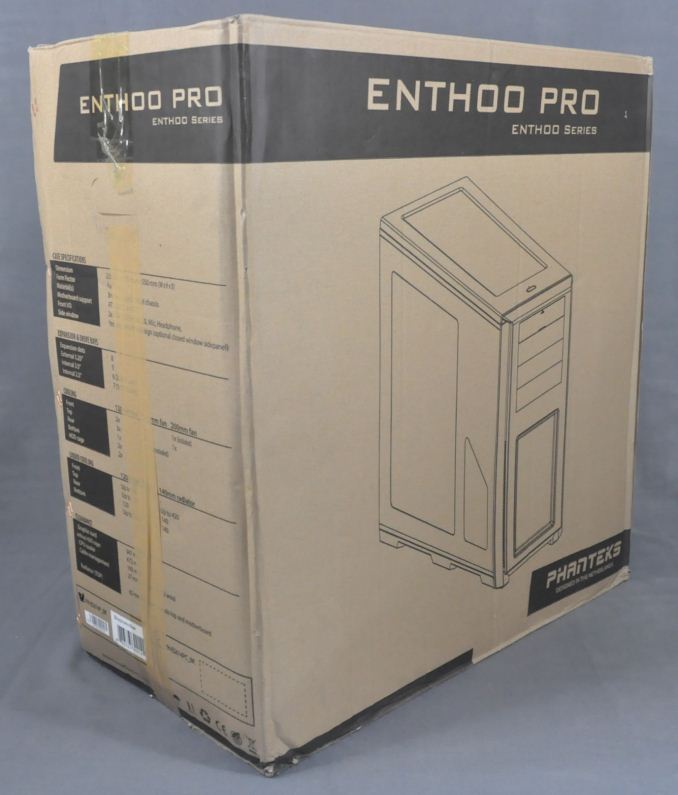 Phanteks did an excellent job with the bundle of the Enthoo Pro. It may not be overly rich but is very well presented, with the screws and mounting hardware in a compartmentalized box. There also is a plate for the mounting of cooling systems, a few cable ties, two cable straps of different length and a very good manual.